DUBLIN — Ireland became the first country in the world to vote in favor of legalizing gay marriage Saturday after a resounding victory for "Yes" campaigners.
At final count, 62 percent voted in favor of legalizing gay marriage in the country, while 38 percent voted against it. Nearly 2 million people voted, with more than 1.2 million voting "yes" and 734,300 voting "no."
A celebratory mood had come over Dublin even before the official results were announced around 7 p.m. local time, with tallies for each constituency displayed on big screens to thousands watching from Dublin Castle's sun-soaked central square.
The large crowd spontaneously broke into Ireland's national anthem as they awaited the final tally.
Earlier, David Quinn, the director of the conservative Iona Institute and leader of the "No" campaign — which sought to prevent Ireland's constitution from being amended to permit same-sex marriage — conceded defeat and congratulated the 'Yes' side.
The poll pitted liberal forces against Ireland's conservative Catholic foundation.
The vote drew more than 60 percent turnout nationally for the first time since the country narrowly voted to legalize divorce in 1995, according to Reuters. When the Irish voted to ease access to foreign abortions in 1992, 68 percent of eligible voters cast their ballot.
Backers of gay marriage had hoped for high turnout, reflecting strong participation by young and first-time voters.
Ireland's president Michael D. Higgins said he was particularly encouraged by the amount of young people who turned out to vote. He said while he could not comment on the results, he was happy that citizens were given the opportunity to express their opinions.
"Today's victory is the culmination of decades of struggle which has forced this government and conservative elements in the establishment to hold this referendum," Higgins said.
Among those who voted were thousands of emigrants who returned by aircraft or ferry to take part in the world's first direct national vote on gay marriage. Many shared their journeys on social under the #HomeToVote hashtag.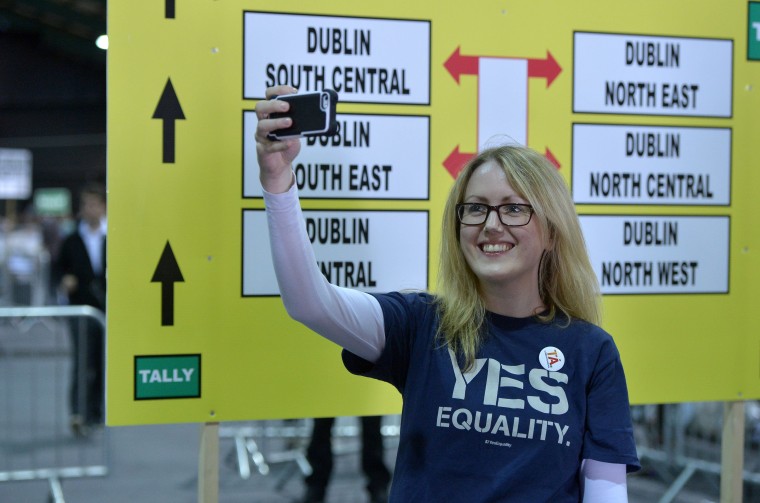 Sisters Rebecca and Rachel Doyle from Enniscorthy, County Wexford, were among 2,000 members of the public allowed to view the counting process at Dublin Castle.
"It feels brilliant, especially since we thought it was going to be so close and now it looks like such a definite 'Yes'," Rebecca told NBC News, adding that the experience was "emotional."
"This shows how much we've changed, how attitudes are changing, to see all of the young people come out to vote, that wouldn't usually vote who wouldn't normally be interested in politics."
Rachel added: "This was my first time to vote, because I'm only 18, I'm glad it was something so important to me, I feel that my sister should be able to get married."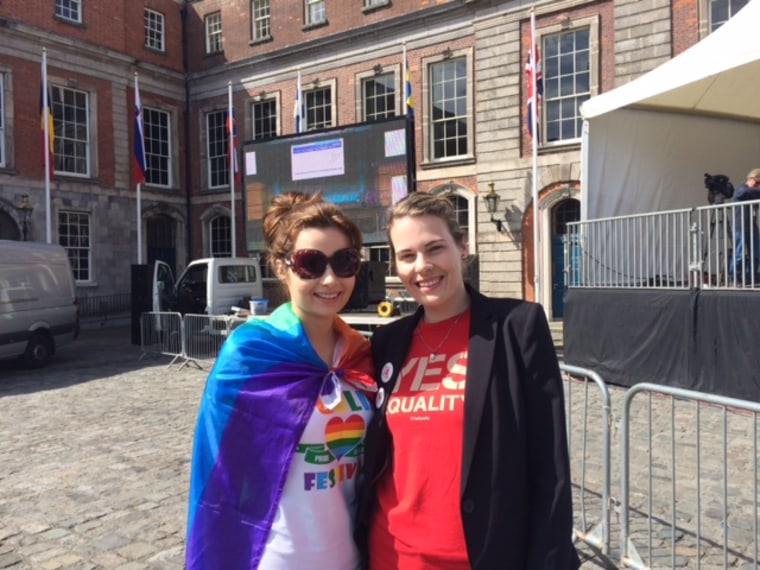 Opponents argued that same-sex marriage was a step too far, after Ireland already allowed civil partnerships.
"You can give the gays their rights without redefining the whole institution of marriage. What they're asking for is too much," said Bridget Ryan, 61, as she voted with her border collie in tow at a Catholic parish hall.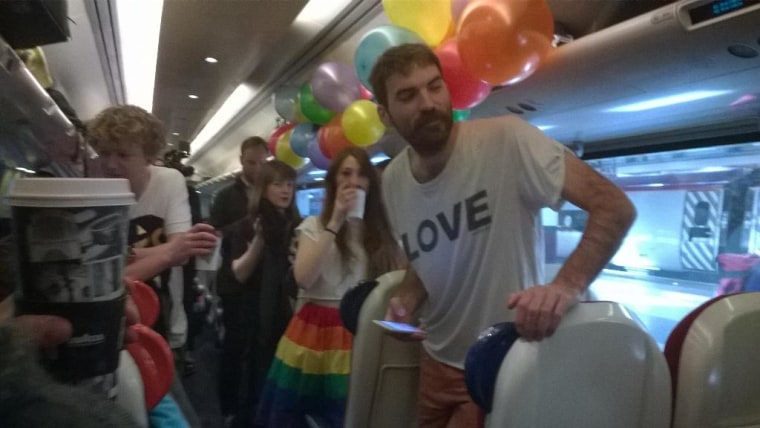 The Associated Press contributed to this report.