Grim reports that nearly 800 dead babies were discovered in the septic tank of a home run by nuns has set off a round of soul-searching in Ireland and sparked calls for accountability from government and Catholic Church officials.
Fresh research suggests that some 796 children were secretly buried in the sewage tank of the home in Tuam, County Galway, where unmarried pregnant women were sent to give birth in an attempt to preserve the country's devout Catholic image.
Officials said they were "horrified" at the discovery and said it revealed "a darker past in Ireland," a country often haunted by its history of abuse within powerful church institutions.
The home was run by nuns from the Bon Secours Sisters congregation between 1925 and 1961. It was one of the "mother and baby" homes across Ireland, similar to the Sean Ross Abbey, in Tipperary, where Philomena Lee gave her child up for adoption in a story that was this year made into the eponymous Oscar-nominated film "Philomena."
People who lived near the home said they have known about the unmarked mass grave for decades, but a fresh investigation was sparked this week after research by local historian Catherine Corless purportedly showed that of the hundreds of children who died at the home, only one was buried at a cemetery.
Speaking to the Irish Mail, which first reported her research, she also said that health board records from the 1940s said conditions at the home were dire, with children suffering malnutrition and neglect and dying at a rate four times higher than in the rest of Ireland.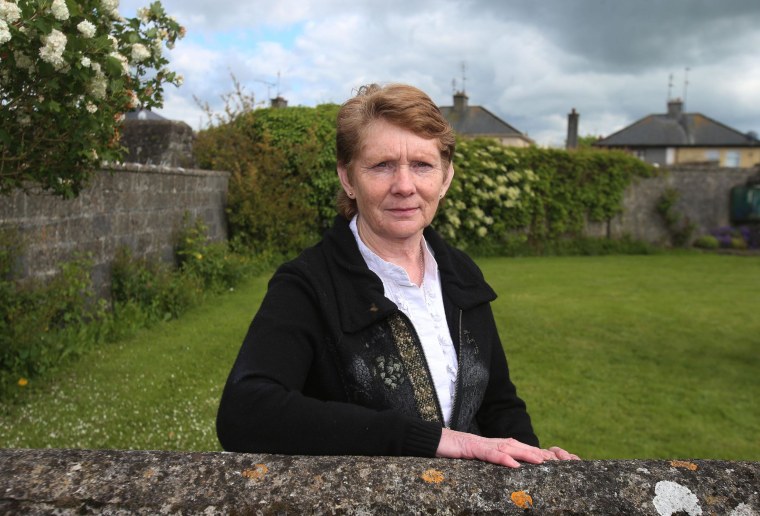 Charlie Flanagan, minister for children and youth affairs, said Wednesday night that there was a "cross-departmental initiative underway" to determine how to react to allegations.
"Many of the revelations are deeply disturbing and a shocking reminder of a darker past in Ireland when our children were not cherished as they should have been," Flanagan said.
Ireland's Roman Catholic Church told the order of nuns who ran the former home that it must co-operate with any inquiry into the discovery, according to the Reuters news agency.
Tuam's Archbishop Michael Neary said Wednesday that the diocese had no part in running the home but urged the Bon Secours Sisters to "act upon their responsibilities in the interests of the common good."
"I am horrified and saddened to hear of the large number of deceased children involved and this points to a time of great suffering and pain for the little ones and their mothers," he said.
The Bon Secours congregation did not respond to NBC News' request for comment.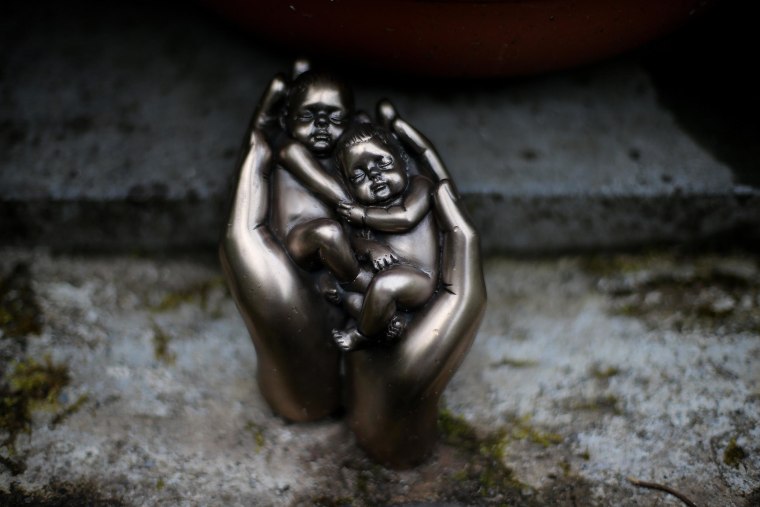 The claims came to light after Corless obtained death records for the home and cross checked them with local cemetery records.
Two local boys reportedly unearthed the concrete-covered tank used by the home while playing in 1975 and found hundreds of children's bones inside. The tank has now been surrounded by a housing estate, but an officer from Ireland's Gardai police force said remains had recently been found after a police survey at the site.
"We do not know what we're dealing with here yet, it could go back much further," the officer told NBC News on condition of anonymity. "This is a historical investigation going back to the 1950s.
"We are investigating this matter, the grounds have been surveyed and there is what appears to be human remains discovered. But [the remains] could go back as far as famine times, which is 160 years, we just don't know yet."
Police could not confirm if a full excavation of the site was planned.
Ireland's once-powerful Catholic Church has been rocked by a series of scandals over the abuse and neglect of children in recent years. The Church operated as a quasi social service in the 20th century and the mother and baby homes were run in a similar fashion to the Magdalene Laundries, where single women who became pregnant were sent away.
"Children went in there so the families could conceal their shame"
While government and church officials were quick to express their shock at reports of Tuam's high infant mortality rate and allegations of mass burial, the traits were not uncommon for such institutions in Ireland, according to Eoin O'Sullivan, associate professor at Trinity College Dublin.
"Tuam was a former workhouse and conditions were pretty bleak," said O'Sullivan, co-author of the 2001 book "Suffer the Little Children: The inside Story of Ireland's Industrial Schools."
"Ireland's first mother and baby home, at Bessborough, in Cork, had an even worse infant mortality rate of around 82 percent: In the year ending March 31, 1944, 124 children were born or admitted there, and 102 died."
O'Sullivan added that the practice of mass burial, often with just one headstone marking the site, was not uncommon in many mother and baby homes and psychiatric hospitals at the time.
"Remember that the children went in there so the families could conceal their shame, and the kids were often adopted," he said. "The nuns were not going around grabbing pregnant women; the women were taken there by their families who knew what conditions were like.
"Why have politicians and the Church reacted with such shock? I'm not sure. I suppose they have to every time something like this comes out connected with religious institutions."