Ireland will become the first country in the world to vote directly on same-sex marriage Friday in a neck-and-neck referendum that has seen most of the Catholic country's government and the church on opposing sides.
Voters will decide whether to back an amendment to the constitution that would redefine marriage to include same-sex unions, five years after the introduction of civil partnerships.
The earliest opinion poll in the campaign indicated a 'Yes' vote of 76 percent, but the gap between the sides has narrowed. Polls published Sunday suggested support for the 'Yes' campaign at between 53 and 69 percent. However, Irish prime minister Enda Kenny last week declared the race too close to call.
Kenny, who is advocating a 'Yes' vote, said Ireland "had gone on a journey from decriminalization of homosexuality [in 1993] … and now a step towards civil marriage."
In an interview with TV3, he asked: "Are the Irish people going to deny their own kith and kin the right to have a marriage contracted in civil law if that's what they wish to do?"
Leading the charge for a 'No' vote are the Catholic Church and associated think tanks, as well as groups such as Catholic Comment. A member of that group, Petra Conroy, told NBC News that the referendum is about "the unique mother, father and child relationship," adding: "I think we can have equality and leave marriage as it is."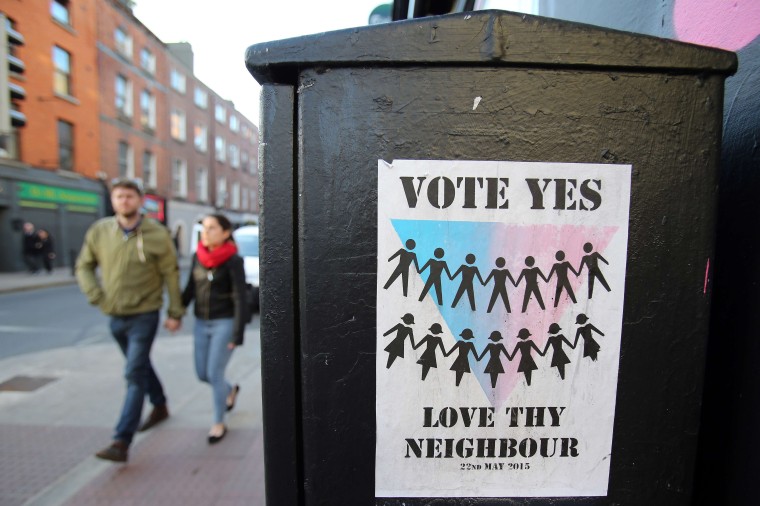 Conroy believes there is a "silent 'No' vote" and that many people are too afraid to admit their position publicly for fear of being denounced as homophobic.
Gaelic football player and Catholic school chaplain Ger Brennan wrote an editorial supporting the 'No' campaign, saying: "I'm sick of the accusations being flung around that if you vote 'No' you are homophobic. I know I'm not homophobic; my gay friends and family can attest to that."
He added: "I am voting "No" because I don't want our Constitution to deny that it is a good thing for a child to have a mother and a father. I very nearly decided not to write this piece. I know I'll be targeted for it."
U2 singer Bono has endorsed a 'Yes' vote, telling the Irish Independent that he believes the vote should not be seen as a religious issue.
"Think about it — trying to co-opt the word 'marriage' is like trying to co-opt the word 'love.' You can't own it," he said. "Marriage is now an idea that transcends religion. It is owned by the people. They can decide. It is not a religious institution. As far as I know, Jesus wasn't a married man and neither are most priests [who are] talking about it."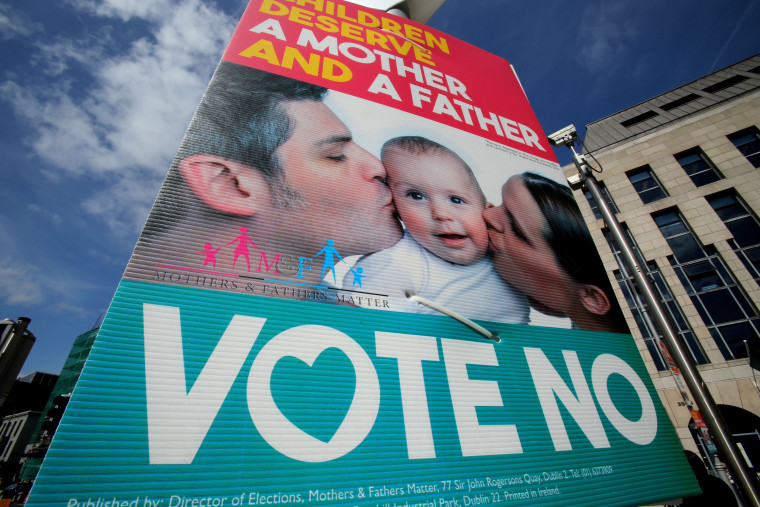 Ireland has undergone huge social and economic changes since the 1980s, from a long financial boom to the bust from which it is now emerging.
It voted — narrowly — to allow divorce in a 1995 referendum that was fiercely debated and vigorously opposed by the Catholic Church. In the end, it passed by fewer than 10,000 votes.
Dubliner and 'Yes' voter Gordon Hickey believes the country's constitution doesn't reflect modern Ireland and said he was "extremely worried" about the outcome of the referendum.
"The 'No' campaign claim it's about protecting children," he told NBC News. "Well I am someone's child. What about my rights? I want to be recognized as equal; gay people already feel like second-class citizens; having to beg our country to recognize us as equal just makes us feel worse."
The ballot boxes will be opened early Saturday with a result expected to be announced hours later at Dublin Castle.