A suicide bombing claimed by ISIS rocked a Muslim shrine in a remote part of southwestern Pakistan just before sunset Saturday, killing more than 50 people, officials said.
The attack, which also injured dozens, happened while hundreds of people were gathered for worship at Dargah Shah Noorani, a shrine in Balochistan province.
The attack occurred in the women's section of the shrine. At least 52 people, mostly women and children, were killed, Balochistan Interior Minister Mir Sarfaraz Bugti told NBC News.
"The area is isolated and dark, and it is not even reachable by car but only by foot, so we are expecting higher casualties," added Ghulam Ali, an ambulance dispatch operator.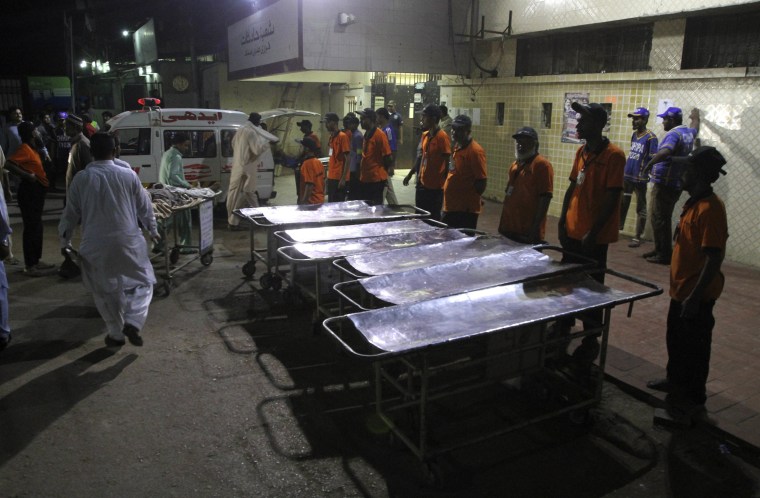 Pakistan's paramilitary Frontier Corps said it had moved 40 dead from the site along with another 100 injured.
The government dispatched 25 ambulances from the nearby town of Hub to the shrine, said Akbar Harifal, provincial home secretary for Baluchistan.
Sarfaraz Bugti, home minister of Balochistan, told NBC News that "right now, our sole focus is rescue. This place is tough to get to, and tough to get casualties out of."
A Sindh Rangers officer, speaking on condition of anonymity, confirmed to NBC News that the attack was a suicide bombing. He said the Army, Frontier Corps and Rangers were on their way to assist, and a medical helicopter was attempting a landing.
Related: Quetta Bombing: Dozens Killed in Attack Targeting Pakistan Hospital
ISIS claimed responsibility for the blast in a statement released by the group's news agency.
This is the third major terror attack in Balochistan in the last few months. A suicide bombing in a Quetta hospital killed 81 in August, while a gun and suicide attack killed over 50 police cadets when their barracks were stormed last month. Both attacks were claimed by ISIS.
The province is key to a $46 billion transport and trade corridor between Pakistan and China, which hinges on a deep-water port in the southwestern city of Gwadar.
The region remains rocked by attacks. In Afghanistan on Saturday, a man wearing a suicide vest killed two American service members and two American contractors inside the largest NATO military base in the country, the Pentagon said. Another 16 U.S. service members and a Polish soldier were injured in the blast.