BAGHDAD, Iraq — Residents of ISIS's former Iraqi stronghold of Mosul have warned that extremists were still living among civilians in parts of the city liberated by U.S.-backed troops.
"There are at least 30 ISIS terrorists in my neighborhood. We know them very well," said Mohammed Sinan, an unemployed businessman who lives in the Al-Andulus area in eastern Mosul that was recaptured in January.
Zuher Al-Juburi, a government-appointed city councilor in Mosul, told NBC News there were hundreds of ISIS members living throughout the city. NBC News could not verify these accounts.
"The only thing they did is they shaved their beards and changed their clothes," he said late Saturday.
Al-Juburi, who is also the spokesman for Nineveh Hashed, a Sunni militia that fought against ISIS in Mosul, told NBC News that ISIS members remain active in the city.
"It is wrong to say that these are sleeping ISIS cells, because they are active and launch terror attacks from time to time," he said.
Not all of the ISIS members still living in Mosul are fighters, according to Al-Juburi. Some simply advocate the group's extreme interpretation of Islam and support it with money, he said.
"ISIS is defeated as an organisation, but it is not defeated as a terror group"
Sinan and Al-Juburi spoke to NBC News via the telephone from Mosul, which was captured by ISIS in June, 2014, as the extremists stormed swathes of Iraq and neighboring Syria.
On Thursday, Prime Minister Haider al-Abadi declared victory over ISIS's so-called caliphate in Iraq after troops captured the city's destroyed Grand al-Nuri Mosque. The win was deeply symbolic: ISIS leader Abu Bakr al-Baghdadi announced the group's caliphate almost three years ago from the 850-year-old religious site.
"The return of Nuri mosque and minaret of Hadba today after being [destroyed] by ISIS marks the end of Daesh State falsehood," said al-Abadi, referring to the group's name in Arabic. "We will continue chasing ISIS until we kill and arrest [every] last one of them."
U.S.-backed forces continued squeezing ISIS militants in Mosul's Old City through the weekend.
Troops have been battling for months to free the northern city with fighting concentrated in the narrow streets of Mosul's Old City in recent weeks.
Related: Iraqi Forces Push Through ISIS-held Mosul as Civilians Flee
The warren of alleys around the al-Nuri mosque in the west of the city is believed to be ISIS's last enclave in Mosul, once Iraq's second-largest city.
Last week, ISIS fighters targeted a local market in eastern Mosul, detonating their suicide vests among shoppers and traders, according to Al-Juburi.
In the same week 45 ISIS members launched an attack on the Al-Tanak neighborhood in western Mosul killing civilians, he added.
Militants had also conducted targeted killings including the assassination of two mayors in the east of the city, he said.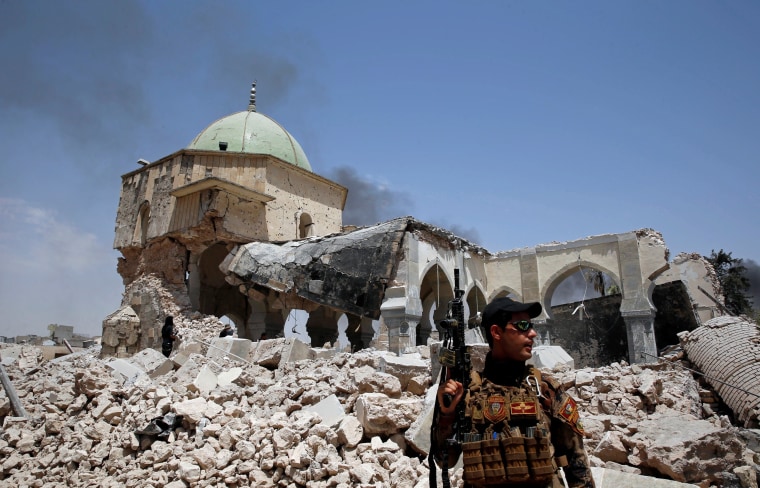 Sinan, the former businessman, says he feels the threat of ISIS on a daily basis.
"These terrorists are like a ticking time bomb, they are ready to either explode or to carry out many terror attacks against people," the 43-year-old said.
Locals are afraid to report the fighters to the authorities, said Sinan.
He told NBC News that last month residents of his neighborhood reported four ISIS fighters to the security forces. Three of whom were released the following week.
"I am afraid to go to security authorities [either the police or Iraqi troops] to give them information about a terrorist because he might be released," Sinan said. "He might know I was the one who went to the security authorities and then I might be killed."
Al-Juburi said corruption is widespread.
"Some of them pay [authorities] $200 to get documents which prove they are not affiliated with ISIS which means they can go everywhere in Iraq free," he said.
Al-Juburi said he agreed that the caliphate had fallen but warned that ISIS still exists.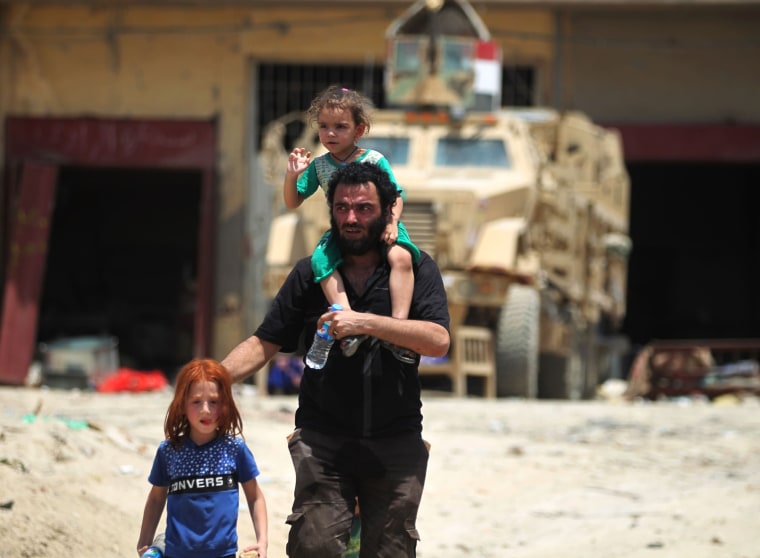 "ISIS is defeated as an organisation, but it is not defeated as a terror group. There is no Islamic State anymore but their fighters and supporters are still there and they are ready to carry out terrorist attacks at any time," he said.
One difficulty, Al-Juburi added, was that many families of deceased ISIS fighters still believed in ISIS's extremist ideology and would pass on their beliefs to their sons.
To truly rid Mosul of ISIS militants, security forces needed to check each neighborhood for supporters by talking to locals as they liberated each area, Al-Juburi said.
He added that Mosul needed a prison so suspects could be detained before being tried in court. In the short-term the suspected militants should be sent to the Iraqi capital Baghdad to be imprisoned, he said.
An NBC News producer reported from Baghdad. Saphora Smith reported from London.