PESHAWAR, Pakistan — Hundreds of Taliban fighters have joined ISIS' new branch in Pakistan, according to three militant commanders in the country.
The Pakistani government's 10-month onslaught in an area of the country once overrun by terror groups has pushed many fighters toward ISIS, one of the fledgling group's leaders told NBC News.
"The military operation in North Waziristan by the Pakistan army has helped us a lot," said Mufti Hassan Swati, who claims to be the deputy head of ISIS in Pakistan. "Hundreds of militants quit their groups and joined us [after it started]. Initially we had some problems of resources in running the organization but we have enough resources now."
Swati, who previously led the Pakistani Taliban's (TTP) branch in the city of Peshawar, was among a group of militants who opposed peace talks with the government. The group helped unleash a wave of suicide attacks that killed and maimed hundreds in the second half of 2013.
According to Swati, the new ISIS chapter was being led by Hafiz Saeed Khan from its headquarters in Baloshistan, a lawless and desperately poor Pakistani province. Khan was once a strong contender for the leadership of the TTP. However, he lost out to Maulana Fazlullah, who has taken credit for the horrific Pakistani school massacre that left 153 dead on Dec. 16 and whose fighters were blamed for the shooting of schoolgirl Malala Yousafzai.
Swati and Khan were among six high-ranking TTP members to announce that they had defected to the new branch of ISIS in October. ISIS' media arm this week declared Pakistan and neighboring Afghanistan to be one region called the province of Khorasan — the name given to a historic region that covers part of modern-day Iran, Afghanistan and India.
NBC News interviewed four commanders fighting with the Taliban in Afghanistan, and two with the TTP. All spoke on the condition of anonymity.
Swati claimed that 10,000 fighters had joined the cross-border group's ranks and training camps had been established throughout the region, but could not provide any evidence to back up these claims. Militants in the region have a history of overstating their power and influence.
Members of the Pakistani and Afghan Taliban acknowledged that the new branch had attracted fighters, but said the number of adherents was in the hundred not the thousands. Most of the defections have come from the TTP, two commanders in the field told NBC News.
"Our people are now getting frustrated and asking us why did we fail in getting a space in Afghanistan to implement Shariah, despite the loss of thousands of people in their war against the U.S. and its allies."
"A few hundred militants affiliated with their commanders had joined Daesh," one TTP commander said, using the Arabic name for ISIS.
Pakistani officials would not publicly acknowledge the presence of ISIS on their territory, but one who spoke to NBC News on condition of anonymity said that a military offensive had been launched to eliminate the group.
Last year, NBC News revealed that ISIS had created a 10-man "strategic planning wing" with a master plan on how to wage war against the Pakistani military, and was trying to join forces with local militants.
And in late September, a pamphlet apparently made by the self-proclaimed caliphate was distributed among Afghan refugees in Pakistan exhorting them to pledge allegiance. It lashed out against "America and the rest of the infidels."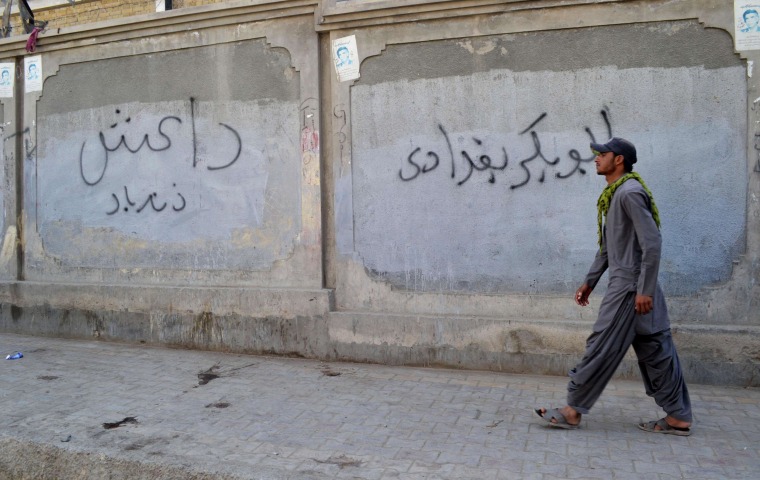 Some fighters in Afghanistan have also joined the new group, according to four commanders in the country who spoke to NBC News.
"A small number of people of the Afghan Taliban who weren't happy with their leadership joined Daesh, but others are discussing meeting and waiting for a suitable time to become part of it," a Taliban commander in Afghanistan's Nangahar province said in a telephone interview.
"Our people are now getting frustrated and asking us why did we fail in getting a space in Afghanistan to implement Shariah, despite the loss of thousands of people in their war against the U.S. and its allies," he said. "Their concerns are genuine as we don't have an inch of land in our possession in Afghanistan where we could live freely."
In October, militants aligned with ISIS launched a brutal offensive in Afghanistan alongside Taliban fighters that left more than 100 people dead. Insurgents carrying the black flag of ISIS captured several villages in Ghazni province. At least 60 homes were set ablaze, officials said.
NBC News' F. Brinley Bruton contributed to this report