An apparent suicide bomber blew up a section of a Beirut hotel on Wednesday, killing one and severely injuring several Lebanese security officers involved in a raid on the hotel in search of terrorists believed tied to Islamic State of Syria and al-Sham (ISIS), officials said.
The bomber appeared to be the only fatality, sources said, although at least four security officers were wounded.
The explosion sent flames and a dark cloud of black smoke billowing out of the third-floor windows of the Duroy Hotel in the Raouche district, a well-heeled neighborhood that borders the Mediterranean Sea.
An official in the general security department told the Associated Press that security forces were raiding the hotel when the suspect on the fourth floor detonated explosives in his hotel room. The official spoke on condition of anonymity in line with regulations.
Damage appeared to be confined to the third and fourth floors of the hotel. The explosion started a fire on the third floor, and thick black smoke billowed above the hotel as fire engines struggled to contain the blaze.
Lebanese media reported that there may have been a second suspect in the hotel engaged in gun battles with authorities.
Lebanese troops sealed the area around the hotel as armed gunmen fanned out on the street.
Local reports said that the dead bomber was a 20-year-old Saudi national.
The explosion is the third to hit the Lebanon in less than a week. A suicide bomber blew himself up near a checkpoint outside a cafe in the southern part of the Beirut just after midnight on Monday, killing himself and a security officer.
Three days earlier, the head of Lebanon's General Security service narrowly escaped a suicide bombing near the Syrian border.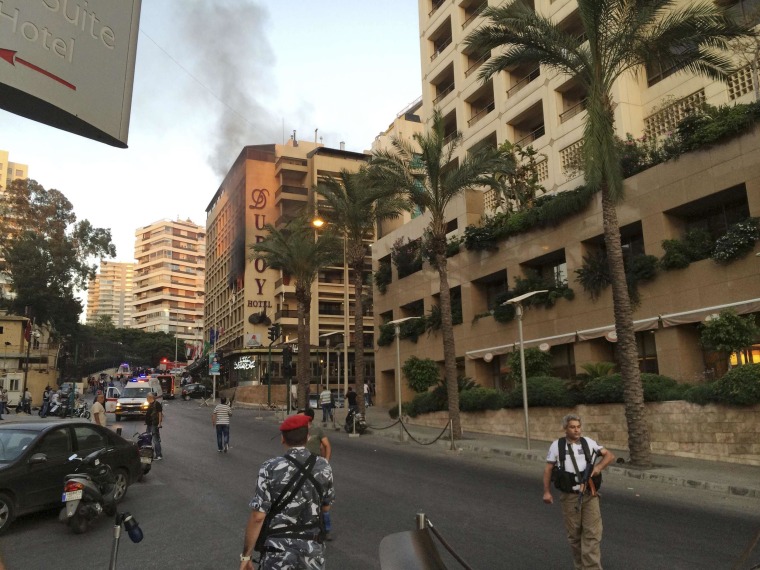 Just over a week ago, authorities in the country announced that they were looking for ISIS cells that had penetrated into Lebanon and were planning to carry out a series of suicide attacks.
On Friday, security forces raided another hotel and arrested 17 men believed to be ISIS members, but didn't find any explosives, Lebanese media reported.
Journalist Ahmed Shihab-Eldin lives near the hotel, and was actually coming back from the beach at the time.
"There was a lot of chaos, this being the third one in six days," he told NBC News via phone. "There was confusion that this could happen in Raouche ... There was a lot of smoke and it covered a lot of the skyline."
Shihab-Eldin, noted that the escalating tensions due to the conflicts in neighboring Syria and Iraq was "depressing," also said the city was "resilient."
— with The Associated Press