Israeli fighter jets launched airstrikes in Gaza Thursday, after the military said Palestinian militants fired rockets at its territory following a deadly raid in the occupied West Bank.
The Israel Defense Forces said the strikes were in response to six rockets from Gaza and struck a weapons manufacturing site and military compound belonging to the militant group Hamas, which rules Gaza.
The IDF previously said that five of the six rockets were intercepted, and the sixth fell in an open area. Violence in the West Bank often sets off a response from militants in Gaza, although the rocket attacks were not immediately claimed by Palestinian militant groups.
Israel's Prime Minister Benjamin Netanyahu told a Cabinet meeting Thursday that Israel had a "clear policy, to strike at terrorism forcefully and to deepen our roots in our land."
"We will continue to take strong action on all fronts, near and far, in order to thwart our enemies efforts to attack us," he said. "Whoever tries to harm us — will pay the price."
The rockets were fired hours after at least 11 people were killed and scores more were wounded after a rare daytime arrest operation by Israeli troops sparked a gun battle in the West Bank city of Nablus, according to Palestinian officials. The Palestinian Health Ministry said that a 72-year-old man was among the 11 who died in or following Wednesday's raid, and that 102 people were wounded.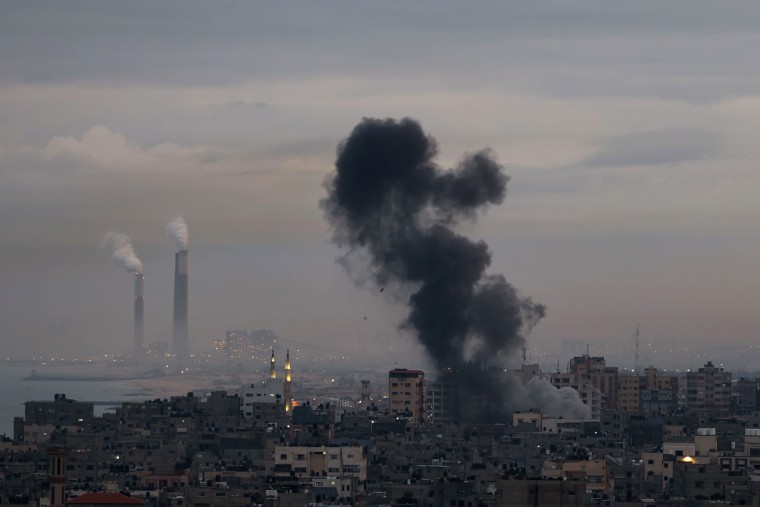 The Israeli military said it and other agencies "neutralized" three wanted suspects who were involved in carrying out shooting attacks, and who were planning future attacks. Two of the three were killed in a shootout, it said.
The raid, coupled with the high death toll, raised the prospect of further bloodshed. 
Early Thursday, police said security guards at the entrance to a West Bank settlement fatally shot a woman who police said approached them with a knife in an attempted stabbing attack.
The violence comes in the first weeks of Benjamin Netanyahu's new far-right government, which has promised to take a tough line against the Palestinians and pledged to ramp up settlement construction on lands Palestinians seek for their future state.
Israeli forces routinely conduct raids in the occupied West Bank even though the Palestinian Authority has full control over administrative and security issues in the area.
At least 55 Palestinians have been killed in the West Bank and east Jerusalem this year, according to the AP, while Palestinian attacks on Israelis in 2023 have killed 11 people. A similar raid last month in the West Bank city of Jenin was followed by a deadly Palestinian attack outside a Jerusalem synagogue.
Nearly 150 Palestinians were killed last year in the West Bank and east Jerusalem, making it the deadliest year in those areas since 2004, according to figures from the Israeli rights group B'Tselem. 29 people were killed by Palestinians in Israel, east Jerusalem and the West Bank, according to Israel's Foreign Affairs Ministry. Twenty-three civilians ⁠— including a child ⁠— and six members of Israel's security forces died.
Israel says that most of those killed have been militants but that others — including youths protesting the incursions and other people not involved in confrontations — have also been killed. An AP tally has found that just under half of those killed belonged to militant groups.
Israel says the military raids are meant to dismantle militant networks and thwart future attacks; the Palestinians view them as further entrenchment of Israel's open-ended, 55-year occupation.
Israel captured the West Bank, east Jerusalem and the Gaza Strip, territories the Palestinians seek for their hoped-for independent state, in the 1967 Mideast war.