Israeli leaders on Thursday "sharpened" laws against stone throwers — giving police broader powers to combat them and allowing for harsher punishments against those who throw such "murderous" objects.
In changing the rules of engagement, police can now open fire to protect others if that person is believed to be in life-threatening danger from stone throwing, Molotov cocktails or other explosives. Previously, authorities could only open fire to protect themselves.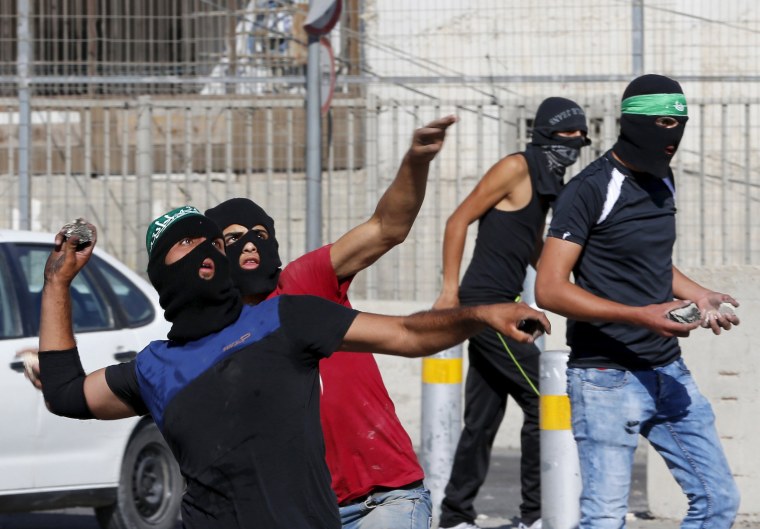 Lawmakers also implemented a minimum sentence of four years for adults found guilty of launching the deadly projectiles. Suspects also face increased fines.
"We intend to change the established norm here — the fact that in Israel one can throw objects that are deadly and murderous unanswered and without thwarting," Prime Minister Benjamin Netanyahu said after the cabinet meeting. "That will change."
Netanyahu declared "war" on stone-throwing following the death of an Israeli man in an attack earlier this month. Israeli police said the man's vehicle fatally crashed after it was hit by a rock, thrown by Arabs, in the Jerusalem area on Sept. 15.
Israel has previously changed its criminal code regarding stone-throwing, approving prison sentences of up to 20 years for people who propel rocks at vehicles.
The move was widely criticized by local NGOs who claimed the law was targeting Palestinian children, who are often blamed for the stone-throwing.
Meanwhile, many of the confrontations between Israeli police and Palestinians have taken place at the religious site known to Muslims as the Noble Sanctuary and to Jews as the Temple Mount.
Netanyahu dismissed claims that Israel is trying to destroy places sacred to Muslims.
"All remarks regarding the intention to harm the Islamic holy places are utter nonsense," he said Thursday. "It is not we who are changing the status quo; it is those who bring pipe bombs and explosives into the mosques who are changing the status quo."