TEL AVIV, Israel — Israel's education ministry has banned high schools from teaching about a that depicts a love story between an Israeli woman and a Palestinian man, reportedly because it would encourage "hatred" and assimilation.
Teachers had nominated "Gader Haya" — "Borderlife" — by Israeli Dorit Rabinyan to become part of the country's high school curriculum.
The rejection has caused controversy in Israel, where Rabinyan described the decision as an "unbelievable scandal."
In a statement, the ministry told NBC News that the book was not approved because it was "full of layers of hidden narratives, with criticism of the liberal-left part of the Israeli political spectrum, [and] wrapped in a romantic story of an impossible love.
"The professional team came to the conclusion that young adolescent may have difficulty to go in depth into these layers."
Meanwhile, education official Dalia Fenig said on Army Radio Thursday that "at this time of tensions in Israel choosing this book can fuel hatred."
Related: Israeli Cops Kill Palestinian in Alleged Car-Ramming Attack
More than three months of Israeli-Palestinian violence has killed 24 Israelis and 131 Palestinians, sending tensions between Arabs and Jews soaring.
Liberal Israeli daily Haaretz quoted a letter by Fenig as saying the book shouldn't be included because teens could not grasp the "significance of assimilation."
"Adolescent youth tend to romanticize and don't have, in many cases, the systematic point of view that includes considerations about preserving the identity of the nation and the significance of assimilation," Fenig was quoted as writing in the letter.
Rabinyan told NBC News she was shocked when she discovered that her book, which took six years to write, was disqualified.
"I think that what happened with the education ministry is an unbelievable scandal that cannot be imagined." she said. "The content of the book became the reason for its disqualification."
The book tells how Liat, an Israeli academic, and Hilmi, a Palestinian artist, meet and fall in love in New York City. Both return to their hometowns — Liat to Tel Aviv and Hilmi to Ramallah in the Israel-occupied West Bank. Rabinyan said she tried to give the reader a perspective on the reality of life in the Middle East through the couple's relationship.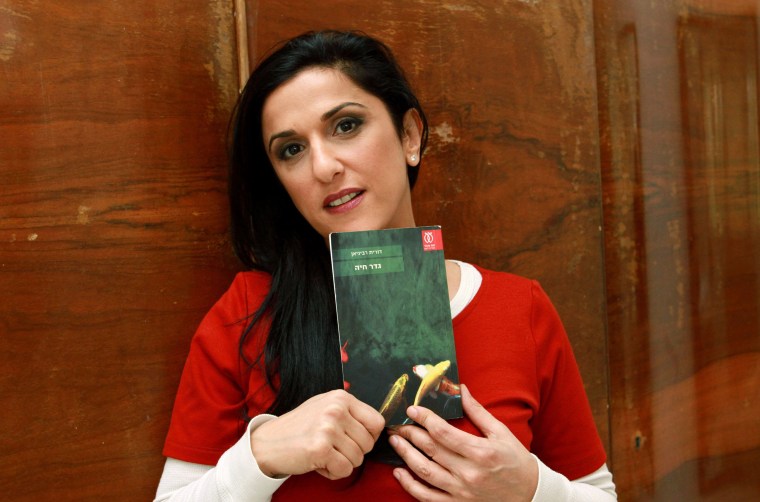 The book deals with Liat's internal resistance to her love for Hilmi, which threatens her Israeli and Jewish identity, Rabinyan added.
"I used New York as a neutral background to make it possible for the two to know each other," she said. "The education ministry is willing to do anything to create an illusion that the Palestinian problem does not exist. Their main fear is the fact that a Palestinian can be seen as an intimate and close partner."
Not that Rabinyan expects the furor to hurt sales. "A lot of authors ask for this kind of scandal," she said.
"Borderlife" was expected to be available in the U.S. in 2016.