Israel on Sunday accused Hamas of kidnapping three Israeli teens in the West Bank, hours after the country's security forces detained dozens of Palestinians amid a stepped up military effort to find the boys.
The teens — Gilad Shaar, 19, Naftali Frenkel, 16, and Eyal Yifrach, 16 — were last seen Thursday night near Gush Etzion, an area that has several Jewish settlements. One of the students is an American, according to a source with the Israeli security force.
Prime Minister Benjamin Netanyahu — who earlier had stopped short of pointing a finger at any specific terror group - told a Cabinet meeting on Sunday that Hamas was behind the boys' disappearance.
"This morning I can say what I was unable to say yesterday before the extensive wave of arrests of Hamas members," he said. "Those who perpetrated the abduction of our youths were members of Hamas."
"This has severe repercussions," he added.
Later Sunday, Netanyahu said the "attack should surprise no one" in light of a new Palestinian unity government sworn in by Palestinian President Mahmoud Abbas which is backed by Hamas.
"Instead of abiding by his international obligation to disarm Hamas, President Abbas has chosen to make Hamas his partner," Netanyahu said later on Sunday. "Israel holds the Palestinian Authority and President Abbas responsible for any attacks against Israel that emanate from Palestinian-controlled territory."
Frenkel's mother broke her silence on Sunday, saying her family is in close contact with the security forces and getting briefings on any new information.
"We feel and know that they are turning the world in order to find the three," Racheli Frenkel told reporters.
After thanking Israelis for their prayers, she also issued a heartbreaking message directed at her son.
"Mommy and Daddy and your brothers love you until the end of the world and you should know that the people of Israel are doing all they can to bring you back home," she said.
Israel's prime minister and President Shimon Peres have both reached out to the families of the missing teens.
"We are one nation, we are one family and I want you to know that all of Israel is with you during these difficult times," Peres told them on Saturday, according to the president's office.
Peres also said that all branches of Israel's security forces are "doing everything to bring our boys home," adding that "the people of Israel are praying for their safe return."
Sign up for breaking news alerts from NBC News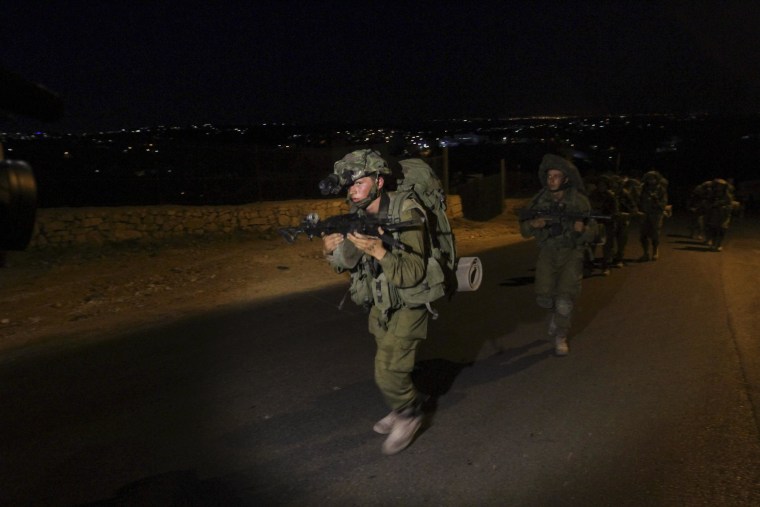 Israeli Defense Forces said in a statement Sunday that 80 Palestinian suspects were detained in overnight operations by the military and police forces to find the missing teens.
Lt. Col. Peter Lerner said Israeli Defense Forces "will use all means at hand" to bring the boys home quickly, safely and in good health.
"Palestinian terrorists will not feel safe, will not be able to hide," Lerner said.
The Israeli newspaper Haaretz reported that most of those detained were affiliated with Hamas, including a senior operative. Haaretz said a closure was imposed on the southern part of the West Bank.
Hamas has not claimed responsibility for the abduction, but three other groups have, according to The Associated Press - including an al Qaeda splinter group that said the kidnapping was retribution for the killing of three fighters by Israeli forces earlier this year.
In a statement, U.N. Secretary-General Ban Ki-Moon condemned the abduction and called for the teens' release.