Hundreds of Israeli troops deployed on Wednesday to bolster police forces amid a deadly wave of violence that has put the nation on high alert.
The military moves came after a series of attacks — men opening fire and stabbing passengers on a bus, a driver ramming pedestrians then stabbing pedestrians — that left three people dead and more than 20 wounded.
Hours after the new deployment, police shot and killed a 19-year old West Bank man who rushed past a checkpoint near Jerusalem's Damascus Gate, where security forces were conducting random checks on Palestinians. Later on Wednesday, a Palestinian suspect was shot and killed after police said he stabbed a 70-year-old woman near Jerusalem's central bus station.
In response to the escalating violence, Israel's security cabinet approved a set of tougher security measures late Tuesday. The steps included enlarging the operational police force, revoking the permanent residency rights of "terrorists," authorizing police to surround "centers of friction and incitement" and deploying military units to reinforce police on cities and roads.
As part of those measures Israel's military said it was deploying six companies to reinforce police.
Police spokesman Micky Rosenfeld told NBC News that 300 soldiers were working under the command of Israel's national police and security was heightened throughout Jerusalem.
Many of the attacks have been in the city, where a heavy security presence was visible Wednesday.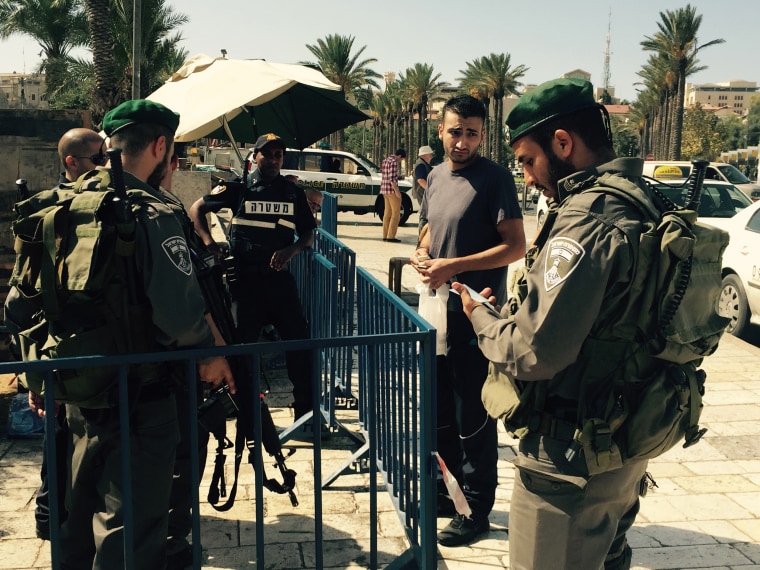 "We're taking things step by step, stage by stage," Rosenfeld said. "We're working carefully and cautiously in order to prevent and respond to any further attacks today in Jerusalem."
A new checkpoint was set up in the Jabal al Mukaber neighborhood of East Jerusalem, where several perpetrators of recent attacks hailed from, with officers checking people and vehicles.
The uptick in attacks — coupled with deadly clashes between Israeli forces and Palestinians on the Gaza border — has raised fears of a third intifada, or Palestinian uprising. At least seven Israelis and some 30 Palestinians have died in shootings, stabbings and clashes with security forces, according to Reuters.
Palestinian President Mahmoud Abbas vowed in a televised statement to "continue the national struggle, based on our right to self-defense," according to a translation by The Associated Press.
Abbas said he planned to submit cases of what he called "extrajudicial killings being committed against our boys and girls" to the International Criminal Court.
The White House said on Wednesday that it had "deep concerns" about violence in Israel and it condemned the killings of innocent people, Israeli or Palestinian, Reuters reported.
White House spokesman Josh Earnest said the United States was in regular contact with Israeli and Palestinian officials about the escalating violence.
U.S. Secretary of State John Kerry plans to travel to the Middle East soon to address the rise in tensions, spokesman John Kirby said. Where he'll go, and when, has yet to be worked out.
One of the biggest challenges of stemming the violence will be its disorganized nature, according to Nicholas Burns, a professor at Harvard's Kennedy School and a former Under Secretary of State.
"There appears right now not to be an organized leadership of this violence," Burns told NBC News. "It's hard to stop if people are acting individually."