TEL AVIV — A senior Israeli official on Wednesday called for the state to "erase" the Palestinian town of Hawara, which was rampaged by Jewish settlers over the weekend.
"I think the village of Hawara needs to be erased. I think that the state of Israel needs to do it. God forbid that regular people should do it," Israel Finance Minister Bezalel Smotrich said.
His comments came after he liked a tweet that called for Hawara to be "wiped out" in the wake of a Palestinian gunman's attack that killed two brothers, Hillel Menachem Yaniv, 21, and Yagel Yaakov Yaniv, 19, who lived in the Israeli settlement of Har Bracha, around 5 miles away.
Israeli security forces were searching the Hawara area for the attacker when Jewish settlers gathered and stormed the village.
Smotrich, who is the chairman of the far-right Religious Zionist Party and has been put in charge of many of Israel's policies in the occupied West Bank, said that he has also called for calm during the violence. But on Monday, after the brothers were killed, he said that Israel should strike back "without mercy."
"Under any circumstances, we should not be carried away to anarchy in which citizens take the law into their own hands," he said. "What causes this situation is when citizens are murdered in the streets."
A Palestinian man, Sameh Hamdallah Mahmoud Aqtash, 37, was shot and killed in the violence in Hawara, the Palestinian Health Ministry said Monday. Dozens of cars were also burned.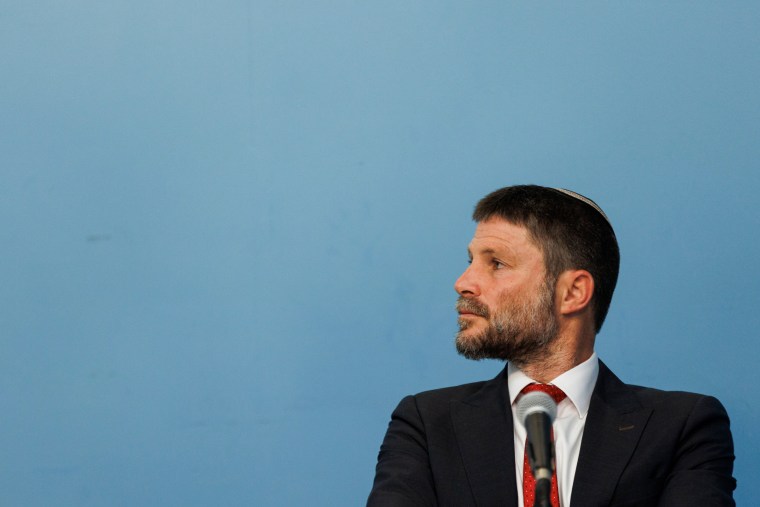 An Israel police spokesperson told NBC News that seven people had been arrested in connection with the violence. Another three people were currently under house arrest, the spokesperson added.
About 700,000 Israeli settlers live in the West Bank and east Jerusalem, which are territories the Palestinians want to use to build a future state. The international community, including the Biden administration, considers the settlements illegal and obstacles to peace.
Israel captured the West Bank, east Jerusalem and the Gaza Strip in the 1967 Six-Day War.
Smotrich, a settler leader who lives in the area, told a journalist with Israel's 13 News that the attacks on Hawara weren't "Jewish terrorism."
"There is no such thing as Jewish terrorism, it is a criminal crime," Smotrich said.
Smotrich, who has made similar comments in the past, was criticized after the video of his interview was published online.
State Department spokesperson Ned Price said at a news conference Wednesday that the comments were "irresponsible" and "repugnant."
"Just as we condemn Palestinian incitement to violence, we condemn these provocative remarks that also amount to incitement to violence," he said. He added the U.S. was calling on Prime Minister Benjamin Netanyahu and other senior Israeli officials to "publicly and clearly reject and disavow these comments."
Elsewhere, Eugene Finkel, a professor of international affairs at Baltimore's John Hopkins University tweeted that Smotrich didn't "even want a pretense of deniability by outsourcing it to 'vigilantes.'"
He added: "We might be headed to a major explosion and I don't think even the U.S. can stop it now."
In nearly a year of violence, more than 200 Palestinians and at least 40 Israelis were killed in the West Bank and east Jerusalem, according to the Associated Press. A deadly Israeli raid on the West Bank city of Nablus killed at least 11 Palestinians last week and left scores more wounded.
Paul Goldman reported from Tel Aviv and Aina J. Khan from London.