TEL AVIV — A difficult and bloody ground assault on the Gaza Strip is still likely in the coming days, former Israeli Prime Minister Ehud Barak has told NBC News, despite mounting fury in the Arab world over a deadly hospital blast that has intensified fears of broader escalation in the region.
Barak — who, having been defense minister during the country's largest Gaza ground incursion in 2009, has rare experience of such an operation — said that if the conflict spreads it could spark a wider war involving "more time, toil, sweat, tears and blood."
He maintained, however, that even if that happens, Israel will not be under existential threat. "We don't need another war. But if we have one, then we will fight one," he said in a wide-ranging interview late Wednesday. "And Israel will win."
Barak's worldview stems from his lifelong career as a military man-turned-politician. He rose from a special forces commando to commander-in-chief of the Israel Defense Forces before he entered politics and served as prime minister once and defense minister twice, as well as stints heading up the interior and foreign ministries.
He was elected on a pro-peace platform in 1999 and, although the Camp David Summit with Palestine Liberation Organization Chairman Yasser Arafat failed the following year, then-President Bill Clinton, who brokered the talks, said Barak had shown "particular courage and vision."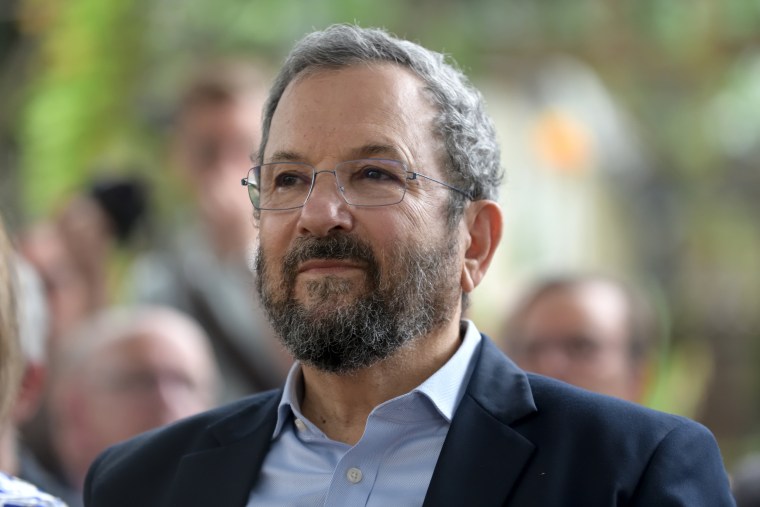 Since that failed effort, a lasting peace has seemed to grow only more distant, both in practice and in support. On the Israeli side, most are still grieving less than two weeks after the Hamas attacks dealt the country one of the worst days in its history. Many people here are eager for their military to enter Gaza, not just for their own safety from Hamas, but also for retribution.
"It's very easy to kill somebody when he's sleeping," said Ari Taitou, 60, who runs the Épicerie Fine deli and cafe in Tel Aviv's boutique Neve Tzedek neighborhood. He has three children serving in the IDF, and his cousin lost a son on Oct. 7. "But now that we are awake, they will see what will be the strength of our revenge. And it's not even revenge; it's the strength of the justice."
A ground invasion has not come as quickly as some commentators expected, perhaps forestalled by President Joe Biden's visit Wednesday when, drawing on the U.S. experience after the 9/11 terrorist attacks, he warned against the dangers of being consumed by vengeance. 
In a sign that an assault on Gaza was still very much being planned, Israel's current defense minister, Yoav Gallant, visited troops Thursday. "You see Gaza now from a distance. You will soon see it from inside. The command will come," he said.
Barak says Israel enjoys "huge support" across the West, "but we know from our experiences that this will erode over time, and we will lose legitimacy in the minds of the public in most of the world because of the almost inevitable damage to civilians when we execute our operation."
Since it withdrew from Gaza in 2005, Israel has launched several military operations against Hamas in the enclave, mostly recently in 2021, all of which have drawn international humanitarian concern and even condemnation.
In the Tel Aviv deli, an employee, Margarita Spector, 23, grapples with the humanitarian consequences of what she and many others see as the self-evident need to defend themselves.
"We don't want to kill anyone or destroy Gaza; my wish is that we can free the people of Palestine from terrorists," she said. "But here in Israel we still have this weird situation where people in other countries are criticizing us for defending ourselves. No other country would be expected to do that."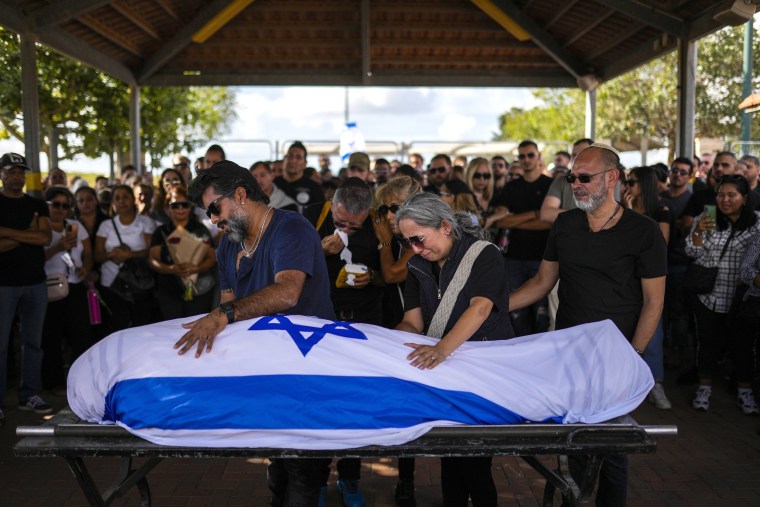 As such, Israel has promised to wipe out Hamas.
To do that, the IDF would need "to eliminate every launching pad, every rocket, every weapon, every training site," and for that "you need to deploy on the ground tens of thousands of pairs of boots," Barak said. "I don't like to use the word 'inevitable,' but that's the most probable development, namely that in a few days, a much wider force will enter into the Gaza Strip."
He does not shy away from how difficult a ground invasion would be for Israeli forces.
"We would love to have it [the incursion] in the meadows of Oxfordshire," he said, referring to a county in rural England, "but it's not; it's Gaza. It's a built-up area with fighters there, and they will fight back. I don't want to idealize it or say it's going to be a cakewalk. But with enough force and enough enthusiasm, we will win."
He also knows it will most likely kill even more civilians.
So far, Israel has held back from a ground assault, instead prosecuting a relentless bombing campaign on Gaza.
It says it targets only Hamas positions, but those airstrikes have killed thousands of people, including hundreds of children, and damaged hospitals, schools and other critical infrastructure. After years blockading the strip, Israel has also enforced a "complete siege," cutting off power, food, fuel and water to its people, half of whom are under 18, before turning the water back on days later. 
Biden's visit appears to have produced a breakthrough that could allow some humanitarian aid into Gaza as soon as Friday.
Many experts, humanitarian groups and the European Union's top diplomat, Josep Borrell, say Israel may have breached international law by exercising collective punishment in response to the surprise Hamas terrorist attack, which killed 1,400 people.
Barak said any ground operation must follow international law. However, despite Israel's commitment to do so, "you cannot ignore the fact that already there are many citizens killed, and probably there will be more." 
He said that is "because Hamas deliberately uses them as a human shields," voicing a frequent Israeli point that the militant group fills residential buildings and streets with its weapons and fighters, which Israel has pledged to destroy.
Ksenia Svetlova, a former Israeli lawmaker and now a senior policy fellow at the Mitvim Israeli Institute for Regional Foreign Policies, a think tank, said that the current government is not doing enough, rhetorically at least, to differentiate between Hamas militants and Palestinian civilians in Gaza.
"Israel should avoid making any kind of frightening statements toward the civilians," she said, "and do just the opposite: to remind all the time that while fighting the bad guys, while fighting the terrorists, it makes every possible effort to safeguard the life and well-being of the civilians."
Iran, which backs both Hamas and Lebanon's Hezbollah militants, has warned Israel that it may take "pre-emptive action" in the event of a ground invasion into Gaza. Israel has traded missiles with Hezbollah across its northern border with Lebanon in recent days.
Raising the temperature further, Arab nations quickly blamed Israel for Tuesday's hospital blast, which the U.S. and many Western experts have said was most likely a misfired Palestinian militant rocket.
But Barak said the mounting regional tensions will not change Israel's calculus "one iota."
On Oct 7, "we never lost so many people in a single day, and such a large number of Jews have not been killed since the Holocaust," he said. "But Israel is still strong."
Not everyone here is so bullish.
Though rockets from Gaza kill relatively few Israelis, if Hezbollah joins the fight, then "you cannot even compare their abilities and the quality of rockets that they have," Svetlova said. 
"This is a great danger."