Ever since Hamas launched a surprise attack on Israel last weekend, firing thousands of rockets, murdering civilians and seizing captives, Suriya Budsurin's family in Thailand has been asking if he is coming home.
The Southeast Asian country, one of Israel's biggest sources of migrant labor, has had some of the highest casualties among foreign nationals in the Israel-Hamas war. The Thai Foreign Ministry said Thursday that 21 of its nationals had been killed and 14 wounded, while 16 others are believed to have been taken hostage by Hamas.
Other countries from which large numbers of migrant workers go to Israel have also reported deaths. On Friday, as more than 250 citizens of Nepal arrived in Kathmandu on a special flight from Tel Aviv, the government said it was working to bring back the bodies of 10 agriculture students killed by Hamas at the kibbutz where they were staying under an Israeli government "earn and learn" program. Another is missing.
The Philippines confirmed a third death Friday, all of them reportedly caregivers, and said three other nationals remained missing.
Israel relies heavily on migrant workers like Suriya, 38, a married father of two from Thailand's Udon Thani province who works on a flower farm in Netanya, a city on the Mediterranean coast, about 20 miles north of Tel Aviv.
He said the impact of the rockets Hamas fired toward Tel Aviv could be felt all the way in Netanya.
"I could feel the ground vibrating when I slept at night and that kept me awake and thinking about returning home," said Suriya, who arrived in Israel last year. "Especially in the first two days when I watched the news, all I thought was, should I return home?"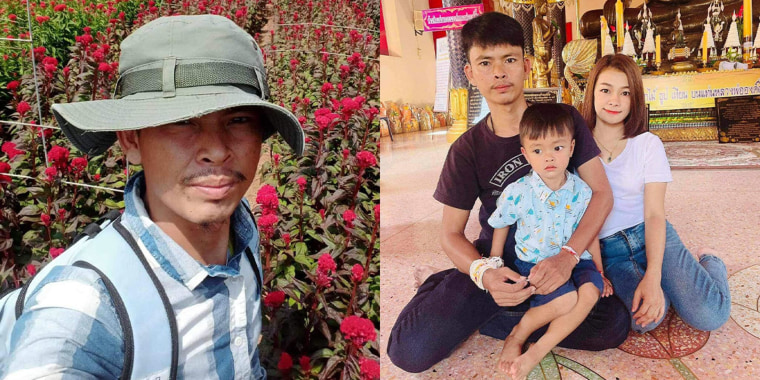 Suriya has decided to stay put for now, as Netanya is more than 60 miles from the border with the Gaza Strip where most of the fighting has occurred, though even there he said he saw two rockets in the sky Thursday.
Others have made a different call: He said a friend who lived closer to the attacks had asked his employer to help him buy a plane ticket home for about $700.
Almost 6,000 of the 30,000 Thais in Israel have asked to be repatriated, according to Thailand's Foreign Ministry, which is arranging flights. A group of 19 Thais were scheduled to return home from Israel on Friday night local time, in addition to an initial group of 41 who arrived Thursday.
The group that arrived in Bangkok on Thursday was met at the airport by multiple Cabinet ministers, and included two men injured in the violence who were in wheelchairs. Two others had sustained injuries on their arms.
One of the men in the wheelchairs, Kratchakorn Putsorn, said that when the Hamas attack began Saturday, his employer hid him and other farmworkers on the property. They emerged for lunch around noon when the situation appeared to be calmer.
But as they were returning, he said, they heard gunshots, and Kratchakorn felt something hit his knee.
"I thought it was a rock, but when I looked down I knew it wasn't a rock as it went through," he told reporters. "So I told my friend to crouch because we were hit."
As his employer tried to speed the truck away, Kratchakorn said, the terrorists continued chasing it and firing, hitting three other people.
"I thought on that day that we would not survive because they fired the bullets nonstop," he said.
Migrant workers from Thailand, the Philippines and elsewhere go abroad in search of higher wages as farmworkers, caregivers and health care professionals, so that they can send money home to their families, boosting their countries' economies in the process.
But they also face abuse and harsh working conditions, including in Israel where Thai farmworkers interviewed by Human Rights Watch have described being underpaid, working excessively long hours and other rights violations.
Suriya said that if all Thai workers were to leave, it would have a noticeable impact on the Israeli labor force.
"Every farm I know, there are Thai workers," he said. "We are very good at agricultural work and most farms here employ Thai workers mostly."
Orna Sagiv, the Israeli ambassador to Thailand, said she met with Thai Prime Minister Srettha Thavisin on Friday and that they were focused on assisting the Thai workers who had been affected by the war and supporting their families.
"To Israeli farmers, Thai workers are not just employees; they are an integral part of their family," she said in a post on X. "Israel deeply values their hard work and acknowledges the significant role they play in the country's agriculture sector."
Israel is also home to 30,000 people from the Philippines, many of whom work as caregivers. One of the Filipinos killed, a newly married caregiver who had been in Israel for six years, was shot with her employer inside their house on Saturday by Hamas gunmen, Philippine officials said.
The woman, identified in the Philippine media as Angelyn Peralta Aguirre, 33, from Pangasinan, was praised by Fleur Hassan-Nahoum, the deputy mayor of Jerusalem, for staying with her older patient.
"Despite having a chance to flee the Hamas terror attacks, Angeline showed unbelievable humanity and loyalty by remaining Nira's side during the violence, resulting in both of them being brutally murdered by Hamas," Hassan-Nahoum said in a post on X on Wednesday. "Unimaginable honor in the face of evil."
The Philippine Foreign Ministry said Friday that its repatriation efforts were now focused on Gaza, a densely populated enclave where there are fears Israel is about to launch a ground offensive. Among the 131 Filipino citizens there, 92 are asking for repatriation from Gaza, which has long been under a land, air and sea blockade enforced by Israel and Egypt.
Far from the Gaza border, Suriya says he is "relatively safe" for the moment in Netanya, with the closest military target for Hamas being the Tel Aviv airport about 25 miles away.
"I'll give it a week and if the situation is not getting better, I will then buy the plane ticket to go back on my own," he said. "If that's the case, I think I will probably arrive in Thailand at the same time as those who have registered with the Thai government."
Nat Sumon reported from Bangkok, and Jennifer Jett reported from Hong Kong.