TEL AVIV — Hamas militants tearing through a border fence and celebrating after reaching Israeli soil. Festivalgoers running, screaming and hiding as a hail of bullets and rockets descends upon them. Civilians, including young children, shot to death and burned beyond recognition. These are just some of the scenes the Israel Defense Forces asked journalists to watch Wednesday.
The IDF played a gruesome, 46-minute montage of extended video that it says captures parts of Hamas' deadly attack on Oct. 7. The video includes body camera video it says was taken from Hamas terrorists, closed-circuit TV video, video from rescuers and imagery posted to social media by both militants and victims. The IDF said it did not release the video to the public out of respect for the families involved and because of privacy concerns.
NBC News could not immediately independently verify all the video, some of which it was provided.
'Why am I alive?'
In the video, militants can be seen driving and standing on roadways in southern Israel and shooting at approaching vehicles. In some cases, civilians are pulled out of their cars and shot, sometimes multiple times, even after they appear to be already dead. Militants appear to work their way through houses, shooting people trying to hide — under tables and racing through rooms.
At the musical festival near Re'im, revelers are seen hiding, fear and shock on their faces. A person stares horrified into the camera of what appears to be a mobile phone as bloodied bodies lie around them. Image after image shows men, women and children, including an infant, dead, bloodied and burned.
In one harrowing moment, CCTV video shows a father and two boys running out of their home and into what appears to be a small shelter. Video from security cameras inside and outside the house shows militants coming around to the shelter and a grenade being thrown in. The father then collapses before the boys, covered in blood and wailing for "Daddy," are forced back into the home.
One boy cries out in the video, which included English subtitles, "It's really not a prank!" before noticing his brother's bloodied eye. "Can you see with this eye?" he asks frantically. "No. ... I can only see with one eye," his brother responds.
The older boy wails, pounds the floor and shouts, "Why am I alive?" as his brother appears to sit stunned.
Asked what happened to the two boys, IDF Maj. Gen. Mickey Edelstein, commander of the operational planning team, said he could not share those details out of respect for the family, but he suggested journalists shouldn't assume a "severe scenario."
'We failed to protect our civilians'
The IDF's decision to show the imagery comes amid mounting scrutiny of Israel's response to Hamas' Oct. 7 attack and the group's continued holding of hostages taken captive during the ambush. Israel has faced questions and condemnation over its weekslong bombardment of Gaza, in which more than 6,500 people have been killed, according to the Palestinian Health Ministry. It has also been criticized for choking access to vital resources for civilians and ordering residents of northern Gaza to abandon their homes and go south as the Israeli military prepares to launch an expected ground invasion.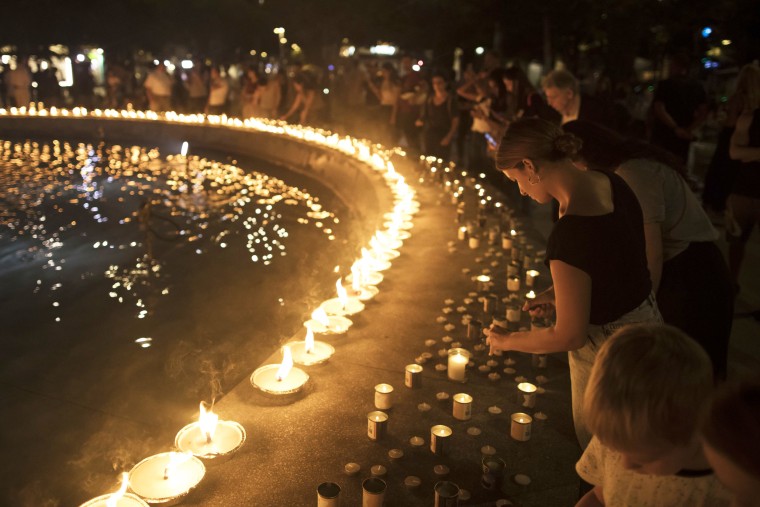 Asked by NBC News why the IDF wanted journalists to watch the disturbing scenes now, Edelstein said he wanted the world to understand the "evil" Hamas brought upon communities in southern Israel — and why Israel would do "whatever is needed to bring back the sense of security."
Edelstein acknowledged, however, that Israelis' trust in their security has been shaken in part by what he said were the IDF's own failures.
"I think we failed to protect our civilians," he said when NBC News asked him to address why it sometimes took IDF soldiers many hours to reach areas that were targeted in the attack — and whether it was possible any civilians might have been caught in the crossfire during the response. It's possible, he said, that "mistakes" were made.
Hamas' ambush, Edelstein said, was a "very, very complicated attack." He said soldiers had raced from their homes to respond to the assault, some before being asked. "All of us ran to our uniforms. If you had a rifle or a pistol, you took it and you ran and we start fighting," he said.
"Should we have any mistakes? Probably we did," he said. "But this is not the issue. It took us time to ... to stop this violent act."
Edelstein admitted that it took the IDF "over one day, I mean, after 36 hours or so," to reach some areas infiltrated by Hamas. He said the reasons for failures in the military's response were under investigation.
'Not looking for revenge'
Now, as Israel looks to launch a possible ground invasion and the death toll in Gaza continues to mount, Edelstein said, "we're not looking for revenge."
He made the comment when NBC News asked him what he would say to those who allege that Israel's bombardment of Gaza is more about vengeance than a coherent plan. Noting that both his children are soldiers, one on active duty and the other on reserve duty, he said his family members exchange "no words about revenge."
"We have to bring back the sense of security and the security for our people," he said. "We cannot trust anymore the Hamas leadership, because they were the ones who ... executed everything." Edelstein said Israel also knows specifically "who is involved" in the attack, saying, "We captured dozens of terrorists, and they gave the names, too."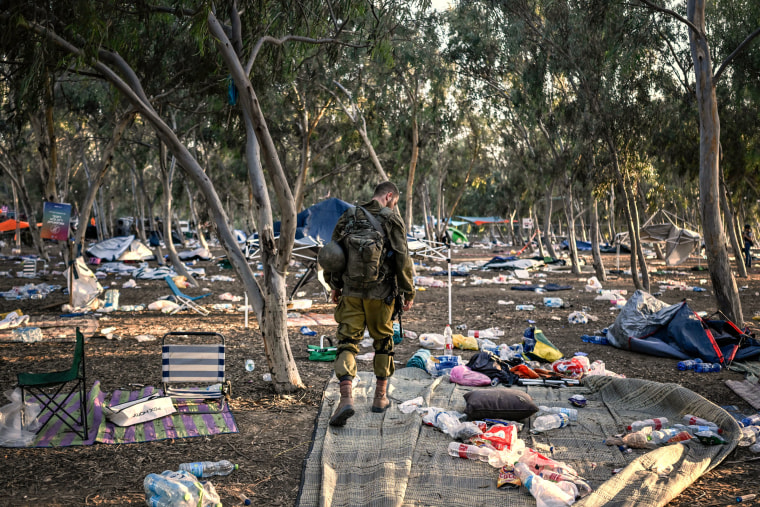 He said Israel would continue to seek to free the more than 200 people taken hostage and to eliminate Hamas, which he said he believed could pose a threat to "other places," too. 
"I think that you'll agree with me," he said: "If you are standing for humanity, you must stand with us."