ASHDOD, Israel — One student is facing suspension for posting a picture on social media celebrating her sister's engagement. Others have been targeted for expressing solidarity with Palestinians in Gaza. All are suffering from what some schools and a legal advocacy group is calling an Israeli crackdown on free speech.
Along with police, schools and employers are targeting people for seemingly innocuous social media posts including quotes from the Quran, Adi Mansour, a lawyer with Adalah — The Legal Center for Arab Minority Rights in Israel, told NBC News on Wednesday.
In the days since Hamas attacked Israel on Oct. 7, Mansour said Adalah has received at least 80 reports from students at colleges and universities across Israel of being suspended, expelled or even arrested for their online musings.
Some social media users threatened "to kill them, to rape them, threats to go to their house," Mansour said. He added that others had been doxxed, meaning their personal information was posted online.
In a strongly worded letter to Israeli Education Minister Yoav Kisch on Wednesday, nine schools complained that they were coming under pressure to investigate their students and report their handling of the cases to The Council for Higher Education in Israel, which they said risked "creating an atmosphere of McCarthyism and mutual informing on every campus."
"Honestly, it's terrifying what's happening," Mansour said.
Doxxing and disciplinary action
Mansour added that the disciplinary action by schools has come even though many had delayed the start of their school year because of the war with Hamas.
All of the students identified themselves as being Palestinian, or some, more broadly, as being Arab, he said. Arab citizens make up around 20 percent of Israel's population. Many are descended from Palestinians who were left living within the borders of Israel after the country was established in 1948.
One student at Tel Aviv University, who asked not to be named because of security fears, said the addresses and pictures of homes of Arab students had been published on social media. NBC News has not seen the posts they referred to.
Comparing the situation to "military rule," they said in a text message that "the situation of Palestinian students in Israeli universities is very complicated."
The war between Israel and the militant group Hamas has also reignited debate on American college campuses, and some students have had job offers rescinded because they had signed letters that were critical of Israel.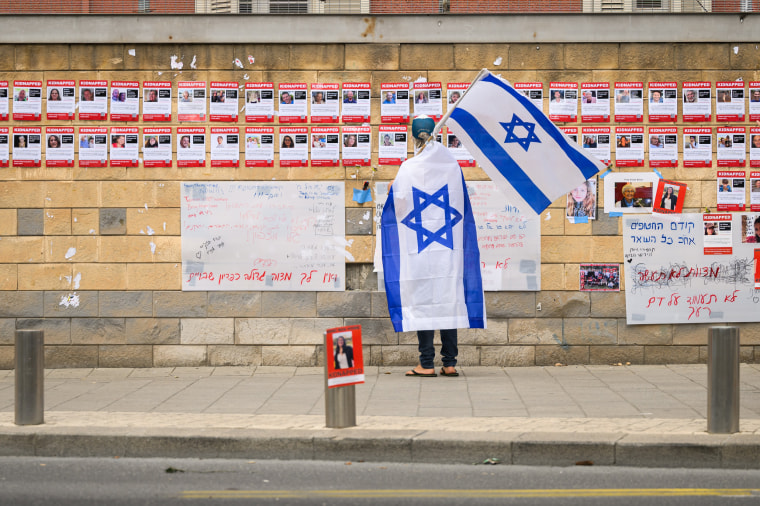 Mansour said Adalah was also representing people arrested at protests in Israel, including peaceful ones. He added that his organization had received 40 reports of workers being suspended or fired over social media posts or activity.
Israel Police did not respond to NBC News' request for comment on the arrests cited by Adalah.
While a small handful of the posts could be interpreted as expressing support for Hamas, Mansour said the "vast majority" fell under freedom of expression.
A 'vast amount of censorship'
Many of the posts, he said, expressed support for the Palestinian cause or for people living in Gaza, where over 3,400 people have been killed since Israel began its counteroffensive, according to the Palestinian Health Authority. At least 1,400 Israelis have been killed since Hamas launched its attacks, officials say.
In one case, a student at a school that NBC News is not naming because of concerns for her safety, posted a picture of a celebration after her sister got engaged, Mansour said.
NBC News has seen the image which features gold champagne bottles and balloons as well as the date of the engagement, Oct. 7.
Because it was posted "on the same day that the Hamas attack happened," a number of her fellow students reported her to the school and she is now facing suspension, he added.
Her school confirmed Thursday that students had been suspended but did not say whether that student was one of them.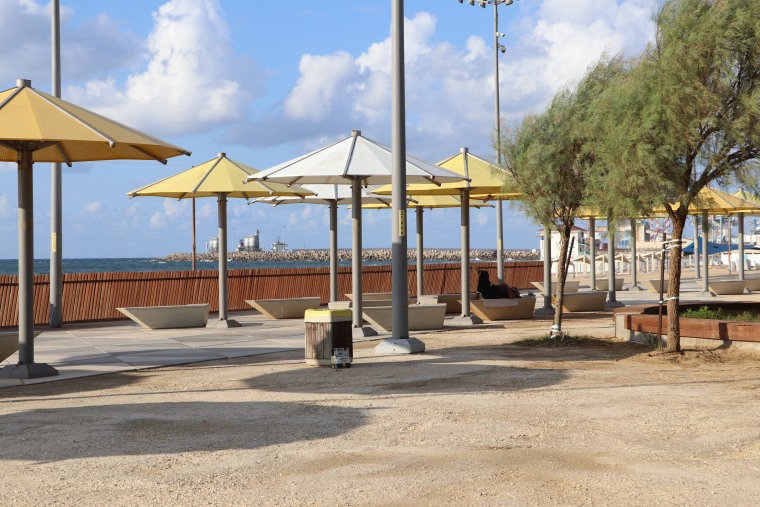 Other students were reported to their schools after "posting quotes from the Quran" that had "nothing to do with what is going on," Mansour said. He said complaints were also submitted about others who said they did not want civilians to be killed and "expressing their solidarity with the people who are being killed."
Calling some of the cases "absurd," he said that he had never seen "this vast amount of censorship and control on Palestinians."
'There are limits'
At least three schools have confirmed suspensions or disciplinary proceedings related to social media posts and student interactions related to the conflict.
Ron Robin, the president of the University of Haifa, on Mount Carmel in the northern city of Haifa, confirmed to NBC News on Wednesday that at least six students had been suspended over social media posts.
"We decided we needed to take immediate action in order to send a clear message to everyone else," he said, adding that he did not know how the posts had been brought to the school's attention.
He said the posts had expressed support for the Hamas attacks, but said he could not share the posts or provide details on what exactly they said. NBC News has not seen the posts and could not independently verify their content.
Robin said the school had not pursued cases students reported about other posts, including one that said the writer didn't condone violence although there was an ongoing issue with the fate of Palestinians.
Other schools, including Tel Aviv University and the Azrieli College of Engineering in Jerusalem, confirmed to NBC News that they were investigating posts by students.
Pressure from above
Robin said schools were facing pressure from The Council for Higher Education in Israel, a supervisory body for universities and colleges, after it passed a resolution Wednesday saying that schools must investigate all complaints regarding expressions of identification with the terrorist acts of Hamas and Islamic Jihad.
The letter, which was shared with NBC News, added that schools had already seen "many false complaints" against students.
It said that at least nine of the universities and colleges that had signed it had "no intention" of abiding by the instructions from the council, which is chaired by Kisch, the education minister.
"We generously guard our autonomy and we were very upset the minister sort of took ownership," Robin said. "What we do on our campuses is up to us."
For Kisch "to use this opportunity for accumulating political capital, really, was annoying to say the least," he added.
Kisch said in a statement that all 17 members voted in favor of the decision "and agreed unequivocally, without a shadow of doubt, that there should be zero tolerance in dealing with this issue."
Robin said his school would be reviewing the status of the students who have been suspended, but for now, he said the suspensions were largely "symbolic" because the start of the school year has been delayed indefinitely because of the war.
A number of students had been called up on reserve to the Israeli military, he said. "I think it would be almost disrespectful to start the school year before they come back," he added.
Once they return to campus he said had concerns about trying to "keep the peace" at the school, which is attended by Jewish, Muslim and Christian students alike. "It really upsets me a lot," he added.
While he can understand support for the Palestinian cause — "of course I can" — Robin added that "there are limits, and these limits seem to have dissipated."
With classes not even in session, Mansour said it felt as if universities and colleges were acting as an "authority on what people do in their personal time." He added that it was "problematic" that educational institutions were basically taking charge "on what is said within and outside what is being said in the academic sphere."
He added they were attacking students' "freedom of expression and expressing themselves within the university."