TYRE, Lebanon — As Israel's military prepares for what appears to be an imminent ground invasion of the Gaza Strip, the Hezbollah militant group looms in Lebanon just across Israel's northern border.
Hours after Hamas' brazen and bloody attack on Oct. 7, Hezbollah fired guided rockets and artillery into Israel, which was met with an artillery barrage. Since then the tit-for-tat combat has continued.
Early Saturday the Israel Defense Forces said it had struck a Hezbollah target in southern Lebanon in response to the "infiltration of unidentified aerial objects into Israel."
It came after Naim Qassem, Hezbollah's deputy chief, said Friday that the group is closely following developments between Hamas and Israel.
"We as Hezbollah contribute to the confrontation, and will contribute to it within our vision and our plan," he said. "We follow the moves of the enemy, and we are fully ready. When the time comes for any action, we will carry it out."
A Shia resistance movement with ties to Iran
Formed in the early 1980s as Lebanon was wracked by a civil war, Hezbollah, sometimes spelled Hizballah or Hezbullah, is a Shia political party and militant organization. The name means "Party of God."
Created with support from Iran, the group set a mission to expel Israeli forces from Lebanon, while resisting Western influence in the Middle East.
The organization brands itself as a Shia resistance movement within Lebanon that believes in the country's right to self-determination, while also pledging its allegiance to Iranian Supreme Leader Ali Khamenei, according to a recent report by the Council on Foreign Relations, a New York based think tank.
Hezbollah's current leader, Hassan Nasrallah, was a member of the Amal Movement, a Shia militia that was one of the many groups vying for power during the Lebanese civil war, before he joined Hezbollah in 1982.
Closely aligned with the Iranian regime, he took over as secretary-general in 1992 after Israel assassinated the group's co-founder and previous leader, Abbas Al-Musawi, according to the Council on Foreign Relations.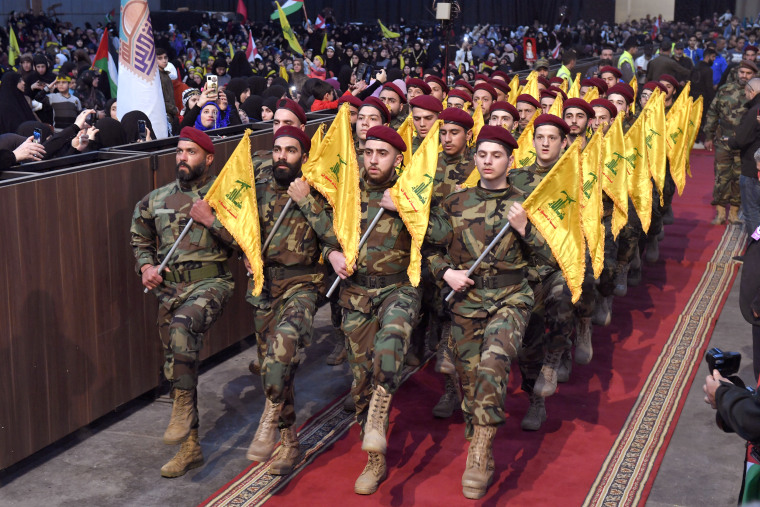 The group's militant activity and support from Tehran has led the U.S., the United Kingdom and other nations to designate it as a terror organization.
But Hezbollah also has lawmakers sitting in the Lebanese parliament and provides numerous social services within the country.
However, its popularity appeared to be waning in last year's parliamentary elections: The Hezbollah-led coalition won 61 seats in the 128-member legislature, a decrease of 10 members since the last vote was held four years ago.
Fraught relationship with Israel
While Lebanon was deeply entrenched in its own sectarian civil war between 1975 to 1990, the Palestine Liberation Organization and Israel were at odds just south of Lebanon's border.
In June 1982, Israel invaded south Lebanon in pursuit of PLO fighters that had made the country a base a decade prior, according to "Hezbollah: A Short History" by Augustus Norton.
Hezbollah rose to prominence as it fought to remove Israel's presence from the country until it eventually withdrew its forces in May 2000.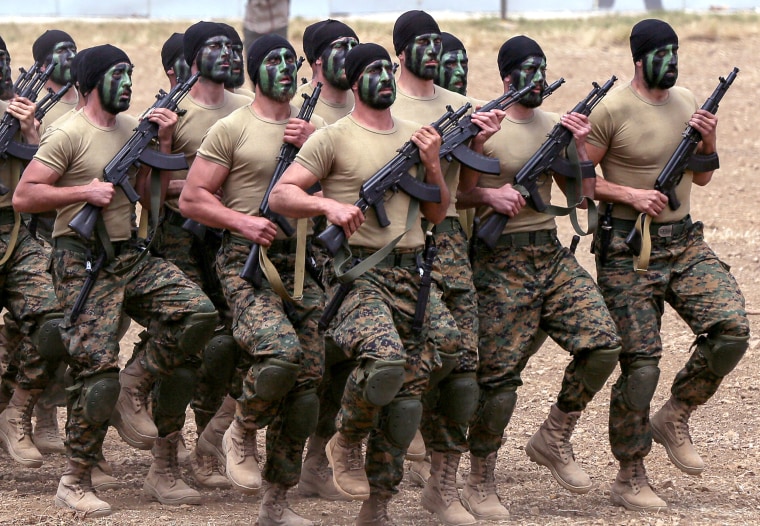 Tensions simmered for the next six years until war broke out again on July 12, 2006, after Hezbollah fighters crossed into Israel and ambushed a group of soldiers, killing three of them and taking two others hostage.
Israel responded with airstrikes and artillery strikes, before it imposed a naval and air blockade. Israeli forces also launched a ground invasion. Over 1,000 people, the majority civilians, are thought to have died in the conflict, which formally ended after 34 days.
Since then there has been low-level fighting as the sides have occasionally exchanged fire across the border. Hezbollah also committed itself to the destruction of Israel in its 2009 manifesto, according to the Council on Foreign Relations.
Brothers in arms
Formed five years after Hezbollah in 1987 during an uprising against Israel's occupation of Gaza, Hamas was originally a faction of the Muslim Brotherhood.
Hamas leaders consider the Lebanese group an ally, and Hezbollah announced its solidarity with Hamas this week following Hamas' multipronged incursion into Israel, which left hundreds dead. Both are backed by Iran.
Claiming responsibility for rockets fired out of Lebanon toward Israel, Hezbollah said in a statement Monday that it stood with "the victorious Palestinian resistance and the struggling and patient Palestinian people."
But aside from these sporadic attacks, it has to date shown restraint — consistent with the informal rules of engagement that have governed the cross-border conflict for nearly two decades.
Stomach for the fight?
Lebanon is currently undergoing a crippling economic crisis, driven in part by political mismanagement and an influx of refugees.
Hyperinflation has made it nearly impossible for ordinary people to afford the high costs of living in recent years, and the European Commission estimates that 80% of Lebanon's people are living in poverty.
A number of Lebanese politicians criticized Hezbollah for even considering entering into another conflict with Israel.
Sami Gemayel, a lawmaker with the Christian-aligned Kataeb Party, said in a statement Wednesday that Hezbollah was "forcibly linking the Lebanese people to the conflict."
"We are not ready to see Lebanon be dragged into this war," he said according to a translation of the statement by Lebanese state media.
Firas Maksad, an expert on Lebanese politics at the Washington-based Middle East Institute, told NBC News earlier this week that the Lebanese public "does not have an appetite for war."
"Even amongst the Shia community and Hezbollah's support base, there will be great resentment and Hezbollah will be at pains to justify and explain why they got involved in this war," he said.
A wider conflict?
National Security Council spokesperson John Kirby said during a briefing Wednesday that the U.S. was "clearly concerned" about the rockets being fired out of Lebanon.
"The bottom line is, as I said, we're sending a loud and clear message: The United States is ready to take action should any actor hostile to Israel consider trying to escalate or widen this war," he said.
A number of American naval assets, including the USS Gerald R. Ford Carrier Strike Group, are now parked in the eastern Mediterranean, which Secretary of State Antony Blinken described Thursday as a "warning" to other groups that may attempt to get involved in the war.
"President Biden, he's been very clear that no one, state or nonstate actor, should try to take advantage of this moment," Blinken said.
Were it to enter the conflict, Hezbollah would bring to bear vast supplies of advanced weaponry, advanced training and well-organized ranks of experienced troops who have been "bloodied" by more than a decade of fighting Sunni Islamist militants in Syria, perhaps dwarfing the capability of even Hamas. 
But it remains to be seen whether Hezbollah will escalate its actions or whether Iran pushes the group into war.
Matt Bradley reported from Tyre, Lebanon, and Doha Madani from London.