ASHDOD, Israel — Israel's military have called Hamas' leader Yahya Sinwar a "dead man walking" and, while preparations for a ground invasion on Gaza gather pace, the hunt for him also appears to be on.
"He chose to send the butchers into our bedrooms to kill our babies," Lt. Col. Peter Lerner, a spokesman for the Israeli military, told NBC News Saturday. "And when they chose to go full front against Israel, they signed their own death warrant. A dead man walking. We will get to that to man."
Sinwar, who was in charge of the day-to-day governance in Gaza, is believed to be hiding in the labyrinth of tunnels used by Hamas militants in Gaza to conceal weapons, fighters and hostages, Israeli officials have said.
But he had been a wanted man long before Hamas militants launched a coordinated terrorist attack on kibbutzim, music festivals and city streets on Oct. 7.
Born in a Gaza refugee camp in the early 1960s, Sinwar joined Hamas after it was founded in 1987, gaining a reputation for brutality after he reportedly helped to form the militant group's internal security force, according a profile of him by European Council on Foreign Relations, a think tank.
He was captured by Israel just two years later and sentenced to life imprisonment for his role in killing Israeli troops and Palestinian collaborators. But being behind bars did not stop him from rising through the ranks of the group, and it also gave him the opportunity to learn to speak Hebrew — the language of his enemies.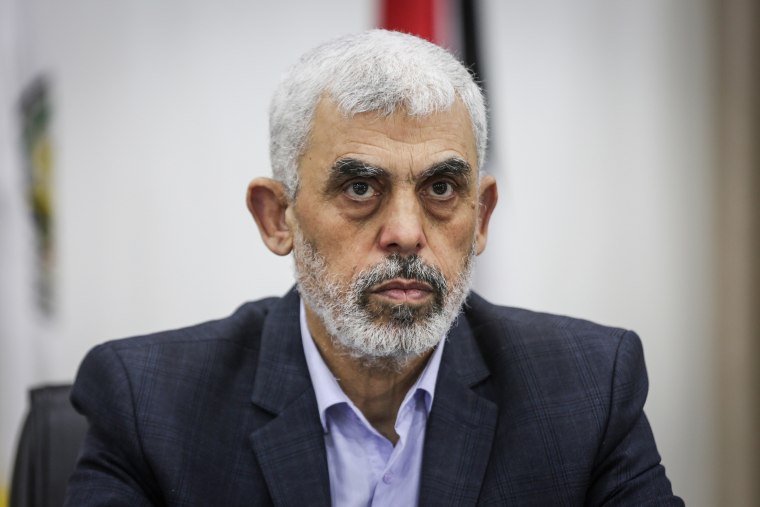 Sinwar was released in 2011, one of more than 1,000 Palestinian freed in exchange for one Israeli soldier, Gilad Shalit, who was taken hostage by Hamas and held for five years. At the time, emotions were mixed over the lopsided exchange, which allowed other violent prisoners to walk free.
His prison experience may have made Sinwar "particularly sensitive" to the plight of Palestinian inmates and likely explains his approval of such a large-scale operation to abduct hostages, according to Michael Horowitz, geopolitical and security analyst.
"One of his first known attacks against Israel was the abduction of two Israelis soldiers," said Horowitz, the head of intelligence at Le Beck International, adding that Sinwar "has been promising to free prisoners" ever since he was elected as the head of Hamas in Gaza in a secret ballot in 2017.
After taking over from former Hamas leader Ismail Haniyeh, Sinwar attempted to improve relations with Egypt and Fatah, the faction that has control of the Palestinian Authority in the West Bank and is seen as more secular and moderate, according to the ECFR report.
Sinwar also attempted to pressure Israel into loosening its military blockade on Gaza with a public diplomacy campaign and, at the same time, organizing and sanctioning wide-scale Palestinian protests at the Israeli border, Horowitz said.
In 2018, Sinwar told The New York Times that Palestinians would "prefer to earn our rights by soft and peaceful means" but they were also "entitled to earn them by resistance."
But having seemingly made little progress with this strategy, Sinwar recently faced "notable opposition" in an internal Hamas election, Horowitz said.
"This may have pushed him to go back to full-scale confrontation," he said, adding that Mohammed Deif, the commander of the Qassam Brigades, Hamas' military wing, was "known as a hardliner." It was Deif who masterminded the land, sea and air attacks on Israel, which he called "al-Aqsa Flood."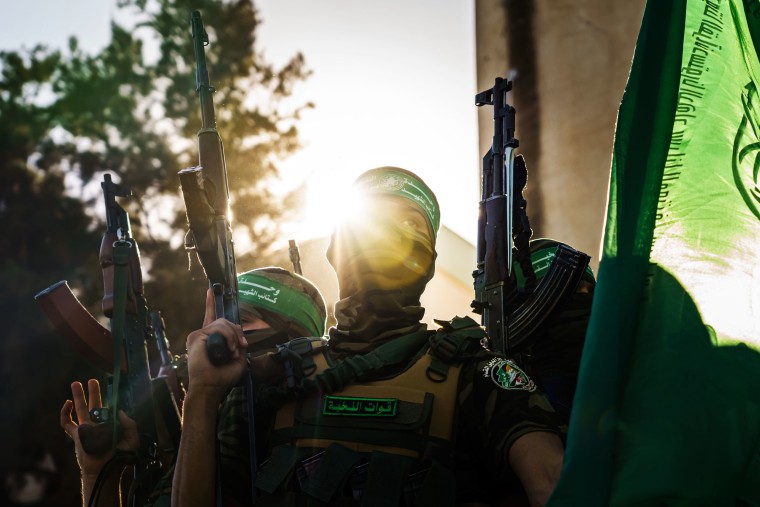 Sinwar's diplomacy efforts cannot be discounted as an intentional disinformation campaign by Hamas, according H.A. Hellyer, a geopolitics and security specialist at the Royal United Services Institute, a London based think tank.
"We had the impression a number of times that Hamas was not interested in confrontation, not interested in escalation or was trying to figure out another way of doing things," he said, adding that the latest attacks showed that this had not been the "overarching priority" of key figures in Hamas.
"Even the reports that indicate that there were some warnings, nobody knew that this was what was being planned," Hellyer said. "I'm not even sure, frankly, if Hamas foretold or foresaw quite how much damage they'd be able to wreak. And of course, not all of Hamas knew what was going on anyway."
Israel's ground offensive is not just a hunt for Sinwar, but a mission to eradicate all of Hamas' governing power within Gaza, Hellyer said, adding that this would put many innocent Palestinian lives at risk.
"Combining that with an incredibly densely populated area, which has limited food, electricity cuts, water deprivation, fuel deprivation, it's already in the midst of humanitarian catastrophe and I think that's going to intensify in an exponential manner," he said.
Raf Sanchez reported from Ashdod, Israel, and Doha Madani reported from London.