TEL AVIV — On a balmy evening in Israel's largest city, tens of thousands of rowdy protesters suddenly grew quiet after sundown for a moment of silence honoring an Italian tourist and two British Israeli sisters killed a day earlier in a pair of terrorist attacks. Throughout the crowd, demonstrators waved British and Italian flags in solidarity.
But the demonstration here on Saturday was not about terrorism, nor about the eruptions of Israeli Palestinian violence over the last week on Israel's eastern, western and northern flanks. Instead, the throngs of Israelis congregating just two miles from where the Italian tourist was killed were protesting an entirely Israeli-born issue: Prime Minister Benjamin Netanyahu's proposed judicial overhaul, the source of weeks of huge, sometimes violent rallies across the nation.
After weeks of rising tensions, Israel's dueling crises — one over national security, the other over domestic politics — are increasingly bleeding into each other, fueling a perfect storm that analysts say has left Israel vulnerable on more fronts simultaneously than at any other point in recent memory.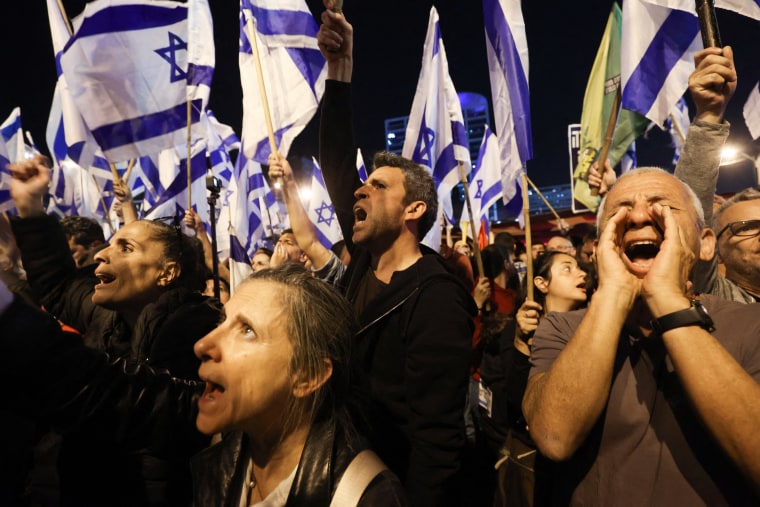 "It's a present that we're giving them," former Israeli defense intelligence official Dennis Citrinowicz told NBC News in an interview, referring to Israel's adversaries, such as Hamas, Iran and the Iran-backed Lebanese militant group Hezbollah.
He said the only way to secure Israel's deterrence against radical forces is "to find a way to calm the current instability in Israel," including in its politics. "Without doing so, our enemies will keep on trying to exploit this situation."
Israel's fiercest enemies, like Hezbollah leader Hassan Nasrallah, are gleefully predicting the nation will soon implode under the weight of its own internal divisions. While that appears unlikely, those sentiments speak to a moment of intense distraction for Israel's security apparatus.
Case in point: Israeli Defense Minister Yoav Gallant — recently fired by Netanyahu and then un-fired on Monday — has warned that the judicial overhaul is so divisive and harmful to military morale that it is threatening Israel's national security.
"I decided to leave the disagreements behind us," Netanyahu said in reversing his decision to fire Gallant, citing the need to "stand together around the clock on all fronts in the face of the security challenges."
In less than a week, Israel has exchanged fire with Palestinians and Palestinian-linked groups in the occupied West Bank, the coastal Gaza Strip to the west, and both Lebanon and Syria to the north. The only neighboring countries whose borders with Israel have remained peaceful of late are Egypt and Jordan — the first two Arab nations to make peace with Israel decades ago.
With the exception of West Bank clashes, all of the recent incidents were in retaliation for rockets launched into Israel, which in turn were retaliation for Israeli raids at a site in Jerusalem holy to Jews and Muslims during the  Passover and Ramadan holidays.
Meanwhile, outbreaks of Palestinian violence against Jewish settlers in the West Bank have emboldened ultranationalist ministers within Israel's government to demand a more aggressive Israeli response and expansionist policy on settlements. Their increasing demands have squeezed Netanyahu between his own far-right allies and leaders in the U.S. pleading with him to show restraint in the West Bank, where most nations view Jewish settlements to be illegal.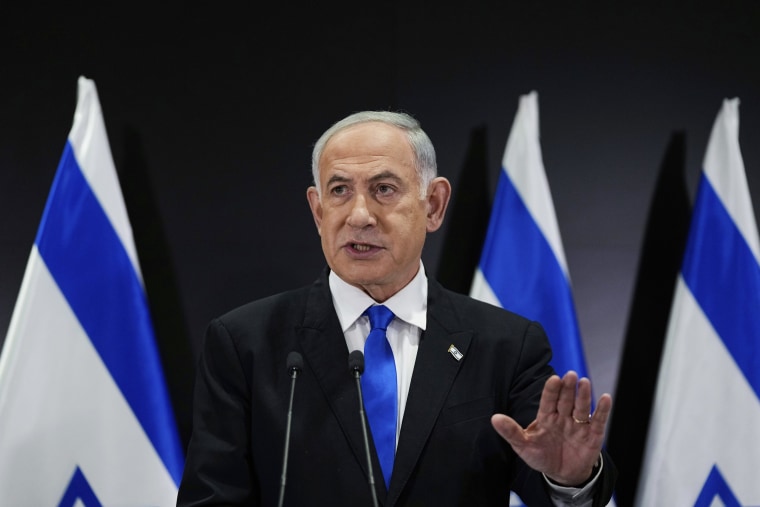 Netanyahu's government, the most far-right in Israeli history, has a majority so slim that just a few defections threaten to sink it, a reality that gives outsize influence to the most extreme members of his coalition. After three tumultuous months of governing, a new poll by Israel's Channel 13 News suggests support for Netanyahu's Likud party is plunging, with the party poised to fall well below a majority in parliament if a new election were to be held now.
Yet historically, military conflicts and external security threats have a tendency to temper criticism of the government in power, as the U.S. learned after Sept. 11, in what's become known as the "rally 'round the flag" effect. Critics argue that Netanyahu, who has parlayed his reputation as a hawkish defender of Israeli security into decades of political success, is deliberately stoking conflicts now to distract from the domestic morass.
"The timing is very good for Netanyahu and his government because it buys them some time," said Merissa Khurma, who runs the Middle East Program at the Washington-based Wilson Center. "If they can externalize an enemy, that will help them."
Israeli officials blamed the rockets launched from Lebanon on Friday on Hamas, the Palestinian group that rules the Gaza Strip and routinely fires at Israel, rather than on any group based in Lebanon, whose barely functioning government is in the throes of its own deep political crisis. Yet the attacks were  cause for a new kind of concern for Israel nonetheless.
They suggested that Shia Muslim Hezbollah, which controls much of southern Lebanon, is growing closer to Hamas, a Sunni group that has not always seen eye-to-eye with Hezbollah. A publicized meeting Sunday between the leaders of Hamas and Hezbollah in Beirut offered further evidence of warmer ties and potential coordination between two groups that have each fought wars against Israel in the past.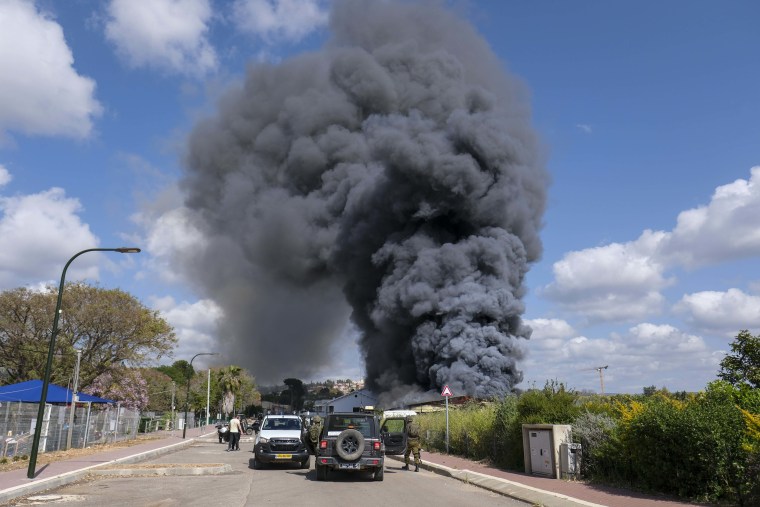 In another pointed sign of how Israel's political crisis is spilling over into national security, leaked U.S. intelligence documents obtained by The New York Times and The Washington Post indicated that the leadership of the Mossad, Israel's elite foreign intelligence agency, had encouraged protests against Netanyahu's judicial overhaul by Israeli civilians and its own staffers. Netanyahu's government strongly disputed that assertion, which if accurate would be an unprecedented breach of Mossad's tradition of staying out of Israeli politics.
Despite recent Israeli diplomatic progress with the United Arab Emirates and other erstwhile enemies, any Israeli efforts to use its newfound relations with Arab states to tamp down Palestinian tensions are complicated by the Palestinians' own profound political challenges.
While Palestinians face deteriorating economic and social conditions, the internationally backed Palestinian Authority that partially administers the West Bank hasn't held elections since 2006, one factor among many that has diminished its foreign support. Hamas, elected to power in the Gaza Strip shortly after Israel withdrew in 2005, is designated by the U.S. and many other nations as a terrorist group.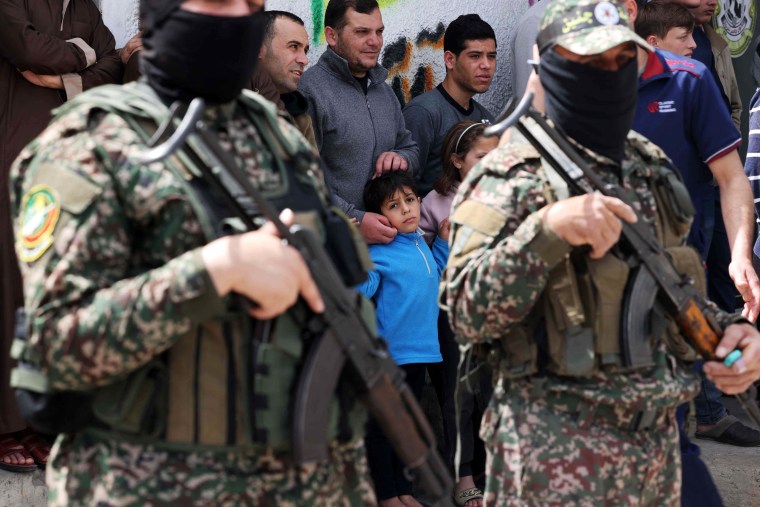 Amid a declining Israeli commitment to a two-state solution, neither Hamas nor the Palestinian Authority have managed to deliver on promises to create an independent state, to the dismay of Palestinians throughout the region, and violence has spiraled. 
Paul Salem, who runs the Middle East Institute in Washington, said the Arab states in the Persian Gulf are "all generally sympathetic" to the Palestinian cause, but are hesitant to actively engage given what he called "years if not decades of very poor Palestinian leadership."
"It's either been radical extremist Islamists or corrupt and ineffectual," Salem said. "In both cases these countries would like to support them, but think that the Palestinians should do their homework."
And while Israeli leaders in recent years had grown hopeful that the Arab Gulf States were coming to the conclusion that Shia-led Iran — not Israel — posed the biggest threat to the region, that expectation has been called into question by the recent China-brokered rapprochement between Iran and Saudi Arabia, the Gulf's Sunni powerhouse.
"As someone who had dealt with Iran for so many years, I don't think Iran is the biggest threat to us," said Citrinowicz, the former Israeli defense official, now at the Tel Aviv-based Institute for National Security Studies. "I think right now the threat is the Palestinian issue. The threat is this domestic instability in Israel. We have to be united."