TEL AVIV, Israel — Israeli warplanes bombed around 80 targets across the Gaza Strip early Saturday after militants launched a volley of rockets into Israel. Within hours, a widely reported truce calmed what looked like a dangerous escalation in violence.
Overnight, explosions rocked the blockaded Palestinian enclave as buildings shook and flames lit up the night sky.
In Israeli towns and communities near Gaza, warning sirens sounded through the night, sending residents rushing to bomb shelters. Israeli Air Force said some rockets were intercepted by Israel's Iron Dome anti-missile system.
The Islamic Jihad — a militant group operating in Gaza — claimed responsibility for rocket strikes into Israel, saying in a statement it "can no longer stand idly" in light of "continued cold-blooded killing of innocent civilians by the Israeli occupation."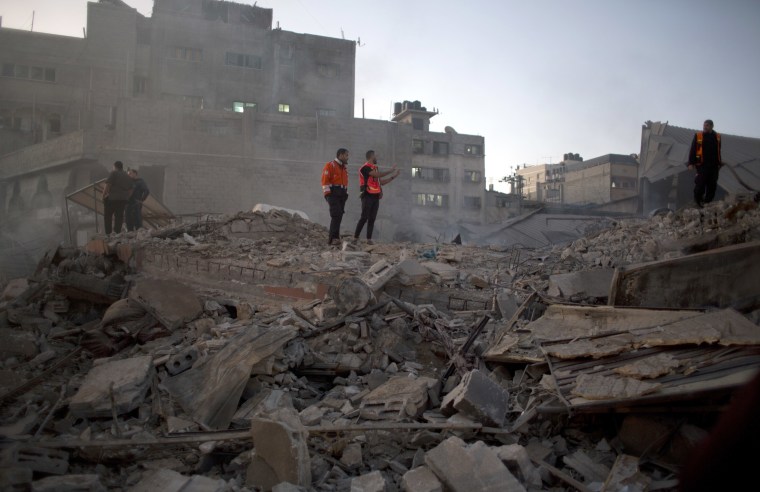 The Israeli military said it holds Hamas, the militant group that has controlled the blockaded Palestinian enclave for over a decade, responsible for anything that happens in the enclave. The Israeli Air Force said it hit dozens of targets, including a four-story building used by Hamas as a headquarters, in response to more than 30 rockets launched into Israel.
No casualties were reported during the exchange in Israel or Gaza.
The rockets from Gaza followed a flare-up Friday when five Palestinians were killed by Israeli during weekly protests along the border fence. Israel said its forces were attacked with grenades and explosive devices hurled by some of the protesters, some of whom breached the border.
Palestinians have been protesting along the frontier since March 30, demanding an end to Israel's blockade of the territory and the right to return to lands from which they fled or were driven from when Israel was founded in 1948.
Israel, which come under heavy international criticism for what many see as excessive use of force, maintains that Hamas has encouraged civilians to put themselves in harm's way and then used them as cover to commit violence. According to the Palestinian Health Ministry, 213 Gazans have been killed by Israeli forces during the protests.
Israel and Hamas have fought three conflicts in the last 12 years — the latest in 2014. There is a growing sense that another war is inevitable.
Egyptian security officials have been talking separately to Israeli and Palestinian leaders in an attempt to restore calm along the border and prevent a full-blown conflict. A reported Egyptian-brokered truce calmed a deadly, two-day outburst of violence in August.
About two million Palestinians are packed into the Gaza Strip which is in a deep economic crisis, stricken by poverty and high unemployment.
Paul Goldman reported from Tel Aviv; Lawahez Jabari Jerusalem; Yuliya Talmazan London.