Israeli Prime Minister Bennjamin Netanyahu on Sunday responded to U.S. Secretary of State Rex Tillerson's noncommittal statements over moving the American embassy in Israel from Tel Aviv to Jerusalem.
Earlier on "Meet the Press," Tillerson had said President Donald Trump would consider the move, but wanted to first understand the issue.
"The president, I think rightly, has taken a very deliberative approach to understanding the issue itself, listening to input from all interested parties in the region, and understanding what such a move, in the context of a peace initiative, what impact would such a move have," Tillerson told Meet the Press host Chuck Todd.
Netanyahu's office later put out a statement saying the Trump administration has long known their position.
"Israel's position has often been expressed to the American administration and to the world," the statement from the prime minister's office read. "The transfer of the American Embassy to Jerusalem not only will not harm the peace process, but the opposite. It will advance it by correcting a historic injustice and by smashing the Palestinian fantasy that Jerusalem is not the capital of Israel."
Trump had promised during the presidential campaign to move the U.S. embassy from Tel Aviv to Jerusalem, which would upend U.S. policy in the Middle East. Palestinian leaders said they would withdraw their recognition of Israel as a state if the Trump administration pursued such a move.
Currently no country has an embassy in Jerusalem, while 86 nations maintain consulates in Tel Aviv.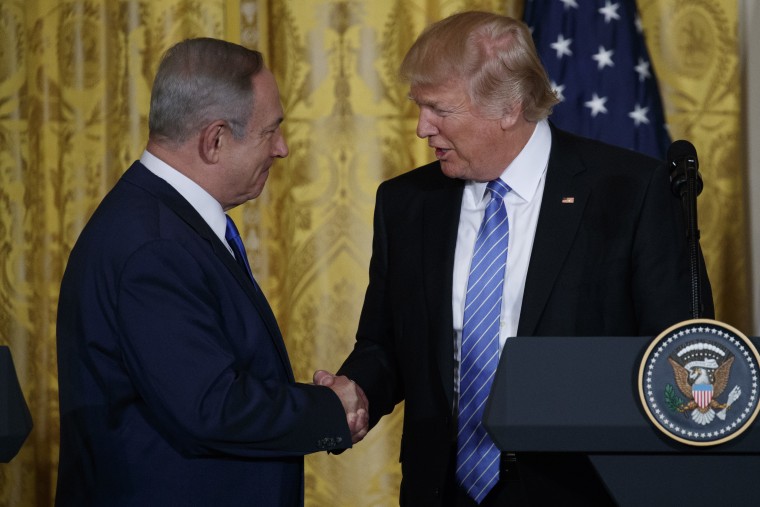 The United States has kept its embassy in Tel Aviv since Israel was formed in 1947 because Jerusalem is considered disputed territory between Palestinians and Israelis and considered the capital for both.
Past administrations have said they would move the U.S. embassy to Jerusalem if Palestine and Israel made peace.
The Trump administration seems to have decided to follow that path as well.
"As you know, the president has recently expressed his view that he wants to put a lot of effort into seeing if we cannot advance a peace initiative between Israel and Palestine," Tillerson said. "And so I think in large measure the president is being very careful to understand how such a decision would impact a peace process."