Israeli Prime Minister Benjamin Netanyahu claimed Monday that he had "new and conclusive" proof that the Iranians were making nuclear weapons.
The evidence of Project Amad, a program to design, build and test nuclear weapons, is in 55,000 pages of documents and 55,000 files on compact disks that the Israelis sneaked out of the nondescript storage facility in Tehran where Iran's nuclear secrets are held, Netanyahu said.
Netanyahu said that Iran shelved Project Amad in 2003 but didn't "shelve its nuclear ambitions" and that it continues to preserve and expand its nuclear capabilities.
Speaking at Israeli military headquarters in Tel Aviv, Netanyahu swept aside a black curtain to show a shelf filled with copies of the purported files. "Iran lied, big time, after signing the nuclear deal in 2015," he said. "Iran is brazenly lying when it says it never had a nuclear weapons program. The files prove that."
Netanyahu said the evidence had been turned over to the United States, including "incriminating blueprints, incriminating photos, incriminating videos and more."
"The United States can vouch for its authenticity," Netanyahu said, repeatedly insisting that Iran "lied" as he buttressed his claims with a PowerPoint presentation.
After wrapping up his presentation, Netanyahu left without taking any questions.
Secretary of State Mike Pompeo told reporters traveling with him on his flight back to the United States from Tel Aviv, where he met with Netanyahu, that "these documents are real, they are authentic."
"We've known about this material for a while, and, yes, we certainly discussed the material," he said of his meeting with Netanyahu.
Asked whether the documents offered any evidence to dispute the International Atomic Energy Agency's finding in March that Iran was complying with the 2015 nuclear deal, Pompeo said, "I'll leave that to lawyers."
At his confirmation hearing for secretary of state on April 12, Pompeo, then the CIA director, told senators: "With the information I've been provided, I've seen no evidence that they are not in compliance today."
President Donald Trump said a news conference Monday with the president of Nigeria that the materials disclosed by Netanyahu revealed that Iran's behavior was "just not an acceptable situation."
"What's happening today," Trump said, "has really shown that I've been 100 percent right."
But two U.S. officials with direct knowledge of the intelligence assessment told NBC News that there was no evidence that Iran was cheating on the agreement.
Dylan WIlliams, vice president for government affairs at J Street, a left-leaning pro-Israel group, agreed.
"While Prime Minister Netanyahu and President Trump have long been determined to undermine this agreement, their own security establishments continue to confirm that the deal is working and that Iran is compliant with all of its commitments," Williams said in a statement. "Nothing we were shown today contradicts or disproves that expert assessment."
On Monday evening, the White House released a statement saying Netanyahu's information bolstered its contention that "Iran has a robust, clandestine nuclear weapons program that it has tried and failed to hide from the world and from its own people." But Monday night, it issued what it said was a correction — saying Iran "had" such a program, not "has" one.
Meanwhile, Abbas Araghchi, Iran's deputy foreign minister for political affairs, dismissed Netanyahu's claims as nonsense.
"Netanyahu's show was a childish and ridiculous game," he told the semiofficial Tasnim news agency, Reuters reported. "The planned show ahead of the May 12 deadline is to affect Trump's decision on Iran's nuclear deal."
That's Trump's deadline for amending the 2015 agreement or walking away from the deal.
Netanyahu had alerted reporters earlier Monday that he was going to announce what his office billed as a "significant development" regarding the nuclear deal, which he wants Trump to scrap.
The Iran deal, formally known as the Joint Comprehensive Plan of Action, offered Tehran billions of dollars in relief from sanctions in exchange for its agreement to curb its nuclear program.
While there is broad consensus that Iran is abiding by the agreement — reached with the United States, Russia, China, Britain, France, Germany and the European Union — Israel has long opposed the pact, which was one of the main foreign policy achievements of the Obama administration.
Israel says the deal hasn't curbed Iran's wider aggression, such as its support for Hezbollah — a powerful Lebanese militia and political group — and its role in conflicts in Syria, Yemen, Iraq and Bahrain.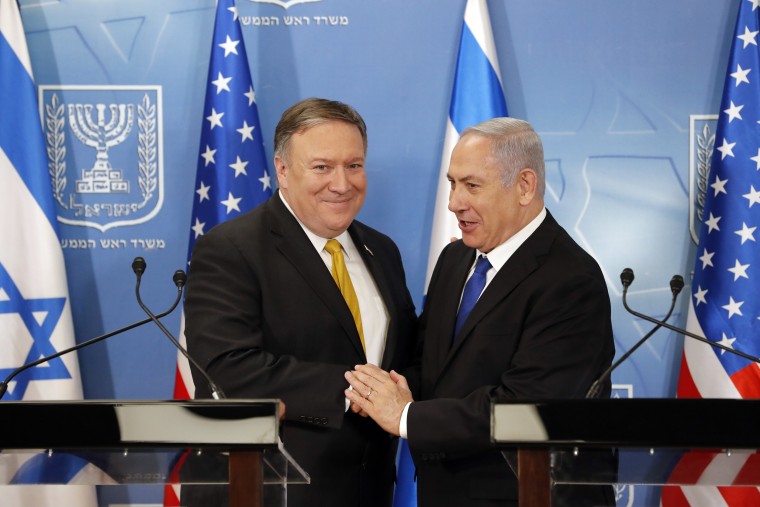 "President Trump's been pretty clear," Pompeo said Sunday in Tel Aviv. "This deal is very flawed. He's directed the administration to try and fix it, and if we can't fix it, he's going to withdraw from the deal."
He added, "We remain deeply concerned about Iran's dangerous escalation of threats to Israel and the region and Iran's ambition to dominate the Middle East remains."
Pompeo also listed Iran's non-nuclear threats, including the introduction of thousands of proxy fighters to the Syrian civil war — something that has inspired Israel to carry out missile strikes, including a suspected attack late Sunday.
In his previous role as CIA director, Pompeo consistently portrayed Iran as the focus of evil in the Middle East and a worldwide threat.