Israel "should expect a reaction" if current peace talks break down, according to a Palestinian official who once headed Yasser Arafat's security force.
Jibril Rajoub, who now serves as the Palestinian Authority's minister of youth and sport, told TIME that armed conflict was a possibility.
"We have to ring the bell," Rajoub said in an interview published Tuesday. "Uncle Sam should understand that there is a new fascistic doctrine among the Israelis, and this is a real threat to their interests in the Middle East, and even in the whole world."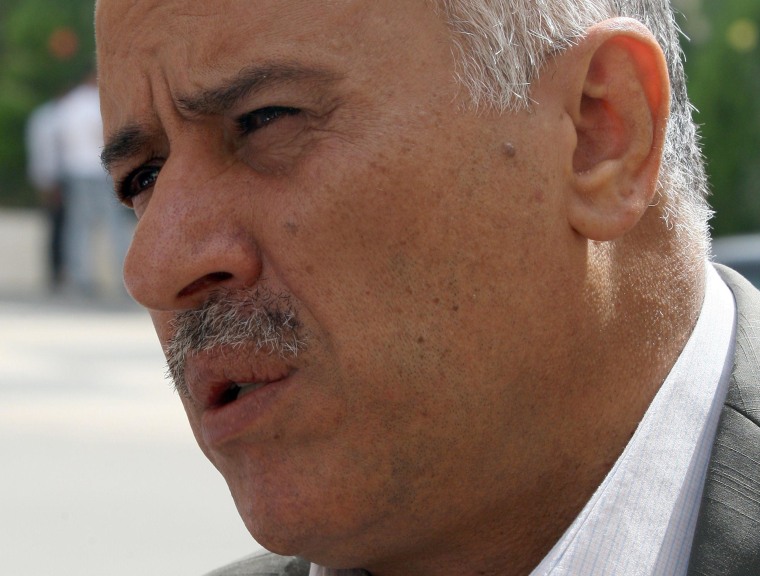 Meanwhile, Reuters quoted senior Palestinian official Nabil Abu Rdeineh as saying a "framework" agreement being crafted by Secretary of State John Kerry to buttress troubled Israeli-Palestinian peace talks may be doomed to fail.
The U.S.-backed negotiations are scheduled to expire at the end of April.
Kerry launched the latest Israeli-Palestinian peace push last July and has visited the region more than 10 times in the past year.
He hopes to complete a "framework" accord by an April deadline and will then try to negotiate a final peace deal by the end of 2014, a U.S. official has said. However, both sides are standing firm on their demands in decades-old disputes.
Palestinians want a state in the West Bank and Gaza Strip, with East Jerusalem as its capital. Israel captured those areas in the 1967 war, and in 2005 pulled its troops and settlers out of the Gaza Strip - land now hedged in by an Israeli blockade and run by Hamas Islamists opposed to Abbas's peace efforts.
Reuters contributed to this report.