TEL AVIV — Israel unleashed a wave of airstrikes on Gaza, killing at least 10 people, including a senior militant and a 5-year-old girl, and leaving dozens wounded, Israeli and Palestinian officials said Friday.
As part of its initial response, the Al-Quds Brigades, the armed wing of the Palestinian Islamic Jihad group, said in a statement late Friday that it had fired more than 100 rockets at Tel Aviv and other cities. Air raid sirens could be heard wailing in central and southern Israel.
Earlier, the IDF, or Israel Defense Forces, said in a statement that "special forces and artillery forces targeted six military posts belonging to the Palestinian Islamic Jihad terrorist organization in the Gaza Strip."
The IDF said that a number of Palestinian operatives had been killed during the operation, which comes after days of heightened tensions following the arrest of a senior militant in the occupied West Bank earlier this week.
A blast was heard in Gaza City, where smoke poured out of the seventh floor of a tall building Friday afternoon. Video released by the IDF showed strikes blowing up three guard towers with suspected militants in them.
In a separate news release, the IDF said its jets had targeted Taiseer al-Jabari, the senior commanding officer of the Palestinian Islamic Jihad's northern Gaza division.
The Palestinian Health Ministry said in a statement that 10 people were killed, including the 5-year-old girl, and 55 people were injured. It also confirmed that Jabari was among the dead.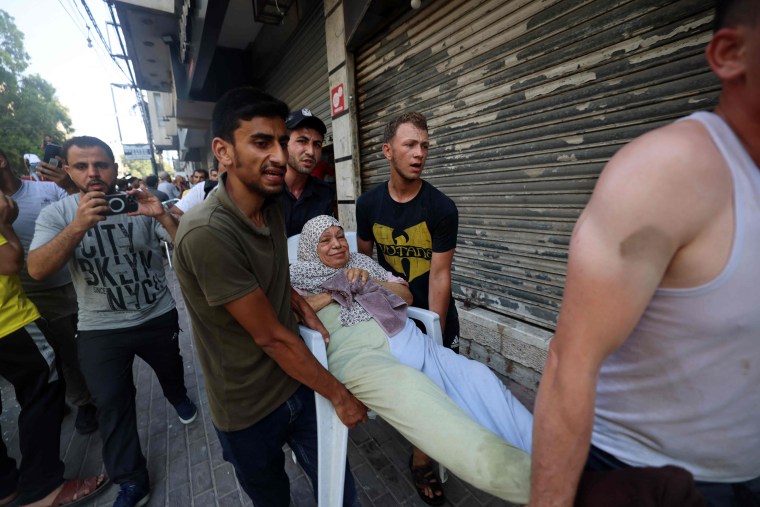 Following the airstrikes, a few hundred people gathered outside the morgue at Gaza City's main Shifa hospital. Some entered to identify loved ones, only to emerge in tears.
The hospital's director, Mohammed Abu Selmia, told The Associated Press that medical facilities faced shortages after Israel imposed a full closure on Gaza earlier this week. He said there were enough supplies and essential drugs to sustain hospitals for five days in normal times, but that with a new round of fighting underway, "they may run out at any moment."
Later, Israeli media showed the skies lighting up with rockets launched by the Al-Quds Brigades and interceptors from Israel's Iron Dome missile defense system. An explosion was heard in Tel Aviv.
NBC News could not independently verify how many rockets were launched and there was no immediate word on any casualties on the Israeli side.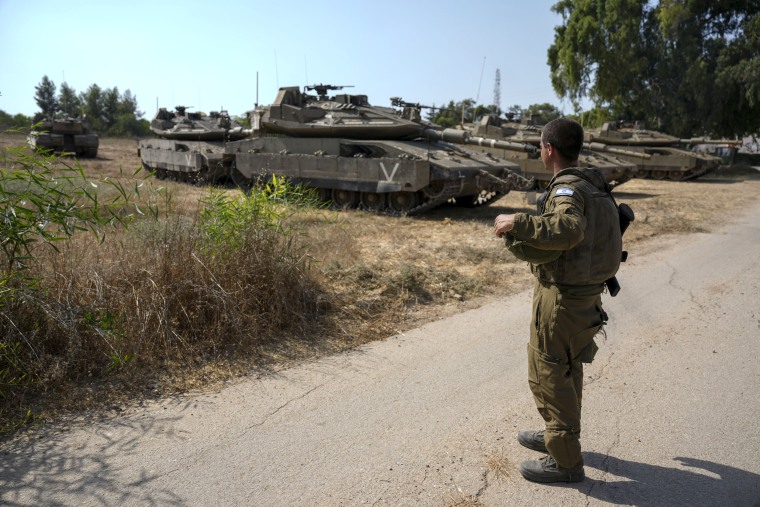 The strikes risk igniting yet another war in the territory, which is ruled by the Islamic militant group Hamas and is home to about 2 million Palestinians.
"The Israeli government will not allow terrorist organizations in the Gaza Strip to set the agenda in the area adjacent to the Gaza Strip and threaten the citizens of the State of Israel," Prime Minister Yair Lapid said in a statement. "Anyone who tries to harm Israel should know: We will find you."
The IDF also announced a "special situation" on the home front, with schools closed and limits placed on other activities in communities within 50 miles of the border.
Israel had closed roads around Gaza earlier this week and sent reinforcements to the border as it braced for a revenge attack after the arrest of the Palestinian Islamic Jihad leader in the occupied West Bank on Monday. A teenage member of the group was killed in a gunbattle between Israeli troops and Palestinian militants.
Israel and Hamas fought four wars and several smaller skirmishes in the 15 years since the militant group seized power in the coastal strip from rival Palestinian forces. The most recent war was in May 2021, and tensions again soared earlier this year following a wave of attacks inside Israel, near-daily military operations in the West Bank and tensions at a flashpoint Jerusalem holy site.
The Palestinian Islamic Jihad group is smaller than Hamas but largely shares its ideology. Both are opposed to Israel's existence and have carried out scores of deadly attacks over the years. It is unclear how much control Hamas has over Islamic Jihad, and Israel holds Hamas responsible for all attacks emanating from Gaza.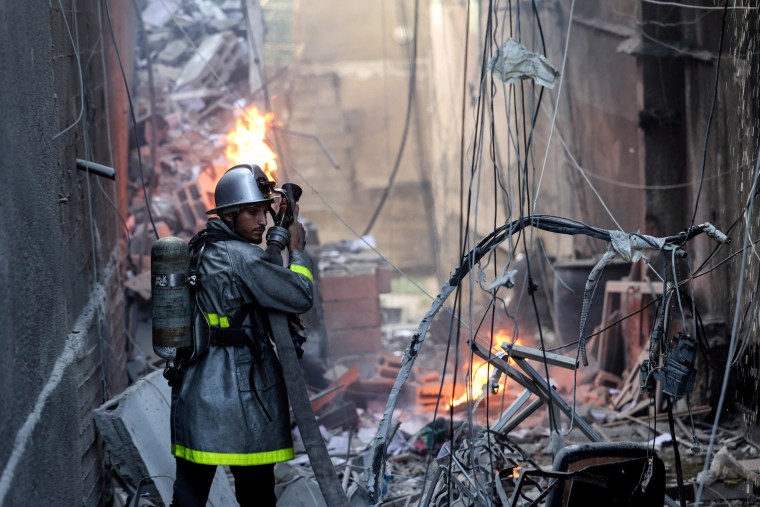 Israeli Defense Minister Benny Gantz visited communities near Gaza earlier Friday, saying authorities were preparing "actions that will remove the threat from this region," without elaborating.
Earlier Friday, a couple of hundred Israelis protested near the Gaza Strip to demand the return of a captive and the remains of two Israeli soldiers held by Hamas.
The protesters were led by the family of Hadar Goldin, who along with Oron Shaul was killed in the 2014 Gaza war. Hamas is still holding their remains, as well as two Israeli civilians who strayed into Gaza and are believed to be mentally ill, hoping to exchange them for some of the thousands of Palestinian prisoners held by Israel.