Syrian government forces have used chemical weapons in the country's civil war, the Israeli military's top intelligence analyst said on Tuesday, citing photographic evidence of people "foaming from the mouth."
If the claim by Brigadier-General Itai Brun is confirmed, it would mean Syria's President Bashar Assad has crossed what the State Department has previously described as a red line that would trigger some form of U.S. response. President Barack Obama also warned Assad using chemical weapons would be a "tragic mistake" that would have "consequences."
Brun told a conference at the Institute of National Security in Tel Aviv that photographs of victims showing foam coming out of their mouths and contracted pupils were signs that a deadly gas had been used.
"One of the main characteristics of the recent events in Syria is the increasing use of ground-to-ground missiles, rockets and chemical weapons by the Syrian regime. There is a wide-range usage of missile, rockets and more by the Syrian weapons array," he said, according to a translated transcript of his remarks provided by the Israel Defense Forces.
"According to our professional assessment, the regime has used deadly chemical weapons against armed rebels on a number of occasions in the past few months," he said.
"For instance, on March 19, 2013, victims suffered from shrunken pupils, foaming from the mouth, and other symptoms which indicate the use of deadly chemical weapons. The type of chemical weapons was likely sarin, as well as neutralizing and non-lethal chemical weapons," he added.
According to the Centers for Disease Control, sarin, a nerve agent, causes symptoms including loss of consciousness, convulsions, paralysis, and respiratory failure that can be fatal.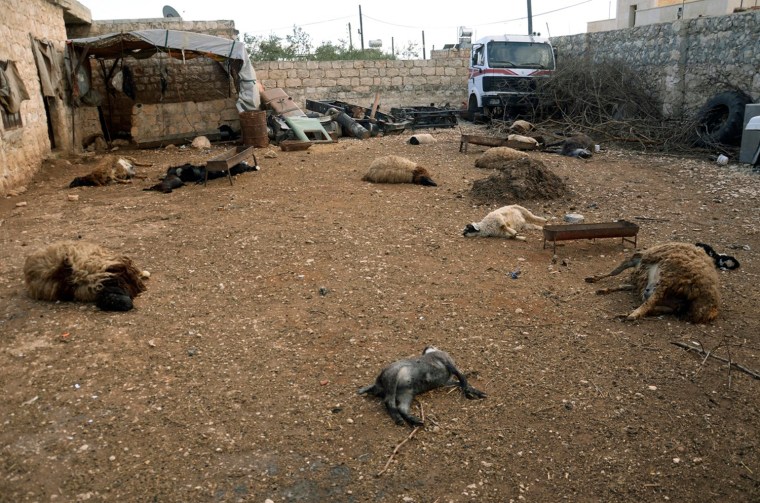 In March, Assad's regime and the rebels blamed each other for what both said was a chemical-weapon attack in Aleppo.
Responding to Brun's comments, Pentagon Press Secretary George Little said in a written statement that the United States "continues to assess reports of chemical weapons use in Syria."
"The use of such weapons would be entirely unacceptable. We reiterate in the strongest possible terms the obligations of the Syrian regime to safeguard its chemical weapons stockpiles, and not to use or transfer such weapons to terrorist groups like Hezbollah," he added.
On Monday, Defense Secretary Chuck Hagel said the use of chemical weapons by Assad's forces would be a "game changer" and the United States and Israel "have options for all contingencies," Reuters reported.
Hagel met Prime Minister Benjamin Netanyahu in Jerusalem on Tuesday, the news service said, a day after flying in an Israeli military helicopter over the occupied Golan Heights on the edge of the fighting in Syria that has entered its third year.
"This is a difficult and dangerous time, this is a time when friends and allies must remain close, closer than ever," Hagel, in remarks to reporters before his talks with Netanyahu, said about the United States and Israel.
Secretary of State John Kerry, who was in Belgium for a NATO meeting on Tuesday, that he did not have information that confirmed that the Syrians had used chemical weapons.
Earlier he said the alliance needed to consider its role in the crisis, Reuters reported. "We should also carefully and collectively consider how NATO is prepared to respond to protect its members from a Syrian threat, including any potential chemical weapons threat," he added.
Kerry said that the planning the alliance had already done was appropriate. 
Reuters contributed to this report.
Related:
Syrian activists say Assad loyalists 'massacre' 85 in Damascus suburb
'Suffocating in the streets': Chemical weapons attack reported in Syria