Israel and the United Arab Emirates on Thursday agreed to normalize ties in a major diplomatic breakthrough brokered by President Donald Trump.
As part of the agreement, Israel will suspend declaring sovereignty over areas outlined in the Trump administration's Mideast peace plan, the countries said in a joint statement. It added that Israel would focus on expanding ties with other countries in the Arab and Muslim world.
"HUGE breakthrough today! Historic Peace Agreement between our two GREAT friends, Israel and the United Arab Emirates," Trump wrote on Twitter.
The deal was finalized during a call between Trump, Israeli Prime Minster Benjamin Netanyahu and Abu Dhabi's Crown Prince Sheikh Mohammed Bin Zayed. Trump said discussions between the two leaders had sometimes been tense.
Israel currently has peace deals with only two Arab countries — Egypt and Jordan — where it has fortified embassies.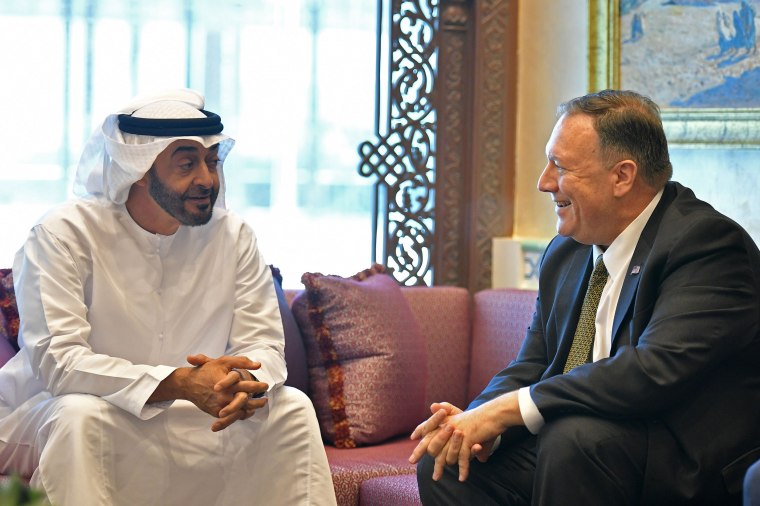 If Israel and the UAE go ahead and sign bilateral agreements, it would be the first time Israel has normalized relations with a Gulf state.
Relations between Israel and Gulf States have quietly warmed in recent years as they have been pushed together by their common enemy, Iran, and by an ally in the Trump administration. The agreement could lead other states, such as Saudi Arabia, to potentially follow suit.
"It's a historic day, a new dawn in Middle East relations," Netanyahu said at a press conference in Jerusalem on Thursday.
He also insisted that he would fulfill his pledge to annex parts of the West Bank.
"I'm not changing this and I'm obliged to this annexation," he said, adding that it could not happen U.S. support and that Trump had asked Israel to wait.
The deal solidifies Netanyahu's claim to have significantly advanced acceptance of Israel within the Arab world, giving him a new political talking point as he portrays himself as Israel's ultimate statesman on the world stage.
But it could trigger significant blowback domestically from supporters of Israeli settlements who have already been impatient with Netanyahu's failure to make good on his promise to extend Israeli sovereignty over West Bank lands.
Download the NBC News app for breaking news and politics
U.S. officials described the agreement, to be known as the Abraham Accord, as the first of its kind since Israel and Jordan signed their treaty in 1994. It also gives Trump a foreign policy success as he seeks re-election on Nov. 3.
Delegations from Israel and the United Arab Emirates will meet in the coming weeks to sign bilateral agreements regarding investment, direct flights, security and the establishment of reciprocal embassies, among other things, the joint statement added.
Despite Israel suspending a declaration of sovereignty over parts of the West Bank, the announcement was a blow to Palestinians, who will see it as a sign of waning support for their cause among fellow Arabs.
Hanan Ashrawi, a veteran Palestinian politician, slammed the agreement.
"Israel got rewarded for not declaring openly what it's been doing to Palestine illegally and persistently since the beginning of the occupation," she said. "The UAE has come out in the open on its secret dealings/normalization with Israel."
Open secret
For decades, the Arab world has been united, in public at least, in its antipathy toward Israel over the plight of the Palestinians.
But while officially Israel and the UAE have no diplomatic relations, it has become an open secret that the diplomatic wall between the two countries was crumbling, as the Sunni Arab political world began to see Israel as a potential strategic partner against Iran and an economic model for the region.
Israel considers Shiite-led Iran an existential threat, and the UAE and its allies — including Saudi Arabia — now share the view that Iran is the predominant threat in the region.
The signs of warming ties have grown over the years.
Israeli businessmen have quietly operated in the UAE for years. Last year, the UAE Embassy in Washington included a U.S. rabbi in its interfaith Iftar dinner held during the Ramadan holiday. And in 2018, Netanyahu and the Emirati ambassador to Washington shook hands and warmly greeted each other when they ran into each other by chance at Washington's upscale Café Milano.
The gradual warming of ties has extended to other Sunni Arab countries broadly aligned with Emirati foreign policy. The Saudis in recent years started allowing Indian flights to Israel to use Saudi airspace for the first time, reducing the trip length by hours. Qatar has allowed an envoy to stay in Israel while overseeing Qatari-funded development projects in the Gaza Strip. Bahrain has even sent an interfaith delegation to Israel and has defended Israel's right to self-defense after Iranian rocket attacks.
For the Trump administration, the issues of Israel-Arab tensions and Iran nuclear concerns have long been intertwined.
Trump and his aides have hoped that by focusing on the mutual goal of weakening Iran, the U.S. could nudge Israel and the Sunni Arab states past their mutual distrust, particularly as the Palestinian cause has diminished as a top Arab political concern in recent years.
Jared Kushner, Trump's son-in-law, adviser and architect of the Israeli-Palestinian peace plan, told reporters in a conference call on Thursday that he believed the deal would encourage other countries to normalize relations with Israel.
"What this does is shows people in the region we don't have to be captive to old conflicts and old thinking," he said.
"We hope it inspires a lot of people in the region to see the potential for what can be if you're willing to be creative and take a little risk," he added.