ASHKELON, Israel — She was supposed to be celebrating her 75th birthday Saturday. Instead of celebrations, Bracha Yarkoni said she watched as her home in Ashkelon, a coastal city in southern Israel, took a direct hit from a rocket. 
Rocked out of bed by explosions and the cries of her grandchildren, Yarkoni said she was standing in the street when the rocket struck. It was one of a massive barrage fired from the Gaza Strip as Palestinian militants launched a deadly land, air and sea assault inside Israel on Simchat Torah, a normally joyous day when Jews complete the annual cycle of reading the Torah.  
Follow along for live coverage
Instead, pillars of black smoke rose up from the ground after Hamas rockets struck as thinner white trails from Israeli air defense missiles crisscrossed the sky.
"I've never seen it like this," Yarkoni told NBC News shortly afterward. "Where are the soldiers? Where are the police?"
"God help us," she said.
Across Israel's Route 3, a highway 15 miles north of Gaza, police armed with assault rifles fanned out across roads, checking cars for gunmen trying to pass farther into the country. Elsewhere, the highways were almost entirely empty except for emergency vehicles.
As his country reeled, Prime Minister Benjamin Netanyahu declared Israel was "in a war." Promising the "enemy will pay a price it has never known before," in a recorded video address, he said he had ordered an "extensive reserve mobilization."
But hours after the attacks, gun battles could still be heard inside several Israeli communities.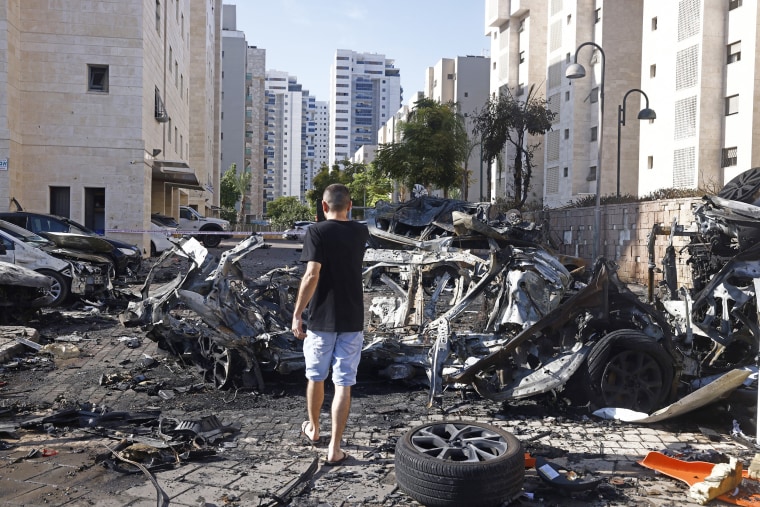 At least 70 Israelis were killed, according to health officials, while at least 198 people in Gaza were killed in Israeli airstrikes, the Gaza health ministry said.
Graphic but unverified videos and photos shared on social media suggested that the toll could rise sharply.
In Tel Aviv, residents rushed to hospitals and medical offices to donate blood for the injured, as the city's leaders ordered that bomb shelters be opened.
The Israeli military confirmed an infiltration had occurred in several locations near the Gaza barrier in southern Israel.
Militant group Hamas, which rules Gaza, announced it was behind the operation it had dubbed "Al-Aqsa Flood." Calling on Palestinians to join the fight, Mohammed Deif, the leader of the group's military wing, said "enough is enough" in a recorded message. 
Palestinian President Mahmoud Abbas, the chairman of Hamas' rival Fatah movement, was also quoted by the official WAFA news agency as saying that his people had the right to defend themselves against the "terror of settlers and occupation troops."
He spoke at an emergency meeting held in Ramallah with a number of top officials from the Palestinian Authority, the agency reported.
Raf Sanchez reported from Ashkelon, and Henry Austin from London.