TEL AVIV — Israel has reportedly canceled plans to send warplanes to a joint military exercise with the U.S. amid concern over the buildup of Iranian forces across the border in Syria.
The decision not to send F-15 jets to the drill in Alaska was widely reported by the Israeli media to be linked to worries over a possible Iranian attack, potentially involving an armed drone. A spokesman for the Israel Defense Forces confirmed to NBC News that "aircraft participation in the exercise was adjusted."
Late on Tuesday, Education Minister Naftali Bennett became the latest in a string of senior Israeli officials to promise that the country would respond to threats from Iran and elsewhere.
"The Iranian octopus is trying to strangle us and break our spirit," he said at an event in Jerusalem honoring fallen soldiers. "Israel is stronger than those against us. From here I tell the leaders of Iran, Syria, Hamas and Hezbollah — do not try us."
Bennett is an important, and hawkish, member of Israeli Prime Minister Benjamin Netanyahu's coalition government.
Netanyahu last week also warned Iran not to test his country's resolve, saying, "Our policy can be summed up in three words: aggression against aggression."
Israel has become increasingly alarmed at the influence of Iran and Tehran-backed Lebanese group Hezbollah, particularly in Syria.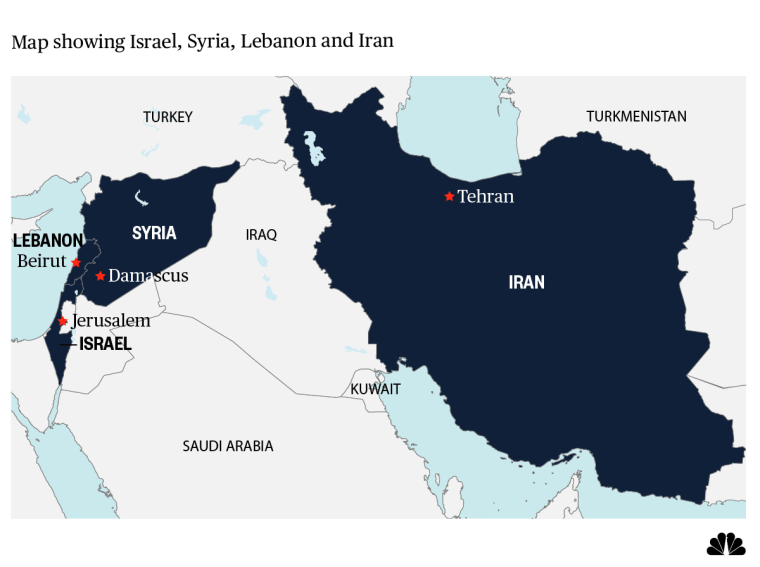 Israel has struck inside Syria more than 100 times since 2012 — mostly targeting suspected weapons convoys for Hezbollah. Israel is believed to have bombed an air base in Syria on April 9, which Iranian state media reported killed seven Iranian military personnel.
Iran, which denies it is setting up permanent bases in Syria, has pushed back — albeit with less fiery rhetoric.
"Israeli aggression against the Syrians and the region's Muslims remains ongoing," Iranian Foreign Ministry spokesman Bahram Ghasemi said Monday, adding the country would respond "sooner or later."
"It's a pity the international community doesn't do more to in order to make sure that Iran doesn't turn Syria into a country under its direct control."
On Tuesday, Hezbollah's Deputy Secretary General Naim Qassem said in an interview with pan-Arab TV network Al-Mayadeen that Iran was likely to retaliate forcefully to the attack in Syria.
"We have to expect something from Iran," he said, adding, "Hezbollah and Iran will not allow Israel to limit their movement in Syria."
Israeli military officials say an Iranian drone that crossed the border in February — triggering an Israeli raid in Syria and resulting in the downing of one of its jets — was "armed with explosives and was tasked to attack Israel," but they have not provided evidence to support this claim.
The ratcheting up of tensions comes as Syria's President Bashar al-Assad, with the help of Iranian forces, had made gains against rebels seeking to unseat him. This has allowed Iran and Lebanon's Iran-backed Hezbollah militia to entrench even closer to the border with Israel.
Despite the rhetoric, experts believe neither Iran nor Israel are looking for open conflict.
"This is just saber-rattling" by Iran, according to Holly Dagres, Middle East analyst and curator of The Iranist newsletter.
Iran does not have nuclear weapons to counter Israel's own arsenal, which the government has never admitted to but is widely assumed to exist, she added.
"The worst they have is ballistic missiles," she said. "When you look at it that way, it's empty words."
Hanging over Iranian officials is the landmark 2015 agreement that saw Tehran abandon its nuclear weapons program in exchange for an easing of international sanctions. President Donald Trump has long opposed the deal, and many expect him not to re-certify the pact by a May 12 deadline.
Yossi Kuperwasser, the former head of research at the Israeli Defense Force's military intelligence division, said Israel could use international help in reining in Iran.
"It's a pity the international community doesn't do more in order to make sure that Iran doesn't turn Syria into a country under its direct control," he said.
Paul Goldman reported from Tel Aviv, F. Brinley Bruton and Rachel Elbaum reported from London, and Lawahez Jabari reported from Jerusalem.