Israeli police arrested a 19-year-old man Thursday in connection with the wave of bomb threats and hoaxes against Jewish community centers in America, authorities in Israel said.
The unnamed man — a dual U.S.-Israeli citizen — is Jewish himself, officials said. While a motive remains unclear, his attorney told a Magistrate Court that the suspect was diagnosed with a brain tumor that effects his cognitive functions.
He was arrested on suspicion of making security-related threats and publishing false reports causing panic in Jewish communities in countries around the world, said Israel police spokesman Micky Rosenfeld.
A federal official with direct knowledge of the investigation into the telephone bomb threats told NBC News exclusively that authorities first believed they had their man on Monday of this week.
"This kid was very sophisticated" the official says. "What he did in avoiding law enforcement, he did a great job. We just did better than him."
Related: David Friedman Confirmed by Senate as U.S. Ambassador to Israel
The official says dogged cyber work and IP tracing led to what he described as the "eureka moment" that was the result of a 6 month intensive effort with Israeli authorities.
In the U.S., Jewish centers and synagogues in New York, Chicago, St. Louis, Florida and elsewhere have reported menacing calls and emails warning of violence in the past six months. Facilities were routinely locked down and police made sweeps with bomb-sniffing dogs. In other cases, Jewish cemeteries and synagogues reported vandalism to their properties.
Attorney General Jeff Sessions said the arrest in Israel is "the culmination of a large-scale investigation spanning multiple continents ... and we will not tolerate the targeting of any community in this country on the basis of their religious beliefs."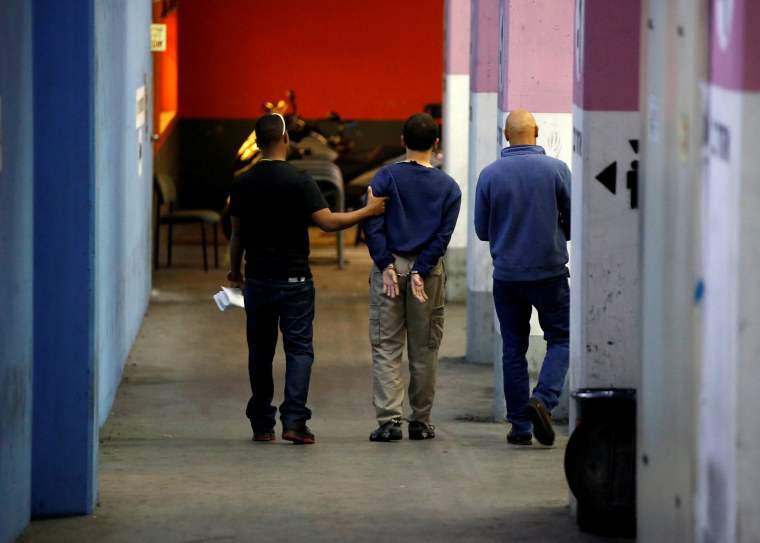 Rosenfeld said the investigation had begun in several countries where dozens of ominous calls were received at public places, events, synagogues and community buildings. In one instance, he added, a Delta Airlines flight from New York's John F. Kennedy International Airport had to make an emergency landing in 2015 after a false threat about explosives on board.
The FBI and other law enforcement cooperated with the investigation in Israel, using technology to track down the origin of the threats, which were received in the U.S., Australia and New Zealand.
Israeli police officials said the suspect used his neighbor's Wi-Fi as one of the means to disguise himself. A U.S. law enforcement source said the suspect made the calls from his bedroom.
Related: Jewish Community Centers in Kentucky, Connecticut Targeted
Rosenfeld said the suspect used "advanced camouflage technologies" when contacting other countries and making those threats.
"He didn't use regular phone lines. He used different computer systems so he couldn't be backtracked," said Rosenfeld, according to The Associated Press.
Investigators were removing items from the suspect's home in southern Israel, where they reportedly found antennas and satellite equipment.
The official with direct knowledge of the investigation told NBC News that the Israel Police, with FBI agents near the suspect's location, moved on the teen early Thursday morning local time and arrested him. Israeli officials said he tried unsuccessfully to grab an officer's gun.
Meanwhile, the suspect appeared Thursday at a court in Rishon Letzion, northwest of Jerusalem.
A public defender said he does not have a criminal record, but has suffered from a brain tumor since he was 14 that appears to effect his cognitive functions. He has been homeschooled since the diagnosis and cannot work or serve in the Israel Defense Forces, his attorneys added.
The court granted a request by the suspect's attorneys to have him undergo a medical evaluation.
Officials also said he called the Israel Police's emergency number two months ago to falsely claim that bombs were planted in schools across Israel.
U.S. authorities are not expected to seek extradition.
That effort to catch the caller, the U.S. official said, was first led by the Israeli Police.
"A very capable Israeli police force that came through and took the case to the 5 yard line," the official said, using an American football metaphor.
The FBI then dispatched 14 agents to Israel and worked together with Israeli Police "to cross the goal line."
That "goal line" moment came when Israeli officials and the FBI realized they had found their man on Monday of this week.
The official credited the "deep dive collaboration" that began in September of last year and involved the expertise of both agencies in making the arrest.
In the first two months of 2017 alone, the Anti-Defamation League has counted at least 150 threats in 37 states made against JCCs as well as Jewish day schools, other Jewish institutions and the ADL's own offices.
The ADL tweeted Thursday that it was "relieved and thankful" a suspect was caught, and that despite there not being an obvious motive, the "impact of this individual's actions is crystal clear: These were acts of anti-Semitism."
Related: JCCs Face Third Wave of Bomb Threats Nationwide
"Even though it appears that the main culprit behind the majority of these attacks has allegedly been identified, anti-Semitism in the U.S. remains a very serious concern," ADL CEO Jonathan Greenblatt said in a statement.
"No arrests have been made in three cemetery desecrations or a series of other anti-Semitic incidents involving swastika graffiti and hate fliers. JCCs and other institutions should not relax security measures or become less vigilant."
The FBI earlier this month had made one arrest in the case: a 31-year-old former journalist named Juan Thompson.
Authorities say he made a handful of bomb threats against Jewish groups while posing as his ex-girlfriend as retribution against her. But those threats were described by authorities as a "copycat" case.
Gilad Erdan, Israel's minister of public security, said he hopes the latest arrest "will help shed light on some of the recent threats against Jewish institutions, which have caused great concern both among Jewish communities and the Israeli government."