Trouble flared at the one of the most important religious sites in the Old City of Jerusalem that is at the center of the Arab-Israeli conflict on Tuesday.
Israeli police said around 20 masked Palestinian youths were throwing stones and firecrackers at Israeli security forces. Police then entered the compound and made three arrests.
The 35-acre site known as the Temple Mount by Jews and Haram al-Sharif (Noble Sanctuary) by Muslims has long been a flashpoint because it is considered holy by both Muslims and Jews.
The site is of deep religious and political significance to Muslims and Palestinians around the world because it houses the golden Dome of the Rock where Muslims believe the prophet Mohammad ascended to heaven and the Al-Aqsa mosque.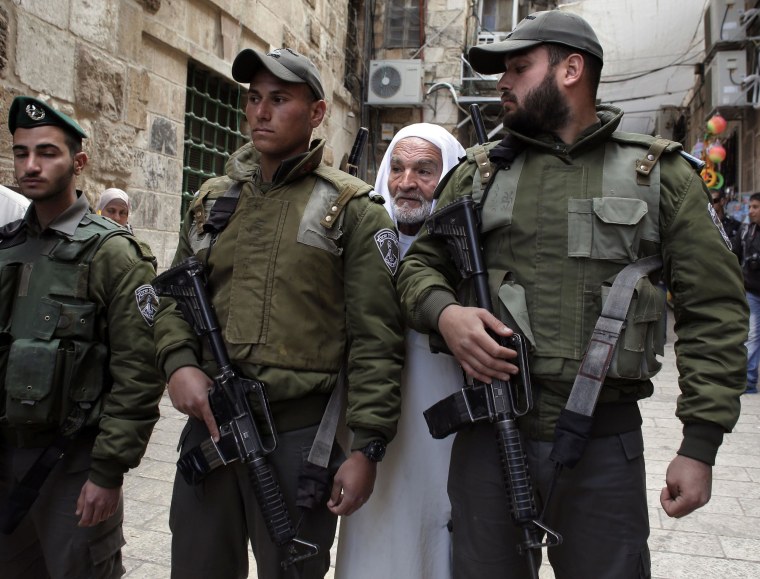 Jews believe it is the site of First and Second Temples in ancient times.
The site is so sensitive that Jewish visitors are banned from worshipping there. Under a treaty agreement between Israel and Jordan, the holy ground is administered by a Jordanian religious authority.
The violence on Tuesday came just a few hours before the start of a debate in the Israeli parliament on whether Israel should "realize its sovereignty over the Temple Mount."
The motion was sponsored by Moshe Feiglin, a right-wing member of Prime Minister Benjamin Netanyahu's Likud Party who wants restrictions on Jewish visitors to the site lifted.
"Jerusalem is the capital of Israel," said Feiglin. "Would the U.K. government give up its sovereignty over the center of London?"
"Their target is the mosque," said Adnan Husseini, the Palestinian Authority's governor of Jerusalem, "The Israeli government has a plan to take control of the al-Aqsa compound, and the debate was the first step."
According to Husseini, Palestinian demonstrators gathered at the compound because of rumors that Jewish extremists planned to hoist an Israeli flag on the site.
The debate in the Knesset did not go unnoticed in other parts of the Arab world. Egypt's Foreign Minister Nabil Fahmy has warned that a declaration of Israeli sovereignty over the compound would cause an explosion not just in Palestine, but across the whole region.