BEIT EL, West Bank — Hagi Ben Artzi, one of the founders of the Beit El Jewish settlement in the West Bank, struggles to contain his excitement when talking about President Donald Trump.
"I felt that this is a miracle, a miracle!" he said, calling Trump's election "a gift from God."
Ben Artzi, who is also Israeli Prime Minister Benjamin Netanyahu's brother-in-law, sees Israel expanding its borders during Trump's presidency.
"The land of Israel from the sea, from the Mediterranean to the Jordan River, should be under Israeli sovereignty," he said.
Ben Artzi may have reason to be hopeful. Trump said Wednesday that he's not wedded to a peace process that leads to a Palestinian state — the so-called two-state solution that has been the basis for the U.S.-backed negotiations for decades.
"I'm looking at two states and one state, and I like the one both parties like," Trump said at a joint White House news conference with Netanyahu. "I can live with either one."
Standing at a podium beside Trump, Netanyahu made it clear he doesn't see a Palestinian state's taking shape, insisting that Israel must maintain security control over territories west of the Jordan River, an area that includes all of the West Bank.
Otherwise, "we'll get another radical Islamic terrorist state in the Palestinian areas exploding the peace, exploding the Middle East," Netanyahu said.
Settlers and right-wing Israeli politicians celebrated the prime minister's statement.
A spokesperson for Education Minister Naftali Bennett, leader of the right-wing Jewish Home Party, said in a written statement: "The Palestinian flag was today lowered from the mast and replaced with the Israeli flag. The Palestinians already have two states: in Gaza and in Jordan. There is no need for a third one."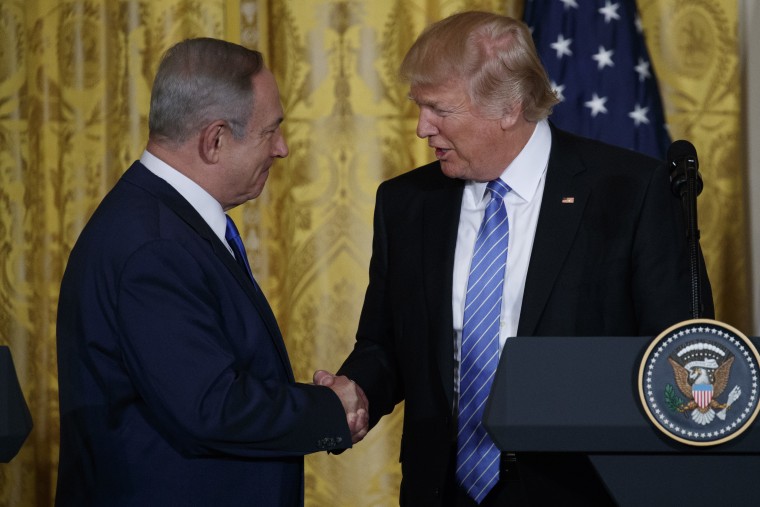 Palestinians, however, said that if Israel absorbs the West Bank, they should be given the same rights as Israelis, including the right to vote.
"There is and will be one state between the river and the sea encompassing millions of Israelis and Palestinians," said Yousef Munayyer, executive director of the US Campaign for Palestinian Rights. "The question now is what sort of state will that be — one of full equality or an apartheid state?"