JERUSALEM — A wave of violence in the occupied West Bank showed no signs of abating Monday as a Palestinian gunman opened fire on two cars, killing an Israeli motorist.
The Israeli army said it set up road blocks and was searching for the gunman.
The U.S. ambassador to Israel said that a U.S. citizen was killed in a West Bank terror attack on Monday night, but the victim was not publicly identified. U.S. State Department spokesperson Ned Price said that the Israeli who died Monday near Jericho was also an American citizen.
"We express our deepest condolences to all of the victims' families and their loved ones," Price said Monday. "We also condemn the wide-scale, indiscriminate violence by settlers against Palestinian civilians following the killing." 
The death of the 27-year-old man followed mounting violence in the area, with dozens of Israeli settlers running riot through a Palestinian town and nearby villages Sunday night, burning homes and cars and killing a Palestinian man.
Sunday night's hourslong rampage through the Palestinian town of Hawara, the worst such violence in years, followed the shooting death of two Israeli settlers by a Palestinian gunman earlier in the day. Israeli security forces immediately began a manhunt in and around Hawara.
The violence laid bare the fragility of U.S.-led efforts to de-escalate tensions after months of intensifying violence in the region amid a rightward shift in Israeli politics.
Images from the streets of Hawara showed the destruction, with the charred gray skeletons of dozens of cars near two-story buildings with their windows smashed. One video shared widely on social media Sunday and geolocated by NBC News appeared to show a crowd of Israeli settlers praying while standing in front of a burning building.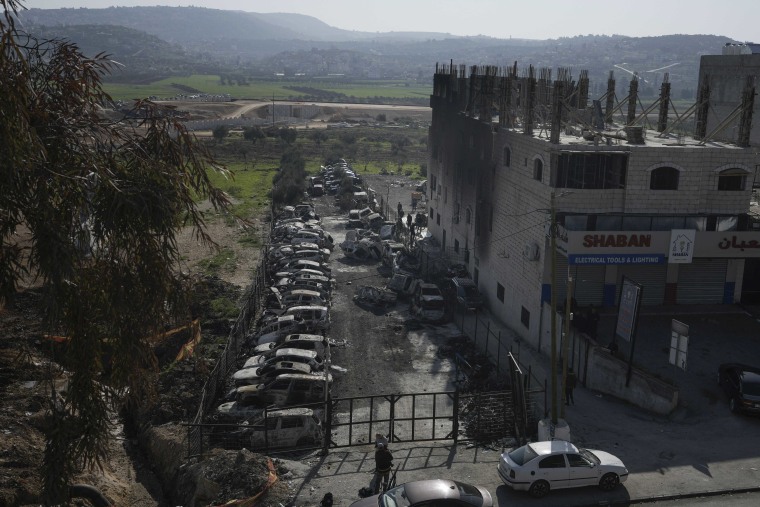 A 37-year-old Palestinian man, Sameh Hamdallah Mahmoud Aqtash, was shot and killed by Israeli fire, according to the Palestinian Health Ministry.
Aqtash was killed while trying to shut the village's gate and shouting to the stone-throwing mob that the villagers didn't want any trouble, his nephew Fadi Aqtash told NBC News in a telephone interview.
This didn't deter the attackers, he said, who gathered in ever greater numbers and were joined by members of the army.
"They came in towards our houses and started shooting with no reason, shooting everywhere. One bullet hits my uncle abdomen," Aqtash said. "They shot him as he was next to the gate of his house."
NBC News was not able to independently verify Aqtash's account.
A spokesperson for the Israeli army said it was unaware of any Israel Defense Forces involvement in the violence.
"From what we know at the moment, no IDF soldiers were involved in this incident. For further comments please refer to the Israeli Border Police," a spokesman said. A spokesman for the border police said that "from what we know at this time, no Israel Border Police officers have been involved in this baseless allegation."
About 700,000 Israeli settlers live in the West Bank and east Jerusalem, which are territories the Palestinians want to use to build a future state. The international community, including the Biden administration, considers the settlements illegal and obstacles to peace.
Two other people were shot and wounded in Hawara, one was stabbed, and another was beaten with an iron bar, the Palestinian Red Crescent medical service said, according to The Associated Press. Almost 100 other Palestinians were being treated for tear gas inhalation, the news agency added. 
Israel's military said Monday that it had dispatched several hundred more troops to the area, and that a manhunt was underway for the gunman who killed the Israeli settlers over the weekend — brothers Hillel Menachem Yaniv, 21, and Yagel Yaakov Yaniv, 19 — and the gunman who killed the Palestinian man. Ten Israelis were arrested after the violence in Hawara, the military said.
Palestinian President Mahmoud Abbas said he held the Israeli government responsible for what he called "the terrorist acts carried out by settlers under the protection of the occupation forces tonight."
Israeli Prime Minister Benjamin Netanyahu addressed the incidents in a video statement posted to Twitter on Sunday. "A terrible tragedy occurred today," he said of the settlers' killings, adding that Israeli soldiers were in pursuit of the gunman. "I ask even when the blood is boiling, not to take the law in one's hands," he added.
Some members of the ruling coalition — seen as the most right-wing in Israel's history — appeared to praise Sunday's violence as a deterrence against Palestinian attacks.
"I look favorably on what happened in Hawara," Tzvika Foghel, a lawmaker from the ultranationalist Jewish Power party, said in an interview with IDF radio. "I want to see every place where terrorists come out burning."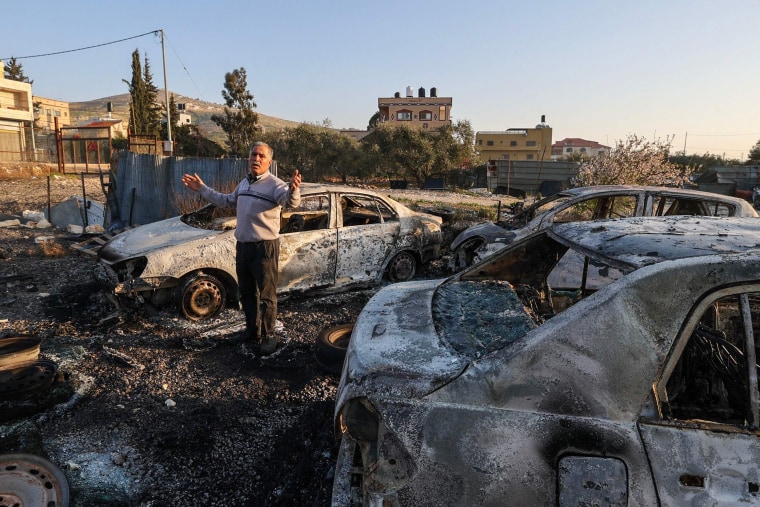 In the Israeli settlement of Har Brakha where the slain brothers lived, Rabbi Ya'akov Idels, an educator and resident for the past 30 years, said there was "a strong sense of anger and a great feeling of pain."
"They were full of kindness," Ya'akov told NBC News via telephone of brothers who had died. "My wife was 50 meters from where they were killed. It could have happened to any one of us. It's an easy place for a terror attack since it's so easy to run away and find a hideout" in Hawara, he added.
Ya'akov said that as an educator his message was one of "construction and not destruction."
"I think that if the two that died would be alive, they would condemn these acts," he said of the subsequent rampage. "I understand the pain that some feel, but these actions miss the main point."
Sunday's violence drew international condemnation, with State Department spokesman Ned Price saying that the shooting attack and the rampage "underscore the imperative to immediately de-escalate tensions in words and deeds."
The rampage occurred on the same day that the Jordanian government hosted talks aimed at reducing tensions ahead of the Muslim holy month of Ramadan, which led to a joint statement that "reaffirmed the necessity of committing to de-escalation on the ground and to prevent further violence."
At Sunday's meeting in Aqaba, Israeli officials said they would cease discussion of any new settlements for the next four months, and stop authorization of any outposts for six months, according to the joint communique.
But senior members of Netanyahu's government who are aligned with the hard-line settler movement suggested the idea was a nonstarter.
"One thing I do know: There will not be a freeze on the building and development in settlements, not even for one day (it is under my authority)," Finance Minister Bezalel Smotrich wrote on Twitter.
Smotrich, a settler leader who lives in the area and has been put in charge of much of Israel's West Bank policy, had called for Israel to strike back "without mercy" after the killing of the two brothers. Late Sunday, however, he appealed to his fellow settlers to let officials do their jobs. "It is forbidden to take the law into your hands and create dangerous anarchy that could spin out of control and cost lives," he said.
Nearly a year of violence has killed more than 200 Palestinians and more than 40 Israelis in the West Bank and east Jerusalem, according to the AP. A deadly Israeli raid on the West Bank city of Nablus killed at least 11 Palestinians last week, and left scores more wounded.
Israel captured the West Bank, east Jerusalem and the Gaza Strip, territories the Palestinians seek for their hoped-for independent state, in the 1967 Mideast war.
Paul Goldman reported from Tel Aviv, Lawahez Jabari from Jerusalem and Aina J. Khan from Bradford, England.