TEL AVIV, Israel — Masked and armed Israeli soldiers have been recorded forcefully entering Palestinian homes and waking up, photographing and questioning children as young as nine.
The videos highlight Israeli efforts to track down young Palestinian rock throwers in the occupied West Bank, according to an Israeli rights group.
"We are getting reports of nightly searches by soldiers demanding that Palestinian kids be woken up," Sarit Michaeli, an activist working for B'Tselem human rights group, told NBC News. "The Palestinians in the West Bank live under Israeli military law so currently the army doesn't need a warrant or permit to enter Palestinian homes."
Since 2007, B'Tselem has handed out about 200 video cameras to Palestinians living in the West Bank so they could document their treatment at the hands of Israeli soldiers. The surge of documented night operations targeting children, however, is more recent.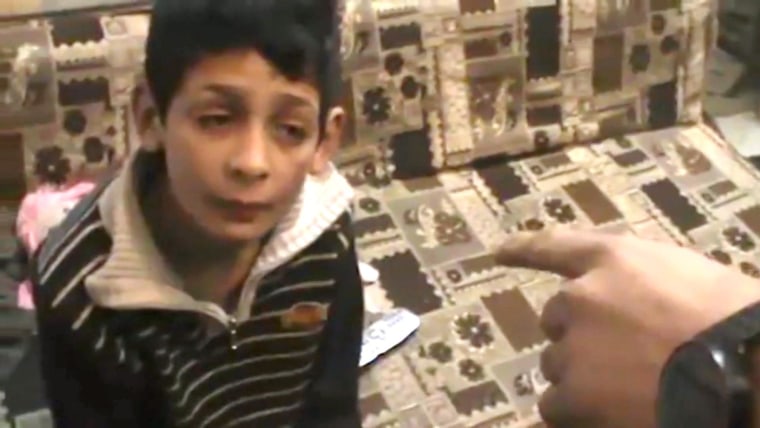 One video shot by a B'Tselem volunteer on February 25 shows armed soldiers banging on a metal door at 2 a.m., according to the group.
"Why are you coming in the middle of the night?" an unidentified Palestinian father says to the soldiers.
"Why are you throwing at us rocks all the time," the soldier says.
"We didn't throw rocks," the father answers.
"Wake up everyone and bring them to the living room," the soldier responds.
The kids are woken one by one. Their father tries to calm them down while soldiers point their automatic rifles at them.
Then soldiers start questioning one of the children, a nine-year-old.
"Are you throwing rocks?" he asks.
The scared-looking boy looks up at the soldier and shakes his head.
"No," he says.
"Are you sure?" demands the soldier.
"Yes," the boy replies.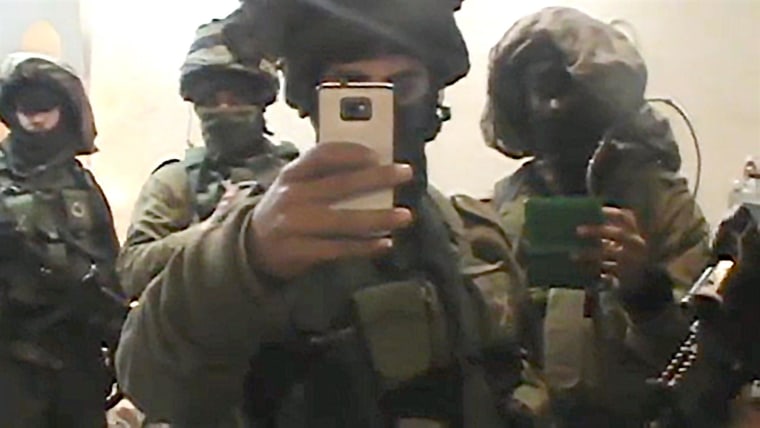 The Israeli military acknowledged the videos were authentic when NBC News requested comment.
"The forces shown in the video operate in an area where there are frequent attempts, sometimes by minors, to maim and kill Israeli civilians," it said in a statement. "The [Israeli Defense Forces] carries out a vast range of activities, both overt and covert, to prevent situations in which terrorists hurl rocks at moving vehicles and within residential areas, endangering both Israelis and Palestinians."
The IDF would not say how many night operations it had conducted, or the number of children it had questioned and photographed.
"We unfortunately don't elaborate about operational activity," an IDF spokesman said.
The IDF faces constant clashes in the West Bank, which Israel invaded in 1967 and considers part of its territory but that Palestinians consider part of a future state.
The soldiers who stormed Sameeh Daana's home at around 1:30 a.m. on February 24 were all wearing black masks, the 45-year-old said.
"They went into one room where nine-year-old Saddam was sleeping," he said. "I kept asking them to let me wake him up while they were outside the room because he will be terrified if they woke him."
The army refused and woke up Saddam at rifle point, Daana said.
"The soldiers questioned him in Hebrew and the boy doesn't even understand Hebrew. They questioned him about throwing stones," he added.
His child wet himself in fear when the soldiers burst into the home, and still hasn't fully recovered from the experience, Daana said.
He added: "He has been living in a state of terror since then and he refuses to sleep alone but in his sister's room."