TEL AVIV — A Hezbollah attack killed two Israeli soldiers at the Lebanese border Wednesday, sparking clashes that also killed a United Nations peacekeeper.
Seven other Israel Defense Force soldiers were wounded in the incident, in which their vehicle was hit by an anti-tank missile.
The IDF responded by firing at least 20 shells into Lebanon. Television pictures showed smoke rising from the area.
"We will not let terrorists to disturb our life and threaten our security," Israel's Prime Minister Benjamin Netanyahu said. "We know how to react very strongly against anyone who challenges us."
"Whoever is behind the attack today will pay the full price," Netanyahu warned later on Wednesday in remarks as he met with security chiefs. He accused Iran of trying to establish a "terror front" via Hezbollah from Syria.
Corporal Francisco Javier Soria Toledo, a 36-year-old Spanish peacekeeper serving with the U.N. Interim Force in Lebanon, was killed in the clashes. He was married and from the southern city of Malaga, Spain's defense ministry said in a statement.
It was not clear if he was the victim of Hezbollah or Israeli weapons. "We are still checking information about the circumstances of his death," UNIFIL spokesman Andrea Tenenti told NBC News.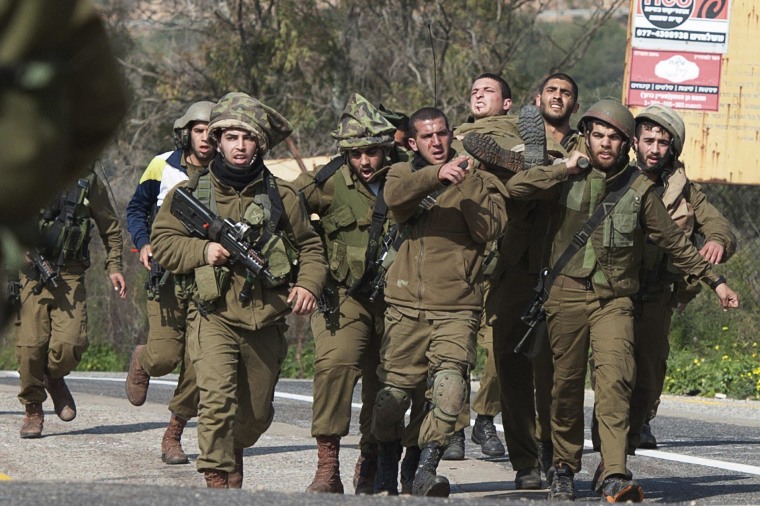 Hezbollah claimed responsibility for the IDF attack. In a statement, the militant Islamist group said its attack was carried out by a division calling itself the "Heroic Martyrs of Quneitra" — a reference to an Israeli airstrike on the Golan Heights on Jan. 18 that killed six Hezbollah fighters.
IDF spokesman Peter Lerner said one of its vehicles was "attacked with anti-tank missiles on Mt. Dov, near Rajar" and that civilians were being evacuated from Mt. Hermon "following mortar fire at military positions in the area."
The IDF identified the two soldiers killed in the attack as Sgt. Dor Chaim Nini, a 20-year-old infantry soldier, and Capt. Yochai Kalangel, a 25-year-old company commander. Nini was posthumously promoted to the rank of Staff Sergeant and Kalangel was posthumously promoted to the rank of Major, the IDF said.
Israeli Foreign Minister Avigdor Lieberman said his country needed to react to the cross-border attack "just like the U.S. and China would respond to similar events."
"We support Israel's legitimate right to self-defense," said U.S. State Department spokeswoman Jen Psaki. But she added, "We urge all parties to refrain from any action that could escalate the situation."
The skirmishes came after Israel launched airstrikes earlier Wednesday targeting Syrian army artillery posts in response to rockets fired the previous day into the Israeli-held Golan Heights.
The Israel-Lebanon border has been largely quiet since a month-long war in the summer of 2006.