TEL AVIV — An Israeli airstrike killed a pregnant Palestinian woman and her young daughter in Gaza, officials said Sunday, while a Palestinian woman set off an explosion near a West Bank checkpoint.
A 13-year-old Palestinian boy was also fatally shot during a clash with Israeli Forces, according to the Red Crescent aid group.
The weekend violence was the latest in a wave of attacks which has deeply rattled Israel and the West Bank, sparking fears of a third intifada — or Palestinian uprising.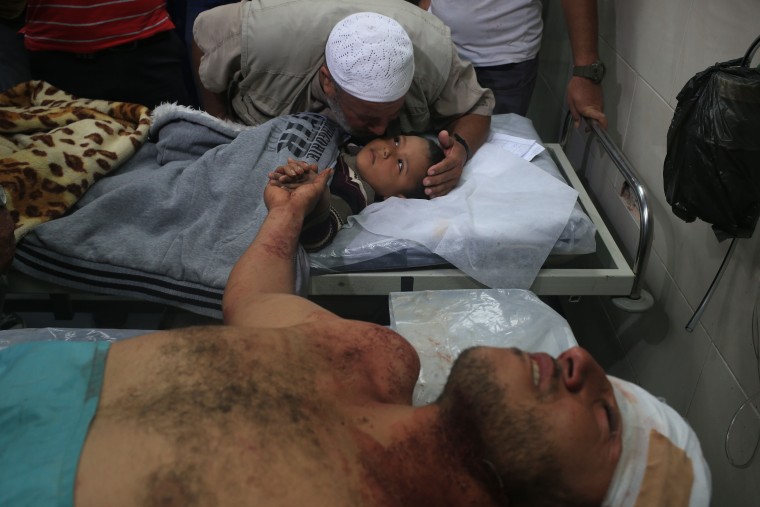 In response to a rocket attack, Israel's military said Sunday that it carried out airstrikes targeting two Hamas weapons-manufacturing facilities in Gaza. Local media and news agencies reported that a nearby home was hit.
Asraf Qudweh, from the Gaza Health Ministry, told NBC News that a woman and her toddler daughter died in the airstrike. The woman was five months pregnant, Qudweh said. He told The Associated Press that four other people — including the woman's husband and son — were wounded.
The 13-year-old who was killed was identified by the Palestinian Health Ministry as Abdullah Sharakeh. The ministry said he was shot in the head with a rubber bullet, which led to a fatal brain bleed.
The health ministry added that 24 Palestinians, including four children, have been killed in the West Bank, East Jerusalem and the Gaza Strip since Oct. 1. More than 1,300 Palestinians have been injured since the beginning of the month, the ministry said.
Meanwhile, Israeli authorities said later Sunday that a 31-year-old Palestinian woman detonated an explosive after getting pulled over at a West Bank checkpoint.
Police spokesman Micky Rosenfeld said the "suspicious" vehicle was pulled over near Maaleh Adumin and that the woman shouted "allahu akbar" — or "God is great" in Arabic — as she approached officers after getting out of the car. The police officer was lightly wounded, Rosenfeld said.
Lt. Peter Lerner, a spokesman for the Israeli Defense Forces, said the bomber also was injured and had been taken to the hospital.
Sunday's incident appeared to be the first time explosives have been used in the latest wave of violence. The hundreds of people injured in recent weeks have been victims of shootings, stabbings and clashes.
Four Israelis were injured Sunday in a stabbing attack near the city of Hadera and on Saturday, Palestinians carried out two stabbing attacks in Jerusalem before being shot dead by police, Rosenfeld said. Another two Palestinians were killed during a violent demonstration near the Gaza border fence Saturday.
Israel's Prime Minister Benjamin Netanyahu this weekend ordered the mobilization of three reserve border police companies to offer reinforcements.