TEL AVIV -- Israeli warplanes attacked a "terror site" south of Lebanese capital Beirut Friday, Israeli officials said, in their first air raid on the area since the 2006 war.
The attack was launched after militants fired four rockets into northern Israel Thursday. One of the missile was intercepted by Israel's Iron Dome defense system and there were no reports of any injuries.
Lieutenant Colonel Peter Lerner, a spokesman for the Israel Defense Forces, said the rocket attack was a "blatant breach in Israeli sovereignty that jeopardized Israeli civilian life."
"Israel will not tolerate terrorist aggression originating from Lebanese territory. The IDF will continue to operate to safeguard the State of Israel and its civilians," he said in an emailed statement.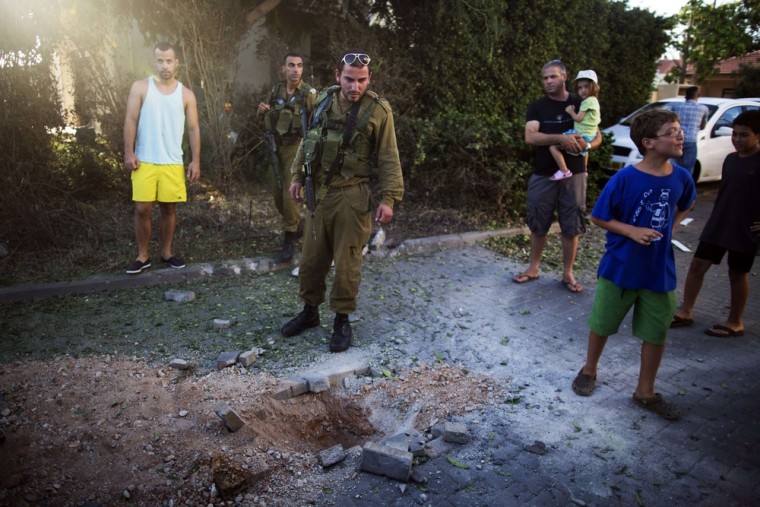 The statement said the Israeli pilots reported direct hits on the "terror site" between Beirut and Sidon.
"The IDF holds the Lebanese government accountable for the attack," the IDF added.
A spokesperson for the Popular Front for the Liberation of Palestine-General Command confirmed one of its bases was hit by an Israeli rocket, according to Lebanese-based satellite channel Al Manar.
He said no one was hurt in the attack.
The spokesman added he was "shocked" that the base at Naameh, 10 miles south of Beirut, had been attacked as a Sunni group linked to al Qaeda had said it fired the rockets at Israel.
The Abdullah Azzam Brigades, an al-Qaida-inspired group based in Lebanon, claimed responsibility for Thursday's attack in a post on the Twitter account of Sirajuddin Zurayqat, a prominent Islamic militant leader.
Zurayqat said the rockets were capable of flying 25 miles, putting the Israeli city of Haifa in its range. The group, designated a terrorist organization by the U.S., has claimed responsibility for past rocket attacks on Israel.
South Lebanon was the scene of bitter fighting between Israel and Lebanese militant Hezbollah guerrillas in 2006 and is considered a Hezbollah stronghold. 
The Associated Press contributed to this report. Ian Johnston reported from London.
Related: