TEL AVIV, Israel — As Palestinian militants controlling the Gaza Strip exchanged fire with Israeli soldiers in the most intense fighting for years Tuesday, the people below the soaring rockets braced for further bloodshed.
The flare-up — seemingly triggered by a botched Israeli raid into Gaza on Sunday — killed seven Palestinians and one Israeli before a ceasefire was announced by militant groups.
A truce would provide much-needed respite for civilians either side of the fence between Israel and the blockaded Palestinian enclave.
Mohammad Al Hatoum said he tried to distract his two young daughters from Israeli airstrikes by playing cartoons on television with the volume turned up high. It didn't help.
"The bombing was so loud and my daughters didn't stop crying," said Al Hatoum, who is 33 and lives with his family in western Gaza.
The government employee not only heard the explosions, he smelled and felt them.
"I felt the entire building shaking," he told NBC News, describing the effect as like a magnitude 7 earthquake.
Violence is nothing new for civilians inside the crowded and desperately-poor strip that has been run by Hamas militants since 2007, nor is it new to those in Israeli communities nearby. Israel has fought three wars in the enclave during the last decade and fears are growing that a new conflict is on the way.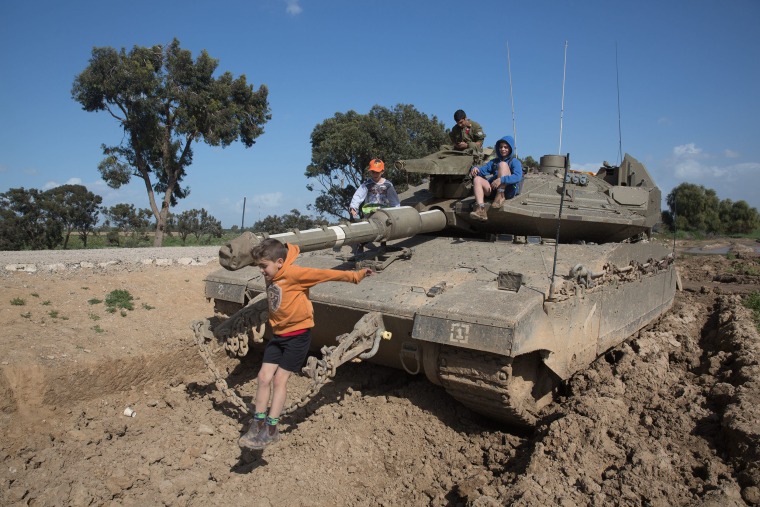 Since Monday, Hamas and other armed factions fired over 400 rockets or mortars across the fenced border — the most intense rocket fire on Israel since the 2014 war — the Israeli military said. This came after militants carried out a missile attack on a bus that wounded an Israeli soldier.
This follows months of fires caused by hundreds of incendiary kites and explosive balloons sent from Gaza. The blazes have burned thousands of acres of nature reserves and farm lands.
On Tuesday, Israeli President Reuven Rivlin visited the border community of Netivot telling Israeli citizens to "take good care of themselves" and to follow the order of the Israel Defense Forces.
Israel's Ministerial Committee on National Security Affairs issued a statement saying they had told the Israeli military to "continue its operations if necessary."
The recent fighting appeared to have been set off by a botched Israeli special forces raid in Gaza Sunday that left seven Palestinians dead, including a local Hamas commander, as well as an Israeli army officer. Israel is on constant alert for militant tunnels and attacks emanating from Gaza.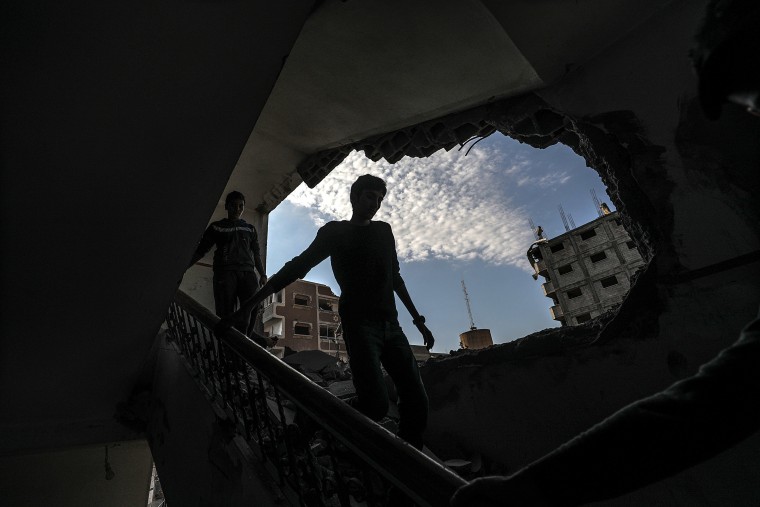 Al Hatoum was born during the first Palestinian intifada, or uprising against Israel, and estimates he has spent almost half his life in the throes of bitter conflict. He is not hopeful for the future.
"There will be an escalation in Gaza, there will be no calm after this," he said.
Israelis are also scared.
Hila Fenlon, who is a farmer in the small Israeli village of Netiv Haasara a few yards from the dividing fence, said her family is shaken by both Israeli and Palestinian fire.
She said she turned her children's bedroom into a missile shelter so they could get to safety in time before the rockets fell.
"Whenever I hear the sirens, my heart skips a beat," she said, explaining it was hard to persuade her children to stay in or near the shelter at all times.
"We feel like we're in war all the time, not just the last couple of days," she said. "My children are exposed to rockets, incendiary balloons and burnt land."
Fenlon said she hoped for peace. "I wish we can go back to being neighbors like we used to," she said.
Even before the exchange of fire of the last few days, fear reigned in what is known as the Gaza envelop — the area of Israel surrounding the Gaza Strip.
Adele Raemer, a 63-year-old ESL teacher who lives in the community of Nirim also on the border with Gaza, said there was little they could do.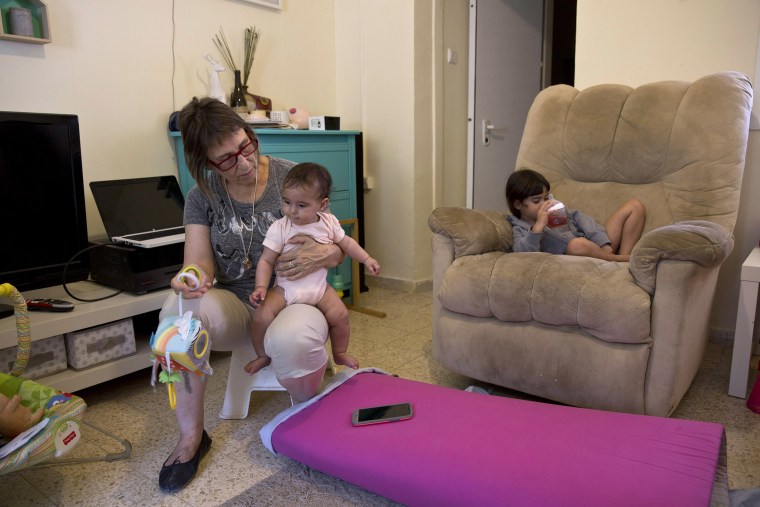 "We are used to riding this roller coaster," Raemer said. "Nobody likes the roller coaster, but we are on it. And the thing is — you never know when you are going to get on it and you never know when this ride is over."
In Gaza, which can be seen from Nirim, desperation is a way of life.
Some 70 percent of Gaza's population are refugees or descendants of refugees, and a similar proportion depends on humanitarian aid. Those living there cannot leave without permission and the blockade has made life intolerable for many of Gaza's 2 million residents.
Almost none of the water is clean, raw sewage is pumped straight into the sea and worsening power shortages mean Gazans have electricity for only around four hours a day on average. Unemployment rates are close to 50 percent — more than 65 percent among those under 30.
Since March, thousands of Palestinian protesters have marched towards the fence which separates Israel from the Gaza Strip demanding the right to enter Israel and reclaim homes their family left after the country was founded in 1948. Some 220 have been shot dead and around 24,000 wounded, according to Gazan health officials. Israel maintains many of those hurt and killed on the fence are in fact militants masquerading as peaceful protesters.
Despite regular violence, Ma'amoun Shawaf, a 23-year-old owner of a coffee shop in Khan Younis, knew Sunday night was "something big."
On hearing gunfire and people shouting "Israeli forces, go back, go back," Shawaf said he raced to the scene. "I started telling my friends that the war will start tonight."
Lawahez Jabari reported from Tel Aviv. Saphora Smith and Yuliya Talmazan reported from London.