TEL AVIV — Bracing for a major war, Israelis furious over their government's failure to prevent the bloodshed are grappling with a provocative question: Can accountability wait until after the war?  
Long before Hamas terrorists infiltrated Israel on Saturday in an unprecedented breach, Prime Minister Benjamin Netanyahu's grip on power was in peril. Netanyahu, on trial for corruption, and his far-right coalition had faced eight months of widespread protests over a judicial overhaul that critics said was pushing Israel toward autocracy.
Now, after the attacks left more than 1,300 dead in Israel, many in the country are seething, deeming the security and intelligence failures a fresh set of reasons for stripping their leaders of power. In some cases, the fury has erupted into public confrontations between Israeli citizens and government ministers in the days since the attacks.
"You are responsible! Go home," one Israeli woman shouted through tears at Idit Silman, an Israeli Cabinet minister, as she visited a hospital treating the wounded this week. 
Follow live updates from NBC News here.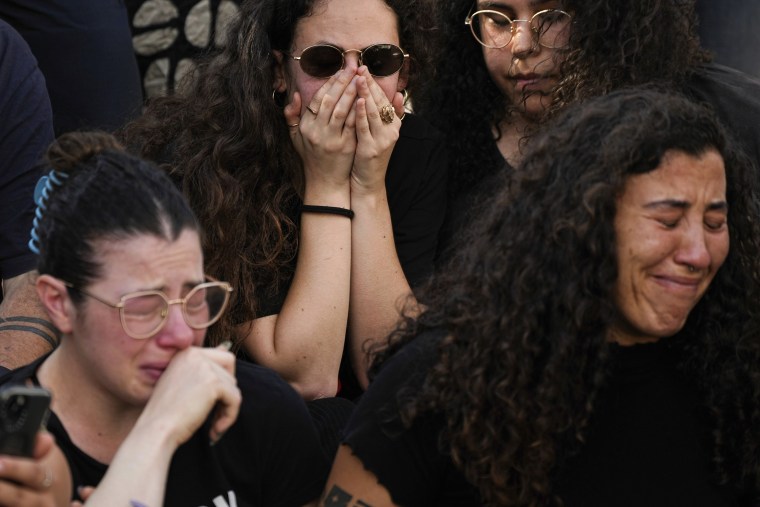 Yet even some of Netanyahu's harshest critics are holding off on pushing for his government to be kicked out immediately, wary of provoking more instability at a time when the Israeli public and its military are most vulnerable.
Josh Drill, a prominent leader in the protest movement and a former Israeli military officer, spent much of the past year rallying Israelis to rise up against Netanyahu's government, arguing that the state was "barreling towards becoming a dictatorial regime." But in the days since the attacks, Drill said that many of the protest organizations have redirected their focus to collecting food for displaced Israelis and equipment for soldiers called into service.
"Our main objective is to win the war," he said in an interview. But when it comes to Netanyahu's future, he added cryptically: "We understand what needs to happen the day after the war."
In the midst of crises that shake a nation's core sense of stability, political leaders historically tend to see a boost in popularity, as anxious citizens "rally 'round the flag." After the Sept. 11, 2001, terrorist attacks on the United States, then-President George W. Bush's approval rating surged to 90%, the highest ever recorded in Gallup polling.
So far, it's unclear whether Netanyahu will receive any such boost, especially as many Israelis are publicly blaming his government for failing to detect Hamas' elaborately planned attack in advance — and questioning whether he instead was distracted by his campaign to force through the controversial judicial changes. 
In an apparent bid to mollify any mass defection by the public, Netanyahu on Wednesday announced he'd formed a wartime unity government that includes Benny Gantz, a chief political rival.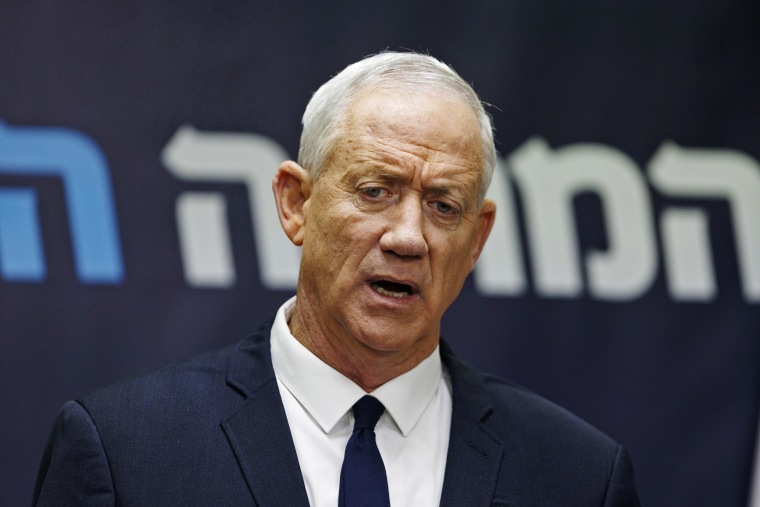 "The people are united and today its leadership is also united," Netanyahu said. "We have put aside every other consideration because the fate of our country is at stake." 
Yet, with grieving Israelis demanding answers for what went wrong, there were signs that even some of the prime minister's allies felt compelled to own up to the shortcomings. Education Minister Yoav Kisch, a member of Netanyahu's Likud party, acknowledged in a striking interview Thursday that he and Israel's government bore responsibility.
"We were busy with nonsense. We'd forgotten where we live," he told the Israeli news outlet Ynet. But, he added: "Now is not the time to deal with this."
Others in Israel's military and political leadership have similarly conceded that the government and its security agencies fell short when it mattered most, even as they suggested the time for accountability would come later. Mark Regev, a senior Netanyahu adviser, told NBC News' Andrea Mitchell that "obviously there was a mishap" but that the time for investigations would come "when this is over."
"IDF is responsible for the security of our nation and its citizens, and we failed to do so," Herzi Halevi, military chief of staff, told reporters Thursday, using an acronym for Israel's military. "We will look into it, we will investigate, but now it is time for war."
At the same time, the Israeli public's exasperation over that deadly failure is increasingly spilling into public view. 
Videos posted on social media showed Economy Minister Nir Barkat, a longtime Netanyahu ally, being confronted during a hospital visit by angry Israelis who shouted, "Where were you?"
And Silman, who is the environmental protection minister, was chased out of the hospital by a man in medical scrubs who blamed her for paving the path to Israel's current government — and, by extension, its security predicament. In 2022, Silman played a major role in then-Prime Minister Naftali Bennett's downfall when she resigned from his coalition, forcing him to lose his governing majority and clearing the way for Netanyahu's return to power.
"Now it's our turn! Get away. We will help," the man shouted, slapping his hands together as Silman exited through the ambulance bay. "You've ruined this place, now go away from here!"