ROME — Nearly two dozen people were killed and dozens wounded when two passenger trains collided head-on in southern Italy on Tuesday, officials said.
The crash happened at about 11:30 a.m. local time (5:30 a.m. ET) on the Bari Nord train line between Ruvo di Puglia and Corato, 30 miles northwest of Bari.
The two four-carriage trains smashed into each other on a single-track line as they passed through an olive grove.
Francesca Maffini, spokeswoman for Italy's civil protection agency, said the official death toll was 23 — with more than 40 others injured, including 10 in serious condition.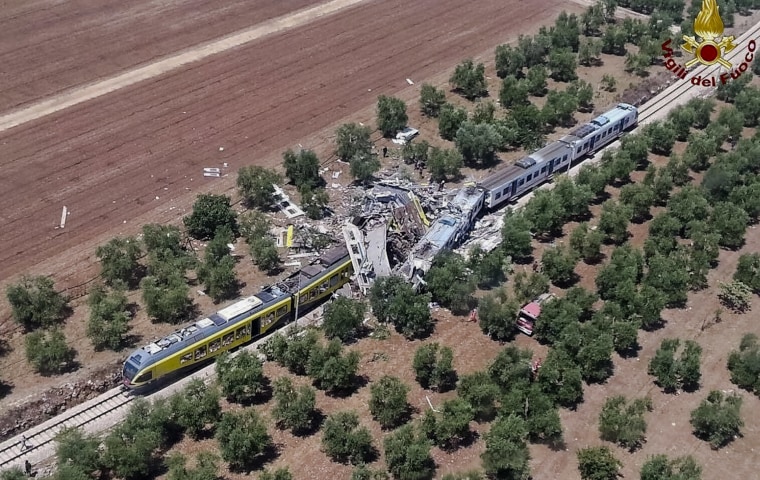 Giuseppe Corrado, vice president of the province of Andria, told reporters at the scene that the death toll could climb and urged people to donate blood to local hospitals.
Corato Mayor Massimo Mazzilli compared the scene to the aftermath of a plane crash and posted pictures of the wreckage on Facebook.
"We are working with dozens of rescue teams to open up the carriages," said Luca Cari, a fire department spokesman. "The rescue is complicated because this happened in the middle of the countryside."
A child who survived the crash with injures was pulled from the wreckage and taken to hospital by helicopter, the Italian news agency ANSA reported.
Italy's Prime Minister Matteo Renzi said the tragedy marked "a moment of tears" and pledged to investigate the cause of the crash.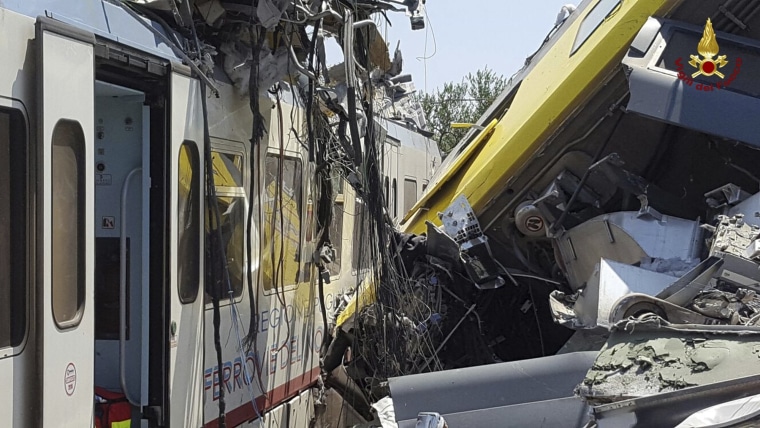 The stretch of track where the trains collided is operated by a regional rail company, Ferrotramviaria.
The last major rail disaster in Italy was in 2009 when a freight train derailed in central Viareggio. More than 30 people living close to the tracks were killed in the subsequent fire.