MILAN — Millions of Italians woke up to a virtual standstill Tuesday after the government extended quarantine measures across the country to curb Europe's worst coronavirus outbreak.
"We've reduced our work by almost 100 percent," said taxi driver Pietro Gagliardi, 56, who has driven up and down Milan's impressive avenues for three decades.
Gagliardi said that he usually worked with tourists and companies but that his work had taken a significant hit because there were fewer of them out and about.
"The last day I worked, in the space of 10 hours' time, I didn't do any single trip," he said, explaining that after that he decided to hang up his keys until life returns to normal.
Full coverage of the coronavirus outbreak
In recent days, life had become almost like fiction.
"It's like living in a movie," he said.
Milan, Italy's usually humming fashion and financial capital, stood quiet. Those who did leave their homes or open their cafes and storefronts kept their distance, conscious of contracting the disease caused by the coronavirus or of having a good enough reason to roam Milan's streets.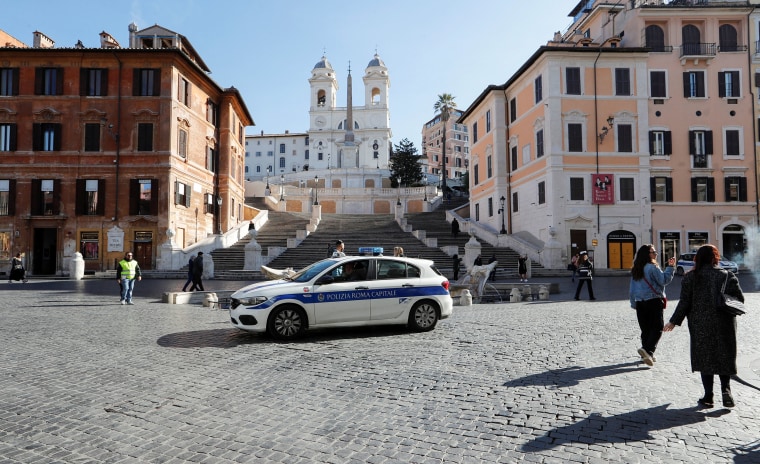 Under the sweeping restrictions, which will stay in effect until April 3, the country's residents are not permitted to travel outside areas where they live unless they can prove they are doing so for medical reasons, a work-related need or an emergency or because they are returning home.
Large gatherings and outdoor events, including sports, have been banned, while bars and restaurants will have to close by dusk. Schools and universities will also be closed.
"I am about to sign a decree that we can sum up with the expression: I stay at home," Italian Prime Minister Giuseppe Conte said Monday announcing the measures.
As of Tuesday, 463 people had died of the virus and 9,172 others had been infected.
How Italy will cope under the restrictions remains unclear, as does what exactly it takes to put a country of 60 million on lockdown.
"We are normally serving offices, school students, tourists, but without them around, we're losing 70 percent of our income," said Fabrizio Ticozzi, 60, who owns a bakery in one of the busiest streets in central Milan.
"We don't know how long all this is going to last," his wife, Carla, added.
Medical professionals in northern Italy have already sounded the alarm, with some taking to social media to warn that the hospitals cannot cope.
"The results of the swabs now come one after the other: positive, positive, positive. All of a sudden the E.R. is collapsing," Dr. Daniele Macchini, a surgeon at a hospital in Bergamo in Italy's Lombardy region, wrote on Facebook last week.
Download the NBC News app for full coverage of the coronavirus outbreak
Meanwhile, videos and photos of Italians forming long lines at supermarkets to stockpile food began circulating on social media Monday night. At a Carrefour Market in central-north Rome, which regularly stays open overnight, entry and exit was being regulated by staff as customers lined up outside with shopping carts, according to The Associated Press.
In Milan, residents are already finding different ways to cope with life stuck in their apartments.
"I am meeting my friend for coffee on Skype at 5, and my boyfriend will be playing Dungeon & Dragons with his friends on Skype later," Benedetta Canziani, 29, told NBC News via phone Tuesday.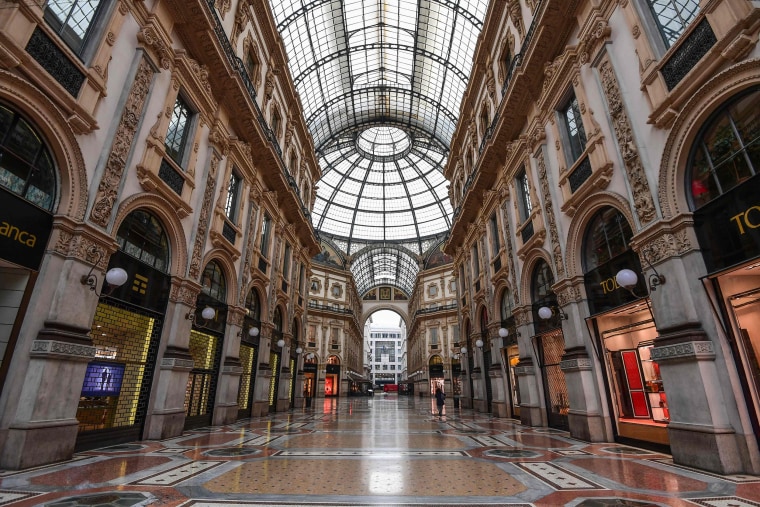 And in Rome, enormously popular tourist destinations stood deserted.
American tourists Cole Macintyre and Brittany Kates said they were enjoying the peace and quiet as they went for a walk near the Colosseum, but they acknowledged that they were also concerned about getting home.
"It's a little alarming, because we have a daughter, 16 months old," said Kates, who is from Charlotte, North Carolina. "Tomorrow, we're supposed to get back, so now we're wondering how our flights are going to be, if we're going to be able to get back."
CORRECTION (March 10, 2020, 10:48 a.m. ET): An earlier version of this article misstated the Italian prime minister's first name. He is Giuseppe Conte, not Matteo.
Michele Novaga reported from Milan, and Saphora Smith and Matteo Moschella reported from London.