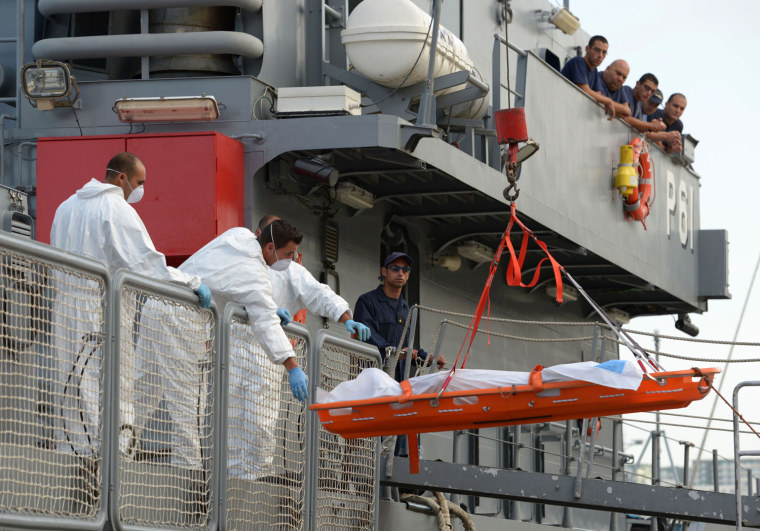 ROME -- Italian calls for Europe to do more on the migrant crisis grew on Saturday and Malta's prime minister said the Mediterranean was becoming a "cemetery" after another boat sank off Sicily, killing dozens more people.
Italian and Maltese navy ships recovered 34 bodies and rescued 206 migrants after their boat sank about 60 nautical miles south of Sicily on Friday and rescued more than 200 others in separate incidents on Saturday.
Friday's disaster came just over a week after at least 339 people drowned when a boat sank less than a kilometer from Lampedusa, a tiny island between Sicily and Tunisia which has become the main entry point into Europe for migrant boats.
Over the past two decades, arrivals from North Africa have become a regular feature in favorable summer sailing conditions, but this year the crisis has been worsened by instability in Egypt and Libya and the civil war in Syria.
"I don't know how many more people need to die at sea before something gets done," Malta's Prime Minister Joseph Muscat said in an interview with the BBC. He said he would join Italy in pressing for action at the next European Council.
"The fact is that as things stand, we are just building a cemetery within our Mediterranean Sea," he said. "Until now we have encountered statements, words but little more than that."
As he spoke, Italian patrol boats were rescuing 235 more people, including children, from more migrant boats in distress some 70 nautical miles south of Lampedusa.
Italian Prime Minister Enrico Letta has already pressed for the crisis to be included on the European Council agenda at its October 24-25 meeting although Europe has long struggled to come up with a comprehensive response to the crisis.
"These are people who are fleeing war to save their lives, they're not people looking for work," Andrea Pettini, a senior official of the Italian Red Cross told SkyTG24 television.
According to estimates by the United Nations High Commissioner for Refugees, around 32,000 migrants have arrived in southern Italy and Malta so far this year, about two thirds of whom have filed asylum requests.
Italy, deep in recession and pressed by EU budget rules to rein in public spending, has seen its reception facilities on Lampedusa and other parts of Sicily strained to breaking point and it has called repeatedly for more help to confront a crisis it says is a European emergency.
The hundreds of deaths have also set off a fierce political debate in Italy over tough rules intended to combat clandestine immigration which make it an offence to offer assistance to illegal migrant boats.
European Home Affairs Commissioner Cecilia Malstrom has called this week for Europe's frontier agency Frontex to be strengthened to be able to deploy search and rescue operations in a zone stretching from Cyprus to Spain.
She repeated the call after Friday's disaster. "In the aftermath of the Lampedusa tragedy we heard solidarity expressions from all EU countries, but these will remain only empty words if they are not followed by concrete actions."
Related: