The first funerals for victims of Italy's disastrous earthquake were held Friday as rescuers continued to pick through rubble in hope of finding survivors.
More than 900 aftershocks have followed Wednesday's powerful temblor, sending up clouds of dust and cracking remaining buildings in stricken towns including Amatrice, Pescara del Tronto and Accumoli.
Early Friday a magnitude 4.7 aftershock hit the affected area, one of 57 to strike since midnight.
A bridge into Amatrice was damaged, complicating rescue efforts in the devastated town. Mayor Sergio Pirozzi told NBC News that Amatrice was completely cut off, with authorities working to secure alternate routes and reinforce the bridge support structure.
As the first private funeral took place Friday, Italy's Civil Protection department told NBC News the death toll had risen to 267. Nearly 400 survivors were being treated in hospital.
Prime Minister Matteo Renzi has declared a state of emergency for the affected areas and announced a state funeral to be held Saturday in Ascoli Piceno.
While rescue efforts continued, hopes of finding survivors were dimming: Nearly two days has passed since the last person was extracted alive from the rubble.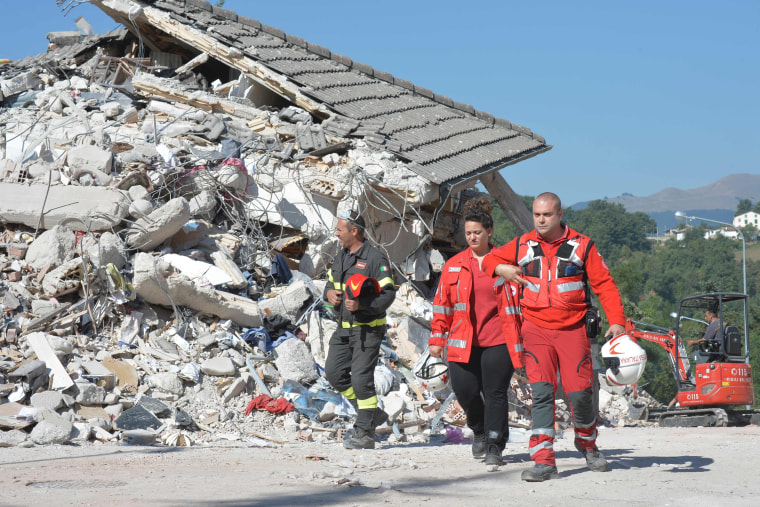 However, Immacolata Postiglione — head of operations for Italy's civil protection department — told The Associated Press that the rescue effort would carry on.
Meanwhile, thousands of displaced residents slept overnight in tents or school gyms.
The Italian Red Cross said it had 462 volunteers and had set up two field tents with kitchens. More than 4,000 tents have been erected for homeless survivors, Postiglione said on Thursday.