AMATRICE, Italy — Bulldozers and other heavy equipment rolled through Italy's quake-devastated town of Amatrice on Sunday, pulling down dangerously overhanging ledges and clearing rubble as investigators tried to figure out if negligence in enforcing building codes added to the quake's high death toll.
Investigations will focus on a number of structures, including an elementary school in Amatrice that crumbled when the quake hit Wednesday. The school was renovated in 2012 to resist earthquakes at a cost of 700,000 euros ($785,000).
Questions also surround a bell tower in Accumoli that collapsed, killing a family of four sleeping in a neighboring house — including a baby of 8 months and a 7-year-old boy. That bell tower also had been recently restored with special funds allocated after Italy's last major earthquake, in L'Aquila in 2009.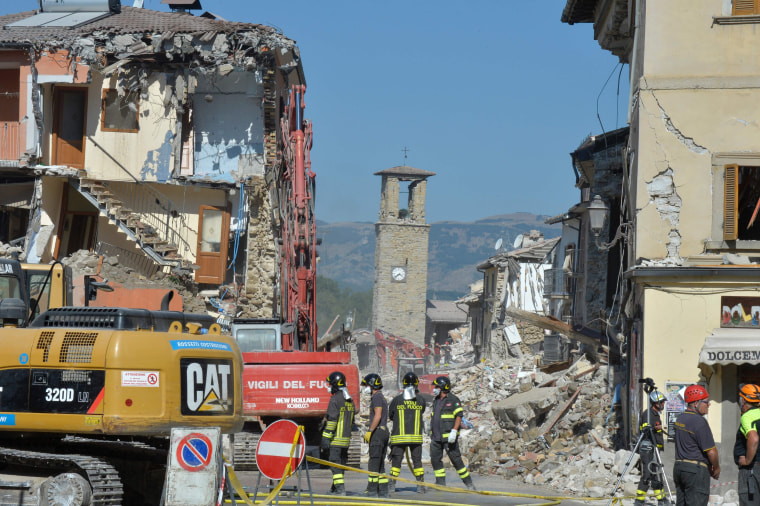 The quake early Wednesday killed 290 people and injured hundreds as it flattened three medieval towns in central Italy. Giuseppe Saieva, the prosecutor in the regional capital of Rieti, said the high human death toll "cannot only be considered the work of fate."
He said for now, police investigators remained focused on recovery efforts but once that emergency phase has passed, they will concentrate on the investigations.
Italy's state museums, meanwhile, embarked on a fundraising campaign, donating their proceeds Sunday to relief and reconstruction efforts in the earthquake zone.
Wednesday's 6.2 magnitude quake destroyed not only private homes but also churches and other centuries-old cultural treasures. The idea is to use art for art — harnessing the nation's rich artistic heritage to help recover and restore other objects of beauty in the hard-hit towns.
Related: Tears Flow as Italy Holds Mass Funeral for Quake Victims
Overnight was relatively calm, the first since the quake struck without strong aftershocks. In all, the region has seen 1,820 aftershocks, according to the National Institute of Geophysics and Volcanology.
On Saturday, mourners prayed, hugged, wept and even applauded as coffins carrying earthquake victims passed by at a state funeral in the town of Ascoli Piceno.
The caskets of 35 people had been brought to a community gym — one of the few structures in the area still intact. The local bishop, Giovanni D'Ercole, celebrated Mass beneath a crucifix he had retrieved from one of the damaged churches.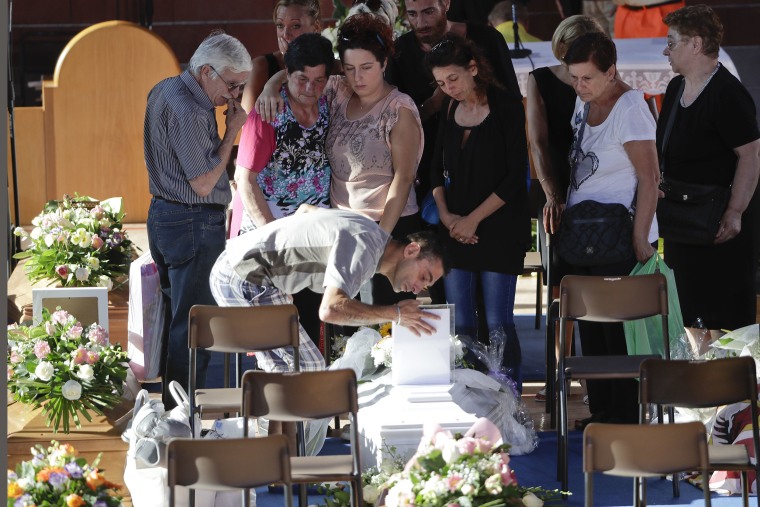 Emotions that had been dammed up for days broke in a crescendo of grief. One young man wept over a little girl's white coffin. Many mourners were recovering from injuries themselves, some wrapped in bandages.
As all of Italy observed a day of national mourning, Bishop D'Ercole urged residents to rebuild their communities.
"Don't be afraid to cry out your suffering — I have seen a lot of this — but please do not lose courage," D'Ercole said. "Only together can we rebuild our houses and our churches."