AMATRICE, Italy — Rescue teams aided by sniffer dogs searched for survivors Thursday amid sharp aftershocks from a powerful earthquake reduced several central Italian towns to rubble and killed 250 people.
Helicopters buzzed overhead as crews used everything from heavy equipment to their bare hands to pick through collapsed buildings in search of anyone still alive in the ruins.
Thousands of displaced residents slept overnight in tents or school gyms, and officials said 365 others had been hospitalized — but the exact number of dead and missing in Wednesday's disaster remained unclear because the region's population was swelled by tourists.
Italy's National Institute of Geophysics and Volcanology said at least 460 aftershocks had shaken the region since the original quake. One of the biggest stuck early Thursday close to the epicenter of the original earthquake; it was described by the U.S. Geological Survey as magnitude 4.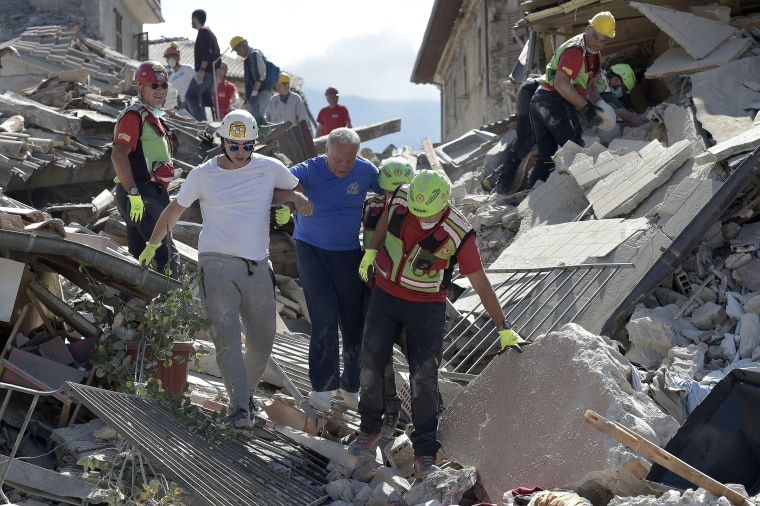 Prime Minister Matteo Renzi suspended tax collections in affected areas and announced that he was making an initial allocation of 50 million euros for short-term relief and assistance, the newspaper Il Messaggerro reported.
Renzi also announced a longer-term program, called Casa Italia, to repair Italy's aged and crumbling infrastructure to better withstand future earthquakes, the Italian news agency ANSA reported.
The program includes measures to defeat waste and theft perpetrated by "jackals," said Renzi, who lamented "the money that has been thrown away in the past."
One of the worst-hit towns, Amatrice, was full for this weekend's planned festival honoring its native bacon-and-tomato-sauce dish — spaghetti all'Amatriciana.
Five bodies were pulled from the wreckage of a hotel late Wednesday, but rescue work was suspended when conditions became too dangerous. Among those killed was an 11-year-old boy who had initially shown signs of life.
Elsewhere in the town, onlookers clapped and cheered as a young child was pulled from the rubble in a moment captured by La Repubblica newspaper.
"Piano, piano, piano, piano," a woman could be heard ordering — "gently, gently, gently, gently" — as the child was hurried away on a stretcher.
National police, meanwhile, arrested a 45-year-old man from Naples for alleged looting in Amatrice, ANSA reported. The man was trying to break into an abandoned home in Amatrice with a screwdriver, authorities said.
Immacolata Postiglione, director of emergencies at Italy's civil protection agency, said early Thursday that rescuers found "many bodies" hidden in the rubble overnight. The death toll reached 250 during the afternoon after it had earlier been revised down to 241, according to ANSA.
More than 4,000 tents have been erected for homeless survivors, Postiglione said, and 1,060 firefighters, 1,000 police officers and 400 soldiers were working in the affected area. The Italian Red Cross said it had 462 volunteers and had set up two field tents with kitchens.
Also involved were nine helicopters, 200 emergency vehicles and 50 canine rescue squads.
In the damaged town of Pescara del Tronto, a 10-year-old girl was also pulled alive from the rubble, according to rescue posted by Sky TV. In the video two women can be seen running up the street yelling, "She's alive!"
The mayor of Accumoli, Stefano Petrucci, said a family of four had died there, one of the few young families who had decided to stay in the area. He wept as he noted that the tiny hamlet's population of 700 grows to 2,000 in the summer months, and he said he feared for the future of the town.
"I hope they don't forget us," he said.
Related: The Ancient Town of Amatrice Turned to Rubble
One woman spent the night in her car, afraid there would be more quakes.
"We have lost everything, even our fear," the woman, who gave her name as Monica, told news site Quotidiano. "We no longer have our house. Many of our friends, relatives and acquaintances are dead. We have nothing more to lose."
The earthquake hit at 3:36 a.m. local time Wednesday (9:36 p.m. ET Tuesday) near Norcia, 50 miles southeast of Perugia — just 25 miles from the epicenter of the L'Aquila temblor that killed more than 300 people in 2009. It was felt more than 100 miles away in Rome.
In Arquata del Tronto, one of the victims was an 18-month-old girl whose mother survived the 2009 quake in nearby L'Aquila before moving away.
The girl, Marisol Piermarini, was sleeping in her bed in the family's vacation home in when the quake struck, ANSA reported. Her mother, Martina Turco, was being treated in a hospital after being pulled from the rubble.
"I haven't slept much because I was really afraid," said Arturo Onesi, 70, from the same town, who spent the night in a tent camp for survivors and rescue workers.
A team of 30 refugees was helping in Arquata del Tronto under the guidance of a local rights group. The migrants, who had been staying in a nearby hostel and most of whom are from Africa, volunteered to help clear an area to coordinate emergency teams.
Italy sits at the intersection of two major continental plates, making it one of the most seismically active countries in Europe.
Wednesday's quake occurred along a fault in the central Apennine Mountains, which span Italy from the Gulf of Taranto in the south to the southern edge of the Po River basin in the north, according to the U.S. Geological Survey.
The U.S. State Department said Thursday that it was still trying to account for all U.S. citizens in the area. It again asked U.S. citizens who may have been affected to check in with family and friends on social media as soon as possible.