ROME — Hundreds of mourners gathered in Rome on Monday to say goodbye to the member of the storied Carabinieri paramilitary corps who Italian police say was stabbed to death by two American teens during a possible drug deal gone sour.
Gabriel Christian Natale-Hjorth, 18, and Finnegan Lee Elder, 19, both from Mill Valley, California, were detained by police in Rome on Friday on allegations of homicide and attempted extortion.
The funeral for the slain officer, Mario Cerciello Rega, 35, was being held at the same church he was married at only 43 days before he died.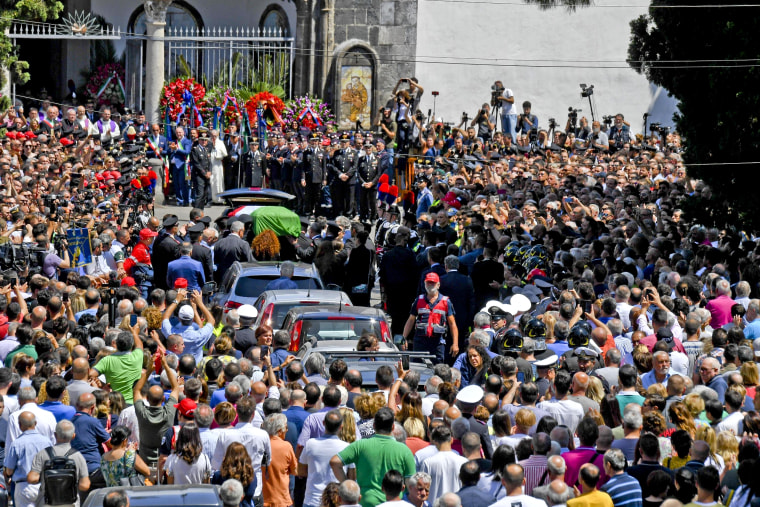 A sea of uniformed officers and local residents applauded the fallen officer as the casket draped in an Italian flag was carried along a road in Rega's hometown of Somma Vesuviana. The procession paused for a moment of silence at noon local time (6 a.m. ET) as church bells rang. His widow, Rosa Maria, clutched onto the back of the casket while entering the church packed with sobbing loved ones.
The principal of the high school Natale-Hjorth and Elder attended said he was "stunned" by the arrests.
J.C. Farr, the principal at Tamalpais Union High School District, in an affluent suburb just north of San Francisco, earlier confirmed that the suspects had graduated in 2018.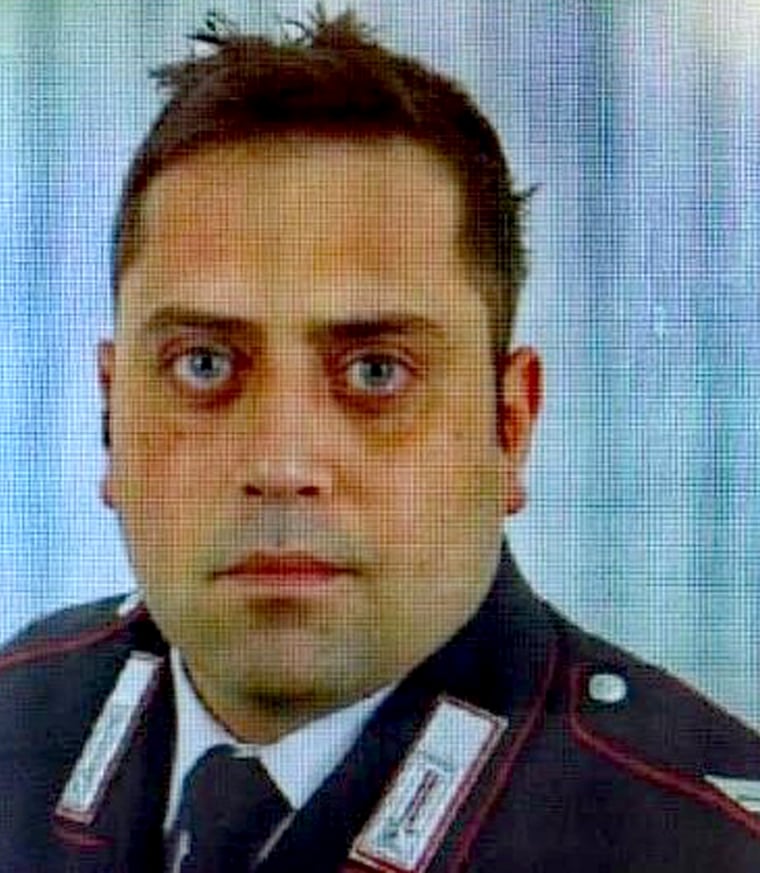 "We were stunned to learn that two members of our community were arrested in connection to the killing of a policeman in Rome," Farr said in a statement. He wouldn't provide further information about the former students but offered condolences to the family of the police officer.
Police say Natale-Hjorth and Elder had a violent encounter with two plainclothes police officers, after having stolen a backpack from an Italian national and demanding money and a gram of cocaine in exchange for its return. Rega was killed in the altercation.
While both suspects remained in custody and the investigation continued, Italy's Deputy Prime Minister Matteo Salvini has already weighed in.
Salvini tweeted on Sunday that if found guilty, the pair should be sentenced to life in prison and that the only real victim in the incident is the dead officer. The tweet included an image that appears to be one of the men blindfolded and handcuffed in police custody. Salvini dismissed criticism against the police, even though blindfolding a suspect is illegal in the country.
Lt. Col. Orazio Ianniello told NBC News that the Carabinieri "firmly distances itself" from the image and is carrying out an investigation to find those who leaked the picture.
Elder's family said in a statement Sunday that they had not heard from him since an initial phone call he made at the police station on Friday.
"As any parents would be, we are deeply concerned for our son and are heartened by the expressions of sympathy and support from our friends and neighbors," the family said.
Elder has been appointed an Italian public defender, the family said. His parents plan to go to Rome as soon as the U.S. State Department ensures they will be able to see their son, they added.
The two suspects have been declared flight risks by Italian authorities because they are foreign citizens.
Italy can keep them imprisoned throughout the investigation phase, which could extend for months. A judge will determine whether the case goes to trial, at which point the teens will be formally charged.
Deborah Lubov reported from Rome, Linda Givetash from London, and Hayley Walker from Washington.