Italian Premier Matteo Renzi said he would resign Wednesday evening now that Parliament has approved the 2017 national budget, a step required by the nation's president before he would let the leader step down.
Renzi had pledged to quit as head of Italy's nearly three-year-old center-left government after voters on Sunday rejected a series of constitutional reforms he had championed.
President Sergio Mattarella asked Renzi Wednesday evening to stay on in a caretaker role until a new government can be put in place. On Monday, Mattarella had asked Renzi to stay in office at least until the critical budget legislation was approved.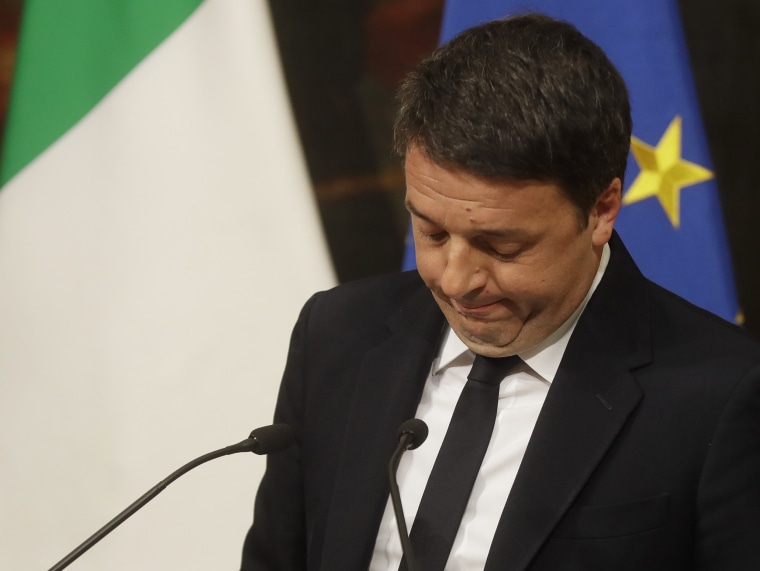 The Senate voted 173-108 to pass the budget law, which was put to a confidence vote to speed up its passage.
Renzi tweeted on Wednesday afternoon that he plans to go to the presidential palace to resign at 7 p.m.
A huddle was set for just before that time among prominent members of Renzi's Democratic Party, which he leads and which is Parliament's largest party.
If the pattern from Italy's scores of previous political crises holds, Mattarella would ask Renzi to remain in office in a caretaker role, while he sounds out other party leaders to see if solid backing exists for a new government.
If a new government coalition is cobbled together, Mattarella would not have to dissolve Parliament and trigger elections so far ahead of their scheduled spring 2018 date.
But political leaders from nearly all stripes are aiming to hold elections as soon as they overhaul Italy's current electoral law. Any new government's tenure therefore might end once that reform is achieved.
Infighting and party maneuverings have dogged the Democratic Party for the last few years. One of the moves that antagonized many in his party was Renzi's bold maneuver to trigger the downfall of his predecessor as premier, Enrico Letta.
Since the premier's center-left government assumed power in February 2014, it has focused on reforms Renzi contended were vital to modernize Italy's administration and rejuvenate its sclerotic economy.
Renzi sorely miscalculated support for the constitutional reforms Italian voters turned down in a Dec. 4 referendum. He pledged to resign if the referendum was defeated.
After nearly 60 percent of voters cast "no" ballots, he told the nation his government was finished.
The reforms included reducing the size and powers of the Senate, while another would have transferred powers from Italy's regions to the central government.
The government insisted the changes were needed to reduce legislative and administrative gridlock, widely blamed for a good deal of Italy's economic woes.
Critics said the reforms risked eroding democracy.