ROME — Over an evening glass of wine, regulars at the Da Luca delicatessen on Rome's fashionable Via Urbana are arguing about who will run Europe's fourth-largest economy after parliamentary elections on Sunday.
There is little agreement except that, even by Italian standards, this campaign has been wild and unpredictable.
Led by an untested millennial, the dissonant anti-establishment Five Star Movement is ahead in the polls.
With the ruling center-left in disarray and the far-right capitalizing on the influx of refugees, a kingmaker potentially looms. Silvio Berlusconi, the perma-tanned 81-year-old billionaire who many Italians thought they'd seen the last of after a series of scandals, is back.
"He's a genius. I hate him, but he's a genius," said Massimiliano Baccanico, 46, a tech worker and an urban cycling advocate. "I would never vote for him, but Berlusconi is still popular with a lot of Italians."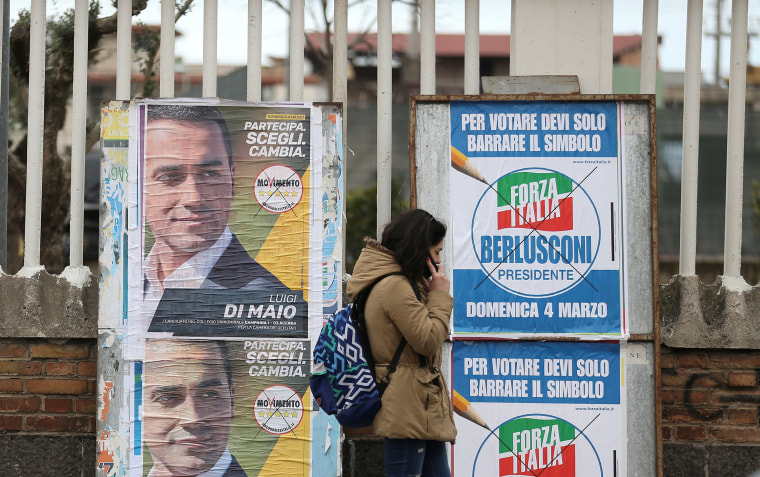 Berlusconi's center-right coalition has gained ground, boosted perhaps by the campaign presence of Benito Mussolini's glamorous granddaughter Alessandra and a surge in support for the far-right populist party La Lega, which denounces immigration and the European Union and has ties to Vladimir Putin's United Russia party. And while Berlusconi is banned from holding office due to a tax-fraud conviction, he has been prominent on the campaign trail and is leader of the Forza Italia party.
Into this rich sauce is added an extra ingredient: a new hybrid electoral system that mixes existing proportional representation, in which voters choose parties, and winner-take-all contests.
"This is an extremely uncertain election — very unpredictable, even compared to 2013," said Antonio Polito, a commentator and the deputy editor at Corriere della Sera, a national newspaper. "We have already gone from a two-party system to a three-party system, a new landscape, and now that we have this new system it is harder to know who the biggest grouping will be. It is impossible to predict. We may end up having another election."
In Italy, the prime minister is chosen from the largest party in Parliament, but the nomination must be confirmed by other lawmakers.
Opinion polls are outlawed in the finals days of the campaign, but the most recent Financial Times poll tracker put Five Star as the most popular single party, at 28 percent, with Berlusconi's center-right coalition ahead overall at 37 percent and a theoretical center-left grouping, including the ruling Democratic Party, trailing at 27 percent.
Five Star experiment
If any country was ripe for anti-establishment sentiment, it was Italy.
The Five Star Movement burst onto the scene after the 2008-09 financial crash and grew during Berlusconi's ill-fated final term as prime minister. It was co-founded by the outspoken comedian Beppe Grillo, whose blog railed against political corruption.
The ideologically ambiguous movement has developed an eclectic platform of pushing environmental and animal welfare policies, protecting public services from privatization and proposing ways to replace Italy's notoriously shady politics with "direct democracy," such as online polls to choose candidates.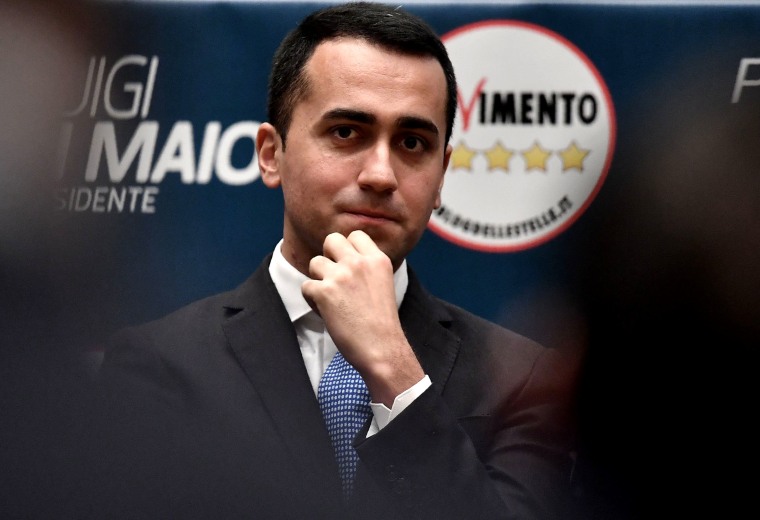 When Five Star stunned observers by coming in second in the 2013 election, Grillo stood aside; his 1981 manslaughter conviction over a car accident means he cannot sit in the Chamber of Deputies, Italy's lower parliamentary chamber.
His successor, college dropout and former sports stadium usher Luigi di Maio, is now among the likely candidates to become prime minister if Five Star can hold its lead in the polls.
At 31, Di Maio is exactly half a century younger than Berlusconi, and his lack of experience has attracted criticism.
"The existing parties are so untrustworthy."
"They attack him, especially because he doesn't have a degree," said his biographer, Paolo Picone. "If you consider that today's education minister does not have a degree, our health minister doesn't have a degree … why should Luigi di Maio have a degree to become prime minister?"
The organization has recently recruited some political professionals into the ranks of its candidates, such as Alessia D'Alessandro, a 27-year-old lured back to Italy from her job at a Berlin think tank.
But at a Five Star campaign event in Marino, an ambrosial town in the hills some 15 miles southeast of Rome, some voters said the absence of career politicians was an advantage.
"The existing parties are so untrustworthy, and they all do deals with each other," said Ivana Baia, 64, who hoped Five Star would support her efforts at reducing noise from the nearby Ciampino airport. "It seems Five Star has people who listen and get things done."
Others pointed to the movement's campaign for greater transparency.
"This is about honesty, as well as the things that matter to people, like getting the garbage collected," said fashion publicist Francesca Audino, 23.
Leonardo Quartarone, 16, a student, is not yet old enough to vote but says the movement has brought some fresh air to Italian politics.
"They are the only ones putting their soul into this election," he said. "They really want it, they are passionate and they have the chance to make a change from the other parties who chose their policies and their candidates behind closed doors."
But Five Star's wholesome appeal has been somewhat undermined as it transforms from a protest movement into a political force capable of success.
It promised "zero cost" politics, pledging that successful candidates would donate their parliamentary allowances to a social enterprise fund, but last month it emerged that many had simply kept the cash.
In Turin, which elected Five Star's Chiara Appendino as mayor in 2016, a chorus of complaints about her performance has grown so loud that she has already announced she will not seek a second term in 2021.
There is similar frustration in Rome, where Virginia Raggi was elected mayor the same year but has been plagued by criticism over uncollected garbage, crumbling roads and a cronyism scandal in which her closest adviser was arrested for corruption.
"Five Star has been totally s---, a disaster," said Francesco Barilli, 75, a filmmaker among the crowd at Da Luca's delicatessen. "Look around you. There is garbage everywhere, potholes in the roads."
Raggi's plan to reduce the capital's debt has seen drastic cuts to arts institutions that harm Rome's cultural appeal, he said. "They promised a lot of things, but they have not been able to deliver."
Marco de Iapinis, 37, an economics consultant, said Five Star had shaken up politics but was not ready to govern Italy. "They are too angry," he said. "They are a protest movement, not a government."
Trump-style tax cuts
On a wet evening in EUR, the Rome neighborhood featuring giant fascist-era architecture and wide streets, Forza Italia activists gather in a conference hall under the party's bright red and green posters.
The area was chosen by Mussolini to host a world fair in 1942 — EUR stands for Esposizione Universale Roma, or "world exhibition of Rome" — but the plans were shelved by World War II.
Berlusconi's party attracts a decidedly older and more conservative crowd than at the Five Star event, with plenty of tailored suits and fashion-house purses on show.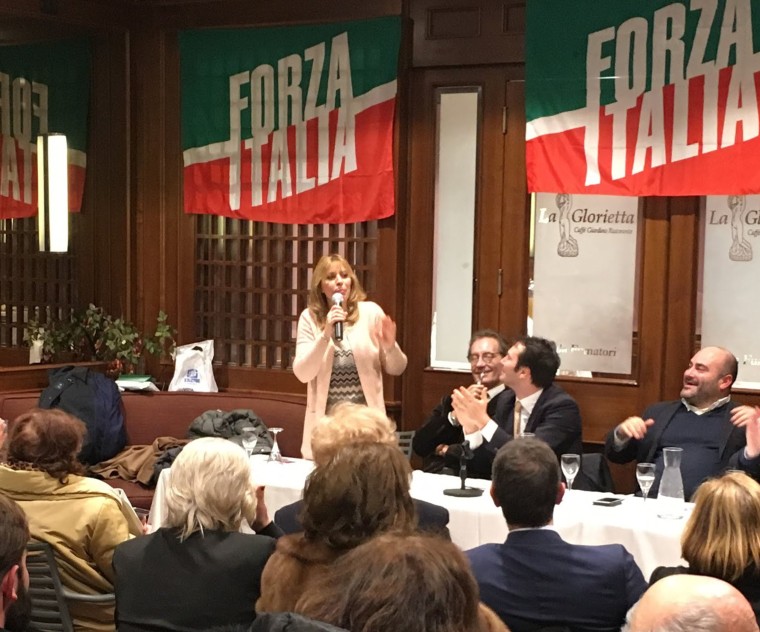 The local candidates receive polite applause, but the evening's biggest cheers go to Alessandra Mussolini, who represents Forza Italia in the European Parliament.
Mussolini, 55, takes the microphone, proclaiming "I am not a racist!" before embarking on a long and loud denouncement of Italy's immigration policy and blaming the outgoing center-left Democratic Party for letting in too many refugees. "How can we be anti-immigration when we are housing immigrants from so many countries?" she asks.
Later, she denies exploiting populist appeal, telling NBC News: "Actually, we are against populism. If you want to see populism, look at Five Star. They promised everything and look what they actually did here in Rome. ... The place is dirty."
Voters seem pleased by Forza Italia's promises to boost security and push the pedal on a sluggish economy that has barely recovered from the 2008 crash.
In particular, Berlusconi has floated the idea of Trump-style tax cuts including a "flat tax" in which all workers would pay a single rate, regardless of income.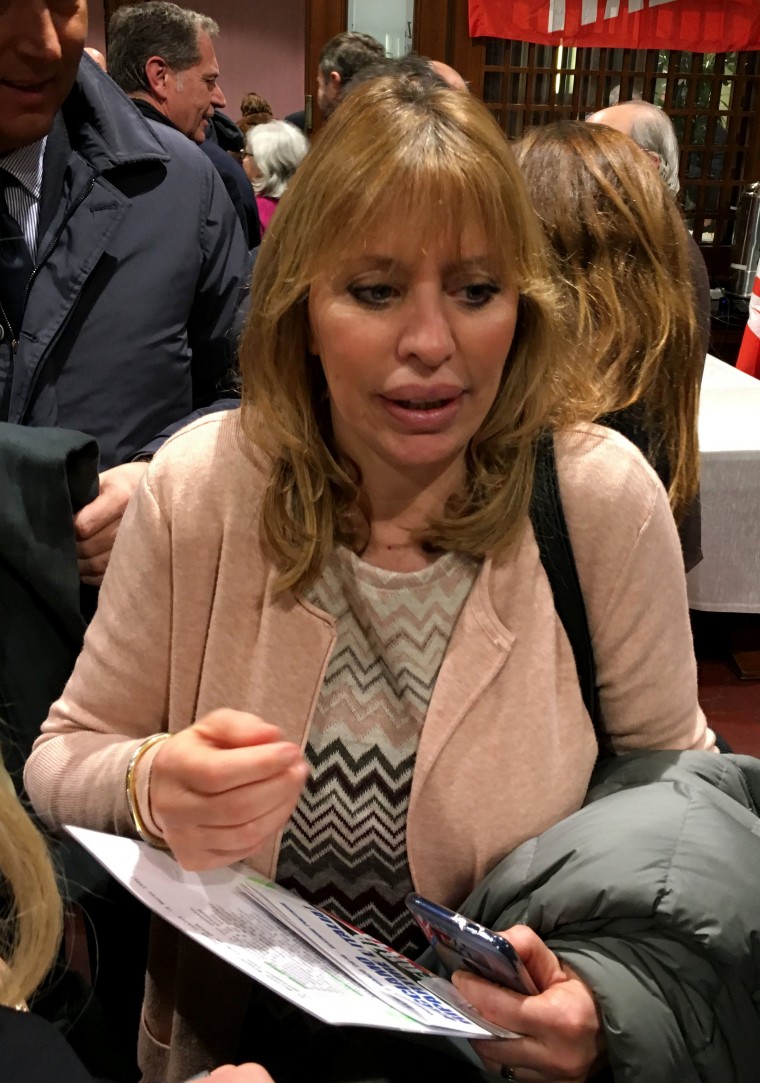 "I like that idea, we need it to help the economy," said Giovanni Primaroni, 71, a retired cleaner and antique clock repairer. "It is no use listening to Five Star. They are full of bar talk, not real ideas."
He is not bothered by Berlusconi's scandal-plagued past. "The guy is already rich, so he does not need to steal from us," he said.
Berlusconi will not be Italy's next prime minister, thanks to a 2012 conviction for tax fraud for which he received a four-year prison sentence that was later reduced to community work. (He was also convicted, but later cleared, of paying 17-year-old Karima El-Mahroug — who was dubbed "Ruby the Heart Stealer" — for sex at "bunga bunga" parties.) He has launched a legal challenge to his parliamentary ban, but the case won't be heard until later this year, well after the election.
However, he could play kingmaker in the likely event of a political stalemate. He has agreed with La Lega leader Matteo Salvini that whichever party in their rightist coalition wins the most votes will pick the next prime minister.
That provides a huge incentive for Salvini, 44, who has expanded his party out of its northern heartlands by appealing to voters in the impoverished south who are angry at unemployment and the daily influx of migrants.
If Berlusconi has largely eschewed dogwhistle politics, Salvini has no such qualms. "We are under attack," he told a crowd last month. "Our culture, society, traditions and way of life are at risk."
'More lost years'
The prospect of instability is a concern not just for Italians, but the whole of Europe, especially after last year's German elections led to months of stalemate.
In particular, there is concern that both La Lega and Five Star have harnessed rising skepticism about the E.U. to enhance their voter appeal, portraying the 28-country bloc as a capitalist club that has protected northern Europe while allowing Italian jobs to fall victim to globalization.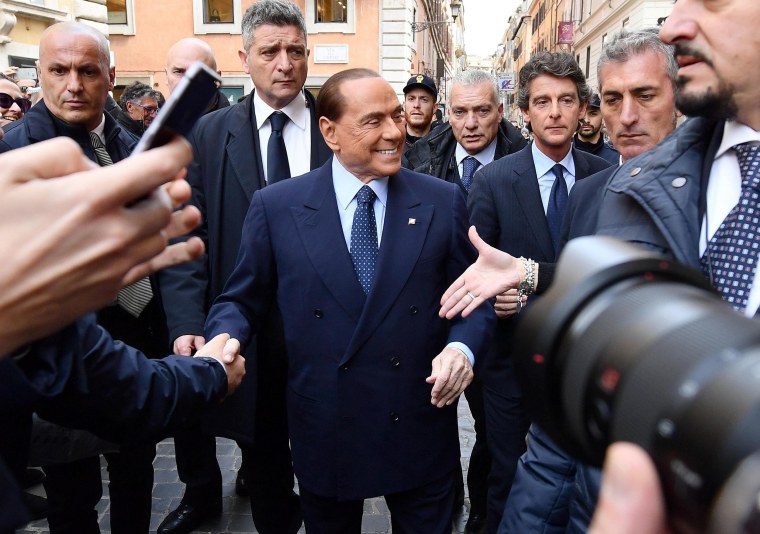 La Lega has pledged to take Italy out of the euro currency zone, while Berlusconi is opposed to such a move.
The current prime minister, Paolo Gentiloni, of the Democratic Party, could stay on in the short-term if the president decided a new election was needed, but Gentiloni believes that won't be necessary. Italy will "have a stable government," Gentiloni told a joint news conference with Merkel in Berlin last month.
Voters share that view; De Iapinis, the economics consultant, predicted an emergency left-right coalition between Berlusconi's Forza Italia and the struggling Democratic Party, in order to keep Five Star out of power.
That would be a missed opportunity, said Baia, the voter at the Five Star rally.
"Another secret deal and five more lost years," she said. "It would not surprise me."