The International Olympic Committee announced Monday that Italy's bid to host the 2026 Winter Olympics has been accepted.
The games will be held in Milan and Cortina d'Ampezzo, Italy, IOC President Thomas Bach revealed during the announcement ceremony.
After a daylong conference in Lausanne, Switzerland, which included presentations and questioning in closed-door sessions, the IOC selected Milan-Cortina over Swedish rivals Stockholm-Are to host the games.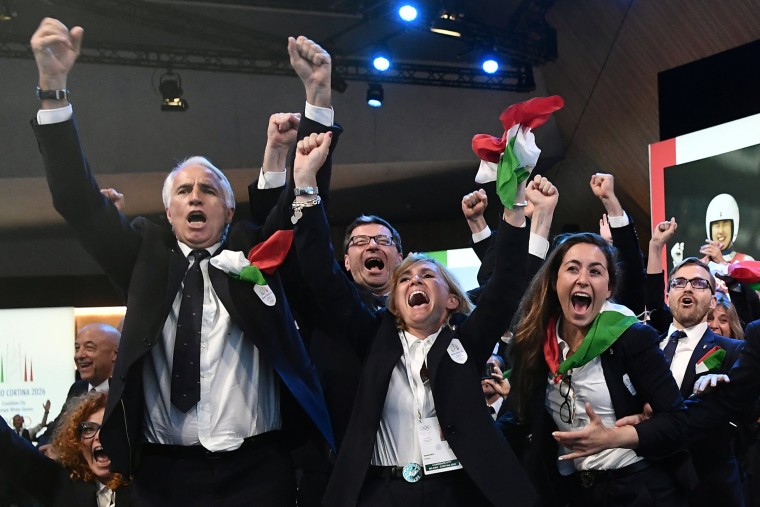 The vote was held at the SwissTech conference center where the IOC had decided in July 2017 that the 2024 Olympics and 2028 Olympics would be held in Paris and Los Angeles, respectively. The announcement Monday about Italy being picked was broadcast on giant screens at the Piazza Gae Aulenti in Milan, as well as in Piazza Angelo Di Bona in Cortina.
Piazza Garibaldi in Sondrio, Italy, which is between Milan and Cortina, also broadcast the announcement.
A public announcement wasn't planned in Sweden.
Eighty-three members of the IOC were eligible to vote on the location of the 2026 Winter Olympics, but President Thomas Bach abstained from the vote, leaving a total of 82 votes. However, Bach was able to cast a vote if there was a tie between the two cities. Voters included the Emir of Qatar and Princess Anne of Britain.
The Milan-Cortina bid won 47 votes and Stockholm-Are received 34 votes. One voter abstained.
"They are two of the richest provinces in Europe. They certainly have the capacity, they have the readiness, they have the finances in order to be able to support the event," Italy Undersecretary of State Giancarlo Giorgetti said, despite Italy's debt load being the second highest in Europe behind Greece.
On Monday afternoon, ahead of the announcement, Italy's Prime Minister Giuseppe Conte stressed his country's desire to host the 2026 games.
"If I am here today in front of you, it is thanks to the enthusiasm of all Italy. ... This is the dream of an entire country, and not only the government but also the regions," Conte said.
Swedish Prime Minister Stefan Lofven said ahead of the vote that he was proud to have been involved in the decision-making process.
"Seriously, I am very proud to be part of this. It's important to Sweden, we're a big winter sports nation. We love this, we know how to do this," Lofven said.
Italy has twice scrapped plans for a bid at holding the Olympics in recent years. In 2012, plans for Rome's bid to host the 2020 Summer Olympics were canned, and another bid for the 2024 Olympics made in 2016 was scrapped after opposition from Rome's mayor.
Italy last held the Olympic games in Turin in 2006. Cortina d'Ampezzo previously hosted the Winter Olympics in 1956.