As families in the Italian city of Genoa began to bury their loved ones killed in Tuesday's bridge collapse, the death toll from the tragedy rose to 42 and grief mixed with anger at unanswered questions about who and what may be responsible.
A state funeral for 19 victims of the collapse was held on Saturday at the city's convention center, led by archbishop Cardinal Angelo Bagnasco and attended by Italian President Sergio Mattarella and Prime Minister Giuseppe Conte.
The collapse "lacerated the heart of Genoa," said Bagnasco. In his brief homily, he encouraged citizens to show solidarity, and said "we can build new bridges to walk together" to rise above the tragedy.
Bagnasco told mourners that Pope Francis is praying for the dead and those suffering. Bagnasco said the Pope offered words of comfort in a phone call Friday evening.
Players of the city's two soccer teams, Genoa and Sampdoria, sat among the crowd, having refused to play matches this weekend in a sign of respect. Relatives of the dead stood beside the coffins, adorned with white and yellow roses, some with their hands on the caskets.
On each coffin were names of the dead. Photographs of those who perished, flowers, and on at least one coffin, a signed soccer jersey, a small sports trophy and a stuffed animal added personal touches.
Mourners applauded firefighters, police and volunteers from the civil protection department involved in non-stop search-and-rescue efforts as they arrived for the funeral on a day of national mourning.
Before the state funeral began, President Sergio Mattarella, head bowed, paused in silence before the coffins, then spoke briefly with each group of families.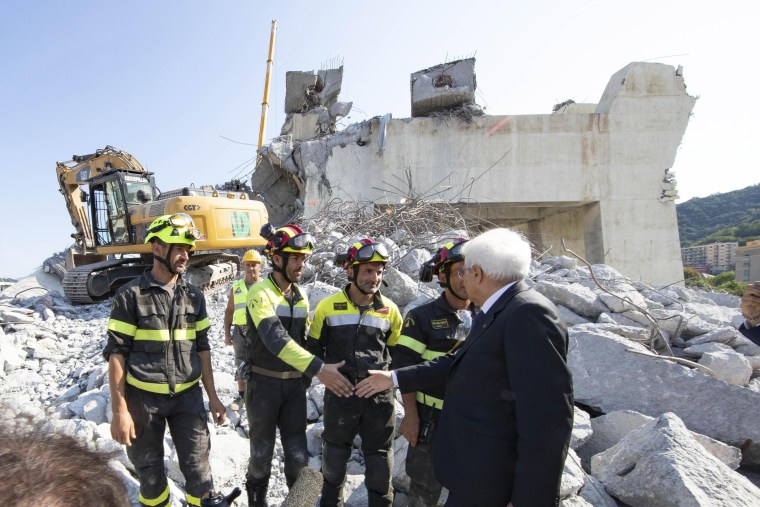 Vehicles on the highway that links Genoa to the French border west of the Mediterranean port city plummeted over 165 feet when a 660-foot stretch of the viaduct collapsed on Tuesday.
The bodies of three more victims were recovered early Saturday morning, bringing the death toll to 41, the Genoa prefecture confirmed to NBC News.
Meanwhile, twenty families planned to boycott the state funeral on Saturday and hold their own private services as a sign of protest against what they say was negligence that caused the bridge to collapse.
Anger and sadness erupted at one such funeral on Friday for four men in their 20s, all friends from the Naples seaside suburb of Torre del Greco whose lives were snuffed out as they drove over the bridge heading to a vacation in Spain.
"You can't, you mustn't die for negligence! For carelessness! For irresponsibility! For superficiality!" thundered Naples Cardinal Crescenzio Sepe in his homily.
"My boy and the others suffered murder," said Roberto Battiloro, whose 29-year-old son was among the group. "They died an absurd, blameless death just for going on holiday."
Finding the cause of the bridge's collapse during a driving rainstorm might take weeks or months to determine. But Genoa prosecutors say they are focusing their investigation into possible criminal blame on design flaws or inadequate maintenance on the heavily traveled bridge, which was completed in 1967 and linked two high-speed highways in the city.
As the question of responsibility lingered, Italian RAI state radio said Saturday that authorities now believe there are no more missing after an elderly German man called officials to say he wasn't involved in the collapse.
On Friday, Italy's government formally launched the procedure to revoke concessions held by the highway operator Autostrade per l'Italia.
"This disaster obliges us to take new initiatives which are much more rigorous than those adopted by previous governments," Prime Minister Giuseppe Conte said in a statement, adding that the government held the company to blame for Tuesday's collapse.
Earlier this week, Transport Minister Danilo Toninelli said the government would inspect aging bridges and tunnels across the country to determine if a program of remedial works is required.
David Knight, a structural engineer and an expert in bridge design for the U.K. firm Cake Industries, told NBC News corrosion of steel cables within the concrete most likely contributed to the collapse.
Regular maintenance, scheduled roughly every 15 years, can prevent this type of failure, Knight said. But the Italian civil engineering society, CNR, said structures dating from when the Morandi Bridge was built had exceeded their lifespan. It called for a "Marshall Plan" to repair or replace tens of thousands of Italian bridges and viaducts built in the 1950s and '60s.
Knight added that an investigation would likely reveal failures in several areas, from engineering to financial management.
Toninelli, the transport minister, suggested Autostrade would have to contribute to the cost of reconstruction as well as pay heavy fines.
But Autostrade said it had carried out regular, sophisticated checks by "world leaders in testing and inspections" that had provided reassuring results.